World champs beaten at Lomianki 2014
Two favourites to take European titles lost out between 8-9 November in Lominaki, Poland.
10 Nov 2014
Imagen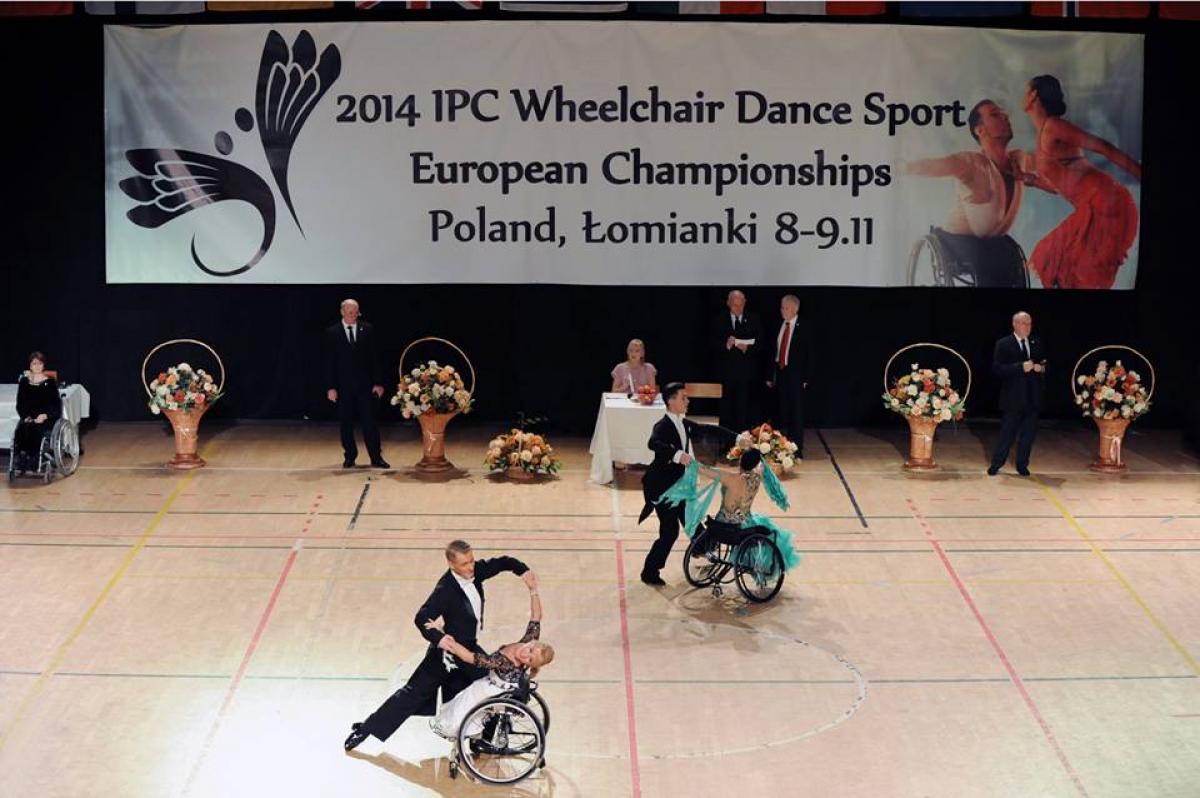 ⒸIPC
By IPC
Lomianki 2014 ran from 8-9 November and featured around 110 athletes from nearly 20 countries.
Two world champion couples were beaten to gold at the 2014 IPC Wheelchair Dance Sport European Championships in Lomianki, Poland, between 8-9 November.
The combi standard class 2 saw the Russians block out the podium, but there was a double shock as the world No.2 coupling of Tatiana Skvortcova and Stanislav Sheshukov won gold ahead of world champions Vitalii Morozov and Gulnaz Akbasheva.
Skvortcova and Sheshukov impressed the judges with five top-placed dances, to also beat current world No.1's Irina Gordeeva and Alexander Lyapin, into bronze.
The second surprise result came in the combi standard class 1, as the unranked Belarusian pair of Aliaksei Zukhtsikau and Veranika Kasach gracefully danced to the title ahead of Slovakia's world champions Helen Kasicka and Peter Vidasic.
Their waltz and slow foxtrot were judged by the officials to be the best on the floor with Slovakians Maros Olejar and Maria Gazdikova finishing in third.
Kasicka and Vidasic came back from that disappointment to win the combi freestyle class 1 whilst there was double podium delight for Israel.
Anna Vaishbein and Mazor Gil won silver alongside Vital Zinger and Sean Shabtay Ziv with bronze.
The Belarusian pairing of Ihar Kuliashou and Hanna Siratsiuk took another potential title from Kasicka and Vidasic in the combi Latin class 1, with their compatriots Zukhtsikau and Kasach this time winning bronze.
Ukraine's double world champion husband and wife team Nadiia and Ivan Sivak were back on top in the duo Latin class 1 and 2, securing top marks no less than 24 times across all their dances in the final. Their samba was most popular with the judges, with only one giving them lower than the highest possible score.
The Russian pairing of Aleksandra Berdnik and Sergey Antonov were consistent to claim silver as Poland's Pawel Karpinski and Joanna Reda delighted the home crowd in third.
The Sivak's also claimed gold in the duo standard class 1 and 2, beating Berdnik and Antonov as well as Gordeeva dancing with Dmitry Torgunakov into silver and bronze respectively.
The combi freestyle class 2 saw Russia's Maskim Sedakov and Svetlana Kukushina score a 9.5 and 9.3 for their technical skills on their way to their first European title, to follow on from their Latin silver medal from the 2013 World Championships in Tokyo, Japan.
They led teammates Galina Ryzhkova and Viacheslav Osipov and Morozov and Akbasheva, onto the podium.
The combi Latin class 2 was a three-way dance-off between eventual winners Ryzhkova and Osipov, silver medallists Sedakov and Kukushina and Karpinski, this time dancing with Nadine Kinczel, winning another bronze.
Singles events
Ryzhkova, continued her great form from September's Continents Cup in St Petersburg, Russia, where she won three gold medals, winning the first ever European crowns in two of the newly introduced singles events.
Her choice of difficulty level, choreography and presentation in the women's single freestyle class 2 was judged to have been on different levels to second placed Akbasheva and Belgium's Sofie Cox.
Completing the clean sweep, Ryzhkova led Berdnik and Sanja Vukasinovic, who won Austria's only medal of Lomianki 2014, in the women's single class 2.
In the women's single class 1 event, Belarus were once again successful as Darya Kulsh led Poland's Magdalena Matusiak and Zinger onto the podium.
Erik Machens secured a gold medal for Germany in the men's single class 2 after a close competition between Sedakov. Machens just edged Sedakov by three points whilst Karpinski rounded out the Euros with a third bronze on home soil.
Russia leave Lomianki 2014 on top of the medals table with five gold, eight silver and three bronze whilst Belarus finish second with three gold. Ukraine complete the top three with two titles.
Lomianki 2014 ran from 8-9 November and featured around 110 athletes from nearly 20 countries.