WWhCC2017: Scotland break tie for second place
Undefeated Russia became the first team to secure a play-off place.
08 Mar 2017
Imagen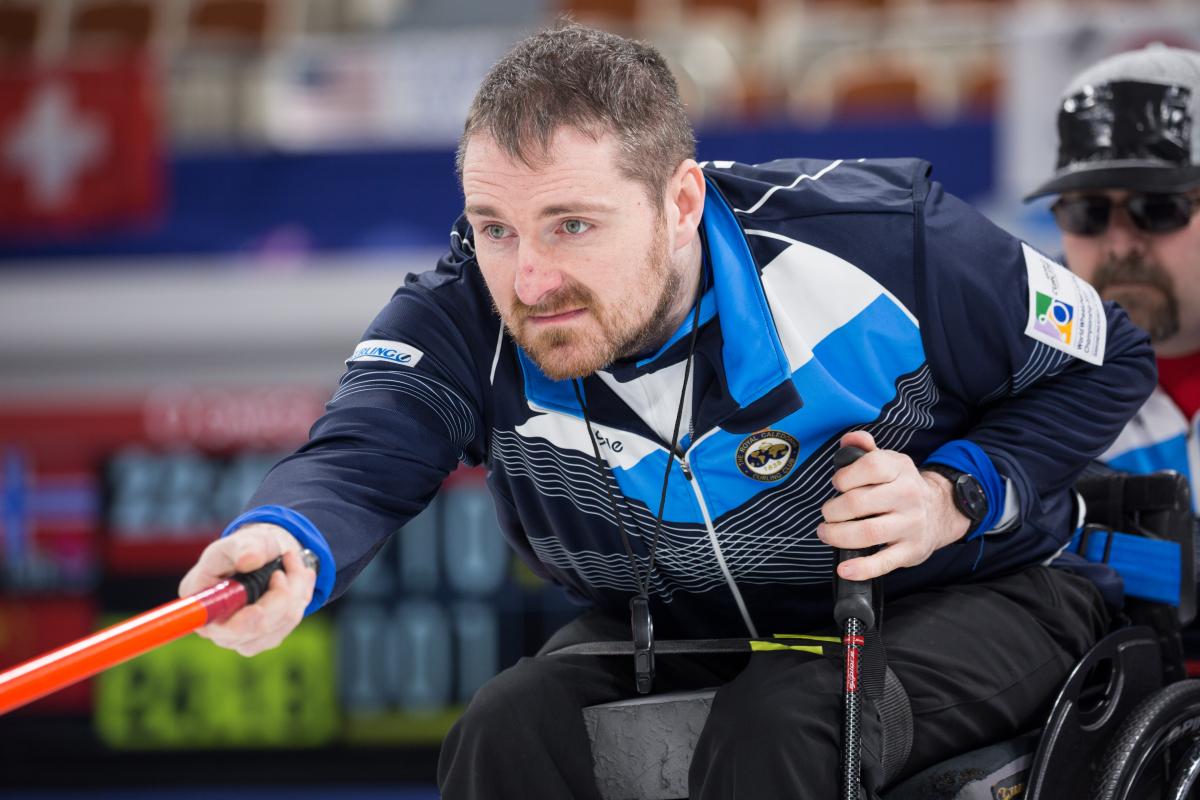 ⒸWCF / Céline Stucki
By World Curling Federation and IPC
Scotland secured two wins on Wednesday (8 March) to set themselves apart in second place in the rankings at the World Wheelchair Curling Championship 2017 in Gangneung, South Korea.
Their victories on day five of the Championship, which also acts as the PyeongChang 2018 Test Event, broke a six-way tie for second.
In the morning session Scotland jumped ahead to an early 7-1 lead after five ends of play against Switzerland, before sealing their victory 7-3. In the afternoon session Scotland defeated hosts South Korea. The teams were tied 2-2 at the fourth end break before Scotland scored four unanswered points including single point steals in the sixth and seventh end for their 6-2 win.
Aileen Neilson; Scotland skip said after the win over Switzerland: "I think that after every loss like that you just have to clean the slate and start again and I think we really did that and we've come out fighting this morning. Again, it's just one game at a time. We just need to go out and perform and hopefully put another win on the board this afternoon."
Defending champions Russia* became the first team to secure a play-off place.
In the morning session, Russia extended their undefeated run when they overcame a German side who had won back-to-back games. With a 5-4 lead after five ends, Russia forced Germany to make a pressure draw against two Russian shot stones and when the German stone sailed through the back of the house, increased the lead to 7-4. Russia defended that lead eventually winning 9-6.
In their afternoon session, Russia battled back from 5-1 down at the fourth end break to secure a last stone win over a spirited Finland side, to maintain their perfect record so far in the round-robin.
Russian skip Andrey Smirnov said after their win over Finland: "It was not easy to mentally prepare our motivation because we were already qualified, so the beginning of the game was a bit hard. Play-offs will be like a new tournament. Everything will start from zero and we will try to play from a new beginning."
Canada played their only game of the day in the morning session where they handed Finland their first loss of the day. Canada with the hammer in the eighth end made a short angle raise take-out to leave Finland facing a cluster of Canadian stones. Finland wrecked on a guard with their final stone, giving Canada their fourth win 8-6.
In the morning session China stole their way to victory over Norway, in the only game of the day for both teams. Level at 4-4 in the eighth end, China tapped back Norway's shot stone to remain sitting two points in the four-foot under cover. Norway attempted to follow the same path down to tap out the shot stone but failed to keep their shooter in the four-foot giving China a steal of two points and the win.
In the final game of the day the USA secured a commanding 10-3 victory over Switzerland. The USA opened the scoring with four points in the first end before stealing a single point in the second end and three points in the third end for an 8-0 lead. Switzerland responded with three points of their own in the fourth end but their fightback ended there.
The round-robin stage of the Championship will conclude Thursday (9 March) with two sessions of play.
Results session 10: South Korea 2-6 Scotland; Switzerland 3-10 USA; Finland 6-7 Russia
Results session nine: Finland 6-8 Canada; Norway 4-6 China; Scotland 7-3 Switzerland; Russia 9-6 Germany
Standings after session 10 (W-L):
Russia 8-0 (Qualified for the the play-offs)
Scotland 5-3
Canada 4-3
China 4-3
Germany 3-4
South Korea 3-4
Norway 3-4
USA 3-4
Finland 2-6
Switzerland 2-6
Complete results can be found on the World Curling Federation's website.
Also follow the action from the WWhCC 2017 on Twitter, Instagram (@worldcurling) and Facebook (/WorldCurlingFederation) and use the hashtags: #WWhCC2017 #curling #Roadto2018
*Editor's note: The International Paralympic Committee suspended the Russian Paralympic Committee on 7 August for its inability to fulfil its IPC membership responsibilities and obligations, in particular its obligation to comply with the IPC Anti-Doping Code and the World Anti-Doping Code (to which it is also a signatory). As a result of the suspension, Russian athletes cannot enter IPC sanctioned events or competitions, including the Paralympic Games. For further information please click here.