Zhou Jiamin targets first world title
Double Paralympic champion excited to be competing on home soil at Para archery Worlds.
21 Jul 2017
Imagen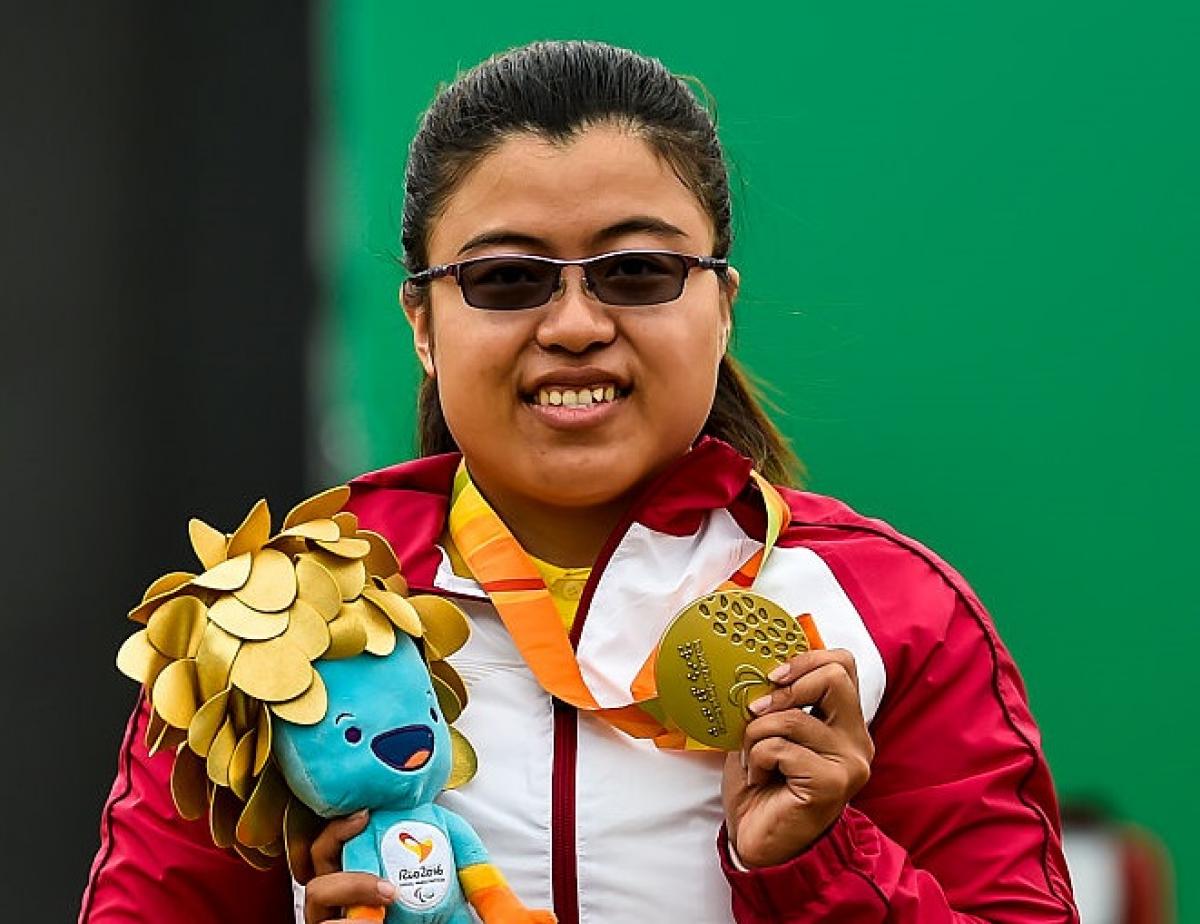 ⒸBruna Prado - Getty Images
By Sophie Feng | For the IPC
"As cliché as it sounds, I am my biggest rival."
China's Zhou Jiamin is tightening her bow strings with her home World Archery Para Championships less than two months away.
The Paralympic champion is on a strict training schedule with just weeks to go until the national team gets together, but she believes the individual training leading up to the camps is the most crucial part of the process.
"I train from morning to night, with a lengthy break at noon, six days a week," she said. "I am not too pleased with my results from this year, so I will try to work as hard as I can before our intensive training starts."
"The main goal in Beijing is, of course, to win."
Earlier this year, Zhou retained her title in the compound women category at China's national Para archery championships, but remained disappointed with her results. Then, in the compound mixed event, Zhou's team had to settle for bronze, amplifying her disenchantment with her performances.
"As cliché as it sounds, I am my biggest rival," she said with a laugh.
Zhou is particularly excited to be able to share the World Championship experience in her home country with her fellow competitors. She says she wants to properly welcome all her fellow competitors and is "already thinking about what presents to get everyone".
"We're all on very good terms, which makes competing even more thrilling. I have been joking with [one of the Japanese archers] that I will take her to eat peking duck in 2017, and she'll bring me to eat sushi in 2020," Zhou said, hinting at her plans to participate in the 2020 Paralympic Games in Tokyo, Japan.
Life outside sport
At age 27, Zhou exceeded all expectations when she won double gold at the 2016 Paralympic Games in Rio de Janeiro, just three years after taking up the sport.
"I feel like I have the advantage of not having had my entire life revolve around archery in the past 10 or 15 years like most of my teammates and competitors. It takes a lot of pressure off, but also makes me even more eager to win and prove what I can do."
In her spare time, Zhou is also learning English, as she hopes to travel more and fight for better accessibility services in China. She is also the representative of the People's Congress in her home city of Zhejiang.
"We have over 80 million disabled individuals in China and not every one of them gets to be a Paralympic athlete. I recognise my privilege and I want to use that to bring a voice to those who don't have one. I want their stories to be heard," she said.
The World Archery Para Championships will take place from 12-17 September in Beijing, China.