Imagen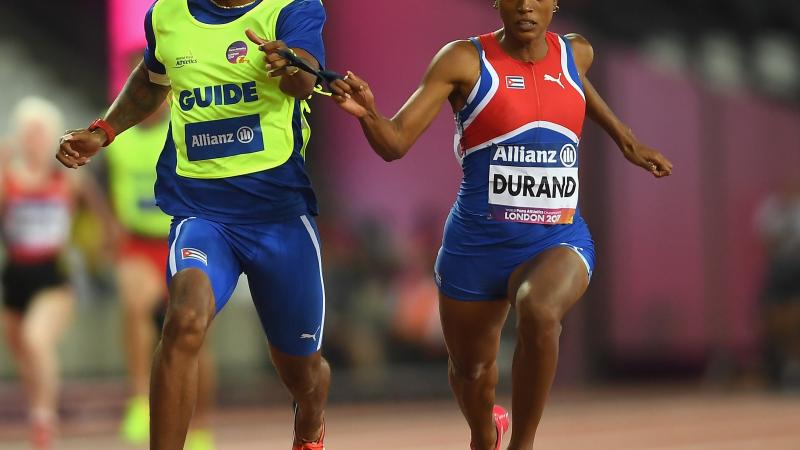 The Cuban made history in 2015 when she clocked the fastest 100m time ever by a female Para athlete at the Toronto 2015 Parapan Am Games in Canada, her first major event back on the track since the birth of her daughter in 2013.
Despite rainy conditions during the heats, Durand clocked 11.65 seconds, but even then, it was a mark that didn't last long.
Two months later at the Doha World Championships, Durand dominated the field in each of her three events – the 100m, 200m and 400m T12 - securing a hat trick of gold medals as she broke a spectacular four world records along the way, including a time of 11.48 in the 100m.
Durand was hugely impressive at Rio 2016, her third Paralympic Games, winning a further three gold medals and setting numerous records.
Before lowering her world record to 11.40 seconds to win gold in the 100m T12 final, Durand had broken the Paralympic record twice in the heats.
Two Paralympic records fell in the 200m as she stormed to a second gold in 23.05.
She saved her best for last, smashing the 400m world record twice to complete a hat-trick of titles. She first ran 52.90 in the heats, before a blisteringly quick 51.77 secured her the top step on the podium.
Durand was just 19-years-old when she stunned the world at the 2011 World Championships in Christchurch, New Zealand, winning the 200m T13 in world record time – as well as gold in the 400m T13.
One year later, she claimed gold in the 100m and the 400m T13 at the London 2012 Paralympic Games.
After the birth of her daughter, Durand's sight deteriorated and she was reclassified to the T12 class. She didn't slow down however, and her performances at the Toronto Parapan Am Games proved just that.
With just one medal event to contest at the London 2017 World Championships Durand made sure gold was hers with a convincing victory in the 100m T12 (11.52), bringing her impressive tally of world titles to eight as her unbeaten run on the global stage continued.
Photo Gallery
Imagen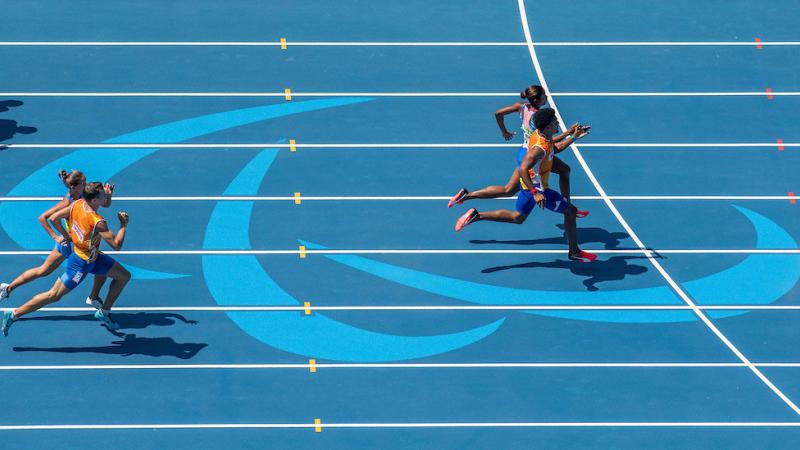 Imagen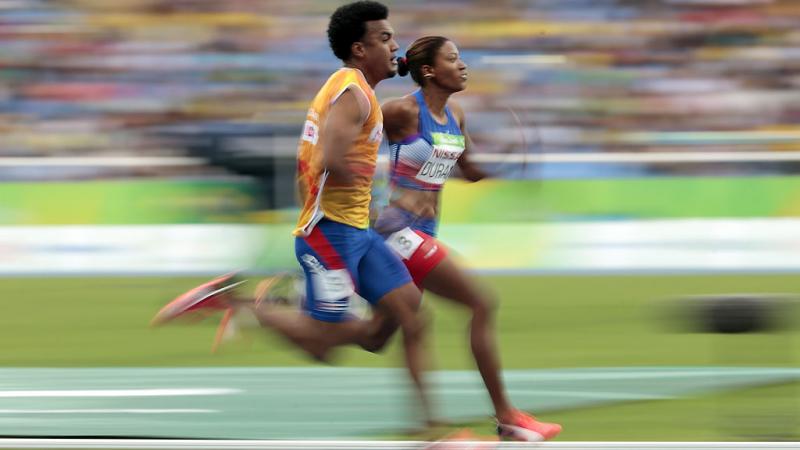 Imagen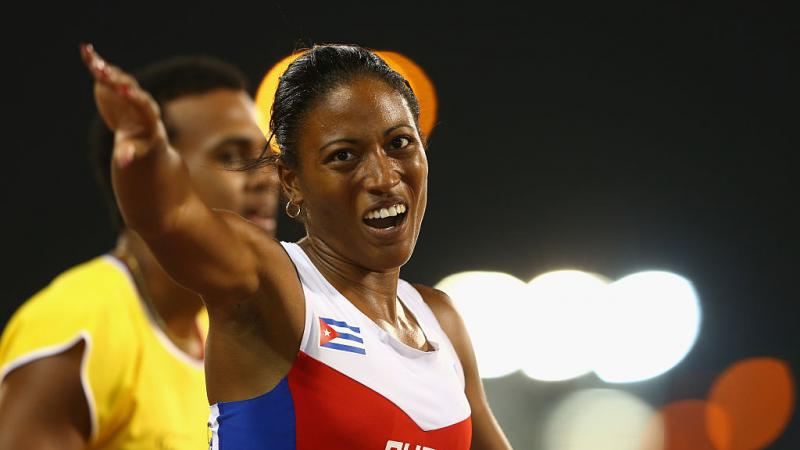 Results
2011 IPC Athletics World Championships (Christchurch, New Zealand)

| Event | Medal | Unit | Date | Rank |
| --- | --- | --- | --- | --- |
| Women's 200 m T13 | | Final | 2011-01-26 | 1 |
| Women's 400 m T13 | | Final | 2011-01-29 | 1 |
IPC Athletics 2015 World Championships (Doha, Qatar)

| Event | Medal | Unit | Date | Rank |
| --- | --- | --- | --- | --- |
| Women's 400 m T12 | | Heat 2 | 2015-10-22 | 1 |
| Women's 400 m T12 | | Final 1 | 2015-10-23 | 1 |
| Women's 200 m T12 | | Heat 3 | 2015-10-24 | 1 |
| Women's 200 m T12 | | Final 1 | 2015-10-25 | 1 |
| Women's 200 m T12 | | Semifinal 1 | 2015-10-25 | 1 |
| Women's 100 m T12 | | Heat 2 | 2015-10-26 | 1 |
| Women's 100 m T12 | | Final 1 | 2015-10-28 | 1 |
World Para Athletics Championships London 2017 (London, Great Britain)

| Event | Medal | Unit | Date | Rank |
| --- | --- | --- | --- | --- |
| Women's 200 m T12 | | Final 1 | 2017-07-14 | 1 |
| Women's 100 m T12 | | Heat 1 | 2017-07-18 | 1 |
| Women's 100 m T12 | | Final 1 | 2017-07-19 | 1 |
| Women's 400 m T12 | | Final 1 | 2017-07-19 | 1 |
Dubai 2019 World Para Athletics Championships (Dubai, United Arab Emirates)

| Event | Medal | Unit | Date | Rank |
| --- | --- | --- | --- | --- |
| Women's 400 m T12 | | Heat 2 | 2019-11-07 | 2 |
| Women's 400 m T12 | | Final 1 | 2019-11-09 | 1 |
| Women's 100 m T12 | | Heat 3 | 2019-11-10 | 1 |
| Women's 100 m T12 | | Final 1 | 2019-11-11 | 1 |
| Women's 200 m T12 | | Heat 4 | 2019-11-11 | 3 |
| Women's 200 m T12 | | Semifinal 1 | 2019-11-12 | 1 |
| Women's 200 m T12 | | Final 1 | 2019-11-12 | 1 |