Imagen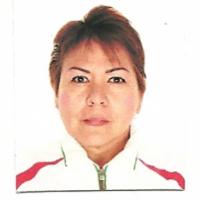 Biography
Impairment information
Origin of Impairment
Acquired
Classification
S3, SB3, SM3
Further personal information
Languages
English, Spanish
Higher education
Information Technology - University of the State of Morelos [UAEM]: Cuernavaca, MEX
Sport specific information
When and where did you begin this sport?
She took up the sport at age 25 in Cuernavaca, Mexico.
Why this sport?
"Swimming gives me a feeling of freedom, strength and autonomy."
Club / Team
Queretaro State: Mexico
Training Regime
She trains in Queretaro, Mexico, and at the Mexican National Paralympic Training Centre [CEPAMEX] in Mexico City. Her sessions last for six hours a day.
International debut
Location
Stoke Mandeville, ENG
General interest
Nicknames
Paty (Instagram profile, 29 Mar 2019)
Memorable sporting achievement
Winning the National Sports Award in 2007, and claiming gold in the S3 100m freestyle at the 2000 Paralympic Games in Sydney. (Athlete, 04 Dec 2017, 18 Jul 2015)
Most influential person in career
Her mother, her daughters, and her coach. (Athlete, 04 Dec 2017)
Hero / Idol
Mexican Para swimmer Cristopher Tronco. (Athlete, 04 Dec 2017)
Injuries
She was sidelined for four months after she underwent surgery to repair the rotator cuff in her shoulder in April 2015. (paralympic.org, 18 Aug 2016; jornadamorelos.com, 10 Apr 2015)
Sporting philosophy / motto
"Make the impossible happen." (Athlete, 04 Dec 2017)
Awards and honours
She received the 2007 National Sports Award in Mexico. (Athlete, 18 Jul 2015)
Impairment
Her impairment is a result of the effects of polio. (Athlete, 04 Dec 2017)
Other information
POLITICAL CAREER
She has served as a councillor of the municipality of Corregidora in Mexico. (Instagram profile, 29 Mar 2019; poderinformativo.com.mx, 28 Feb 2019)

FURTHER EDUCATION
She has studied for a master's degree in family science at Anahuac University in Queretaro, Mexico. (Athlete, 04 Dec 2017)
Results
IPC Swimming World Championships Eindhoven 2010 (Eindhoven, Netherlands)

| Event | Medal | Unit | Date | Rank |
| --- | --- | --- | --- | --- |
| Women's 50 m Butterfly S3 | | Final Round | | 1 |
| Women's 50 m Breaststroke SB3 | | Final Round | | 2 |
| Women's 4x50 m Medley 20pts | | Final Round | | 8 |
| Women's 4x50 m Medley 20pts | | Heat 2 | | 5 |
| Women's 4x50 m Freestyle 20pts | | Final Round | | 3 |
| Women's 4x50 m Freestyle 20pts | | Heat 2 | | 3 |
| Women's 200 m Freestyle S3 | | Final Round | | 1 |
| Women's 150 m Individual Medley SM3 | | Final Round | | 2 |
| Women's 100 m Freestyle S3 | | Final Round | | 1 |
| Women's 100 m Freestyle S3 | | Heat 2 | | 1 |
IPC Swimming World Championships Durban 2006 (Durban, South Africa)

| Event | Medal | Unit | Date | Rank |
| --- | --- | --- | --- | --- |
| Women's 100 m Freestyle S3 | | Heats | | 2 |
| Women's 100 m Freestyle S3 | | Final Round | | 2 |
| Women's 150 m Individual Medley SM3 | | Final Round | | 1 |
| Women's 200 m Freestyle S3 | | Final Round | | 1 |
| Women's 50 m Breaststroke SB3 | | Final Round | | 3 |
| Women's 50 m Butterfly S3 | | Final Round | | 1 |
| Women's 50 m Freestyle S3 | | Heats | | 2 |
| Women's 50 m Freestyle S3 | | Final Round | | 3 |
IPC Swimming World Championships Christchurch 1998 (Christchurch, New Zealand)

| Event | Medal | Unit | Date | Rank |
| --- | --- | --- | --- | --- |
| Women's 50 m Backstroke S3 | | Final Round | | 9999 |
| Women's 50 m Backstroke S3 | | Heats | | 6 |
| Women's 4x50 m Freestyle Open | | Final Round | | 5 |
| Women's 100 m Freestyle S3 | | Final Round | | 1 |
| Women's 100 m Freestyle S3 | | Heats | | 1 |
| Women's 50 m Butterfly S3 | | Final Round | | 1 |
| Women's 200 m Freestyle S3 | | Final Round | | 1 |
| Women's 50 m Breaststroke SB3 | | Final Round | | 2 |
| Women's 50 m Freestyle S3 | | Final Round | | 1 |
| Women's 50 m Freestyle S3 | | Heats | | 1 |
| Women's 150 m Individual Medley SM3 | | Final Round | | 2 |
| Women's 150 m Individual Medley SM3 | | Heats (SM3/4) | | 2 |
IPC Swimming World Championships Mar del Plata 2002 (Mar del Plata, Argentina)

| Event | Medal | Unit | Date | Rank |
| --- | --- | --- | --- | --- |
| Women's 4x50 m Medley 20 pts | | Final Round | | 4 |
| Women's 4x50 m Freestyle 20 pts | | Final Round | | 4 |
| Women's 150 m Individual Medley SM3 | | Final Round | | 1 |
| Women's 50 m Butterfly S3 | | Final Round | | 1 |
| Women's 50 m Butterfly S3 | | Heats (S3-5) | | 1 |
| Women's 50 m Breaststroke SB3 | | Final Round | | 3 |
| Women's 50 m Breaststroke SB3 | | Heats (SB1-3) | | 3 |
| Women's 200 m Freestyle S3 | | Final Round | | 1 |
| Women's 50 m Freestyle S3 | | Final Round | | 1 |
| Women's 100 m Freestyle S3 | | Final Round | | 1 |
2013 IPC Swimming World Championships (Montreal, Canada)

| Event | Medal | Unit | Date | Rank |
| --- | --- | --- | --- | --- |
| Women's 200 m Freestyle S3 | | Final 1 | 2013-08-12 | 2 |
| Women's 200 m Freestyle S3 | | Heat 1 | 2013-08-12 | 2 |
| Women's 50 m Freestyle S3 | | Final 1 | 2013-08-14 | 4 |
| Women's 50 m Freestyle S3 | | Heat 1 | 2013-08-14 | 4 |
| Women's 100 m Freestyle S3 | | Final 1 | 2013-08-16 | 4 |
| Women's 100 m Freestyle S3 | | Heat 1 | 2013-08-16 | 5 |
| Women's 150 m Individual Medley SM3 | | Final 1 | 2013-08-17 | 3 |
| Women's 150 m Individual Medley SM3 | | Heat 2 | 2013-08-17 | 3 |
| Women's 50 m Butterfly S3 | | Final 1 | 2013-08-18 | 1 |
2015 IPC Swimming World Championships (Glasgow, Great Britain)

| Event | Medal | Unit | Date | Rank |
| --- | --- | --- | --- | --- |
| Women's 100 m Freestyle S3 | | Final 1 | 2015-07-14 | 4 |
| Women's 100 m Freestyle S3 | | Heat 1 | 2015-07-14 | 4 |
| Women's 150 m Individual Medley SM4 | | Heat 1 | 2015-07-15 | 11 |
| Women's 50 m Butterfly S5 | | Heat 1 | 2015-07-16 | 10 |
| Women's 50 m Breaststroke SB3 | | Final 1 | 2015-07-17 | 3 |
| Women's 50 m Breaststroke SB3 | | Heat 2 | 2015-07-17 | 6 |
| Women's 50 m Backstroke S3 | | Heat 2 | 2015-07-18 | 12 |
Mexico City 2017 World Para Swimming Championships (Mexico City, Mexico)

| Event | Medal | Unit | Date | Rank |
| --- | --- | --- | --- | --- |
| Women's 100 m Freestyle S3 | | Final 1 | 2017-12-04 | 5 |
| Women's 50 m Breaststroke SB3 | | Final 1 | 2017-12-05 | 3 |
| Women's 50 m Freestyle S3 | | Final 1 | 2017-12-06 | 3 |
| Women's 150 m Individual Medley SM4 | | Final 1 | 2017-12-07 | 5 |
| Mixed 4x50 m Freestyle 20pts | | Final 1 | 2017-12-07 | 3 |