Imagen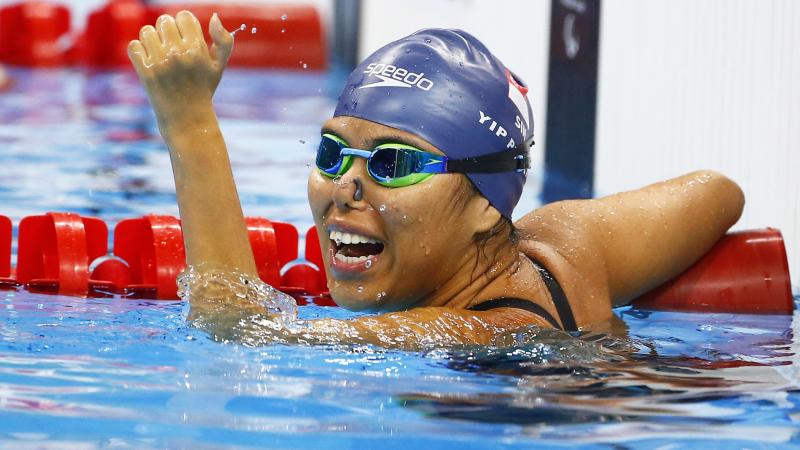 Yip Pin Xiu blazed a trail for Para sport in Singapore when she became her country's first Paralympic gold medallist in history at Beijing 2008.
For her achievement she was awarded the Public Service Medal and followed it up with her first world title in 2010. Subsequently, she would receive the Singapore Youth Award in 2010.
However for the London 2012 Paralympics her favourite event, the 50m backstroke S3, was taken off of the programme. It was subsequently reinstated in time for the 2013 World Championships, but Xiu lost out to Ukraine's Olga Sviderska on her debut.
She would then miss out on the podium completely in 2015, but kept making history out of the pool. In May 2015, she became the first Para athlete to be inducted into Singapore's Sports Hall of Fame and was also welcomed into the Women's Hall of Fame in 2014.
After being reclassified to the S2 she went onto reclaim the historic Paralympic title she had won in 2008 in the 50m backstroke and did so in a world record time. She also claimed gold in the 100m backstroke with a new world record.
Results
IPC Swimming World Championships Durban 2006 (Durban, South Africa)

| Event | Medal | Unit | Date | Rank |
| --- | --- | --- | --- | --- |
| Women's 50 m Breaststroke SB3 | | Final Round | | 5 |
| Women's 50 m Freestyle S4 | | Heats | | 10 |
| Women's 100 m Freestyle S4 | | Heats | | 10 |
| Women's 150 m Individual Medley SM4 | | Final Round | | 6 |
| Women's 200 m Freestyle S4 | | Final Round | | 7 |
| Women's 50 m Backstroke S4 | | Final Round | | 6 |
IPC Swimming World Championships Eindhoven 2010 (Eindhoven, Netherlands)

| Event | Medal | Unit | Date | Rank |
| --- | --- | --- | --- | --- |
| Women's 50 m Freestyle S3 | | Final Round | | 1 |
| Women's 50 m Freestyle S3 | | Heat 2 | | 1 |
| Women's 50 m Backstroke S3 | | Final Round | | 2 |
| Women's 50 m Backstroke S3 | | Heat 2 | | 1 |
2013 IPC Swimming World Championships (Montreal, Canada)

| Event | Medal | Unit | Date | Rank |
| --- | --- | --- | --- | --- |
| Women's 50 m Backstroke S3 | | Heat 1 | 2013-08-15 | 1 |
| Women's 50 m Backstroke S3 | | Final 1 | 2013-08-15 | 2 |
| Women's 100 m Freestyle S3 | | Heat 2 | 2013-08-16 | 4 |
| Women's 100 m Freestyle S3 | | Final 1 | 2013-08-16 | 5 |
2015 IPC Swimming World Championships (Glasgow, Great Britain)

| Event | Medal | Unit | Date | Rank |
| --- | --- | --- | --- | --- |
| Women's 100 m Freestyle S3 | | Final 1 | 2015-07-14 | 5 |
| Women's 50 m Freestyle S4 | | Heat 2 | 2015-07-14 | 8 |
| Women's 100 m Freestyle S3 | | Heat 1 | 2015-07-14 | 6 |
| Women's 50 m Freestyle S4 | | Final 1 | 2015-07-14 | 8 |
| Women's 50 m Backstroke S3 | | Final 1 | 2015-07-18 | 4 |
| Women's 50 m Backstroke S3 | | Heat 1 | 2015-07-18 | 4 |
London 2019 World Para Swimming Championships (London, Great Britain)

| Event | Medal | Unit | Date | Rank |
| --- | --- | --- | --- | --- |
| Women's 100 m Backstroke S2 | | Final 1 | 2019-09-11 | 1 |
| Women's 50 m Backstroke S2 | | Final 1 | 2019-09-13 | 1 |
Madeira 2022 World Para Swimming Championships (Funchal, Portugal)

| Event | Medal | Unit | Date | Rank |
| --- | --- | --- | --- | --- |
| Women's 100 m Backstroke S2 | | Final 1 | 2022-06-14 | 1 |
| Women's 50 m Freestyle S3 | | Final 1 | 2022-06-16 | 4 |
| Women's 50 m Freestyle S3 | | Heat 1 | 2022-06-16 | 5 |
| Women's 50 m Backstroke S2 | | Final 1 | 2022-06-17 | 1 |