Imagen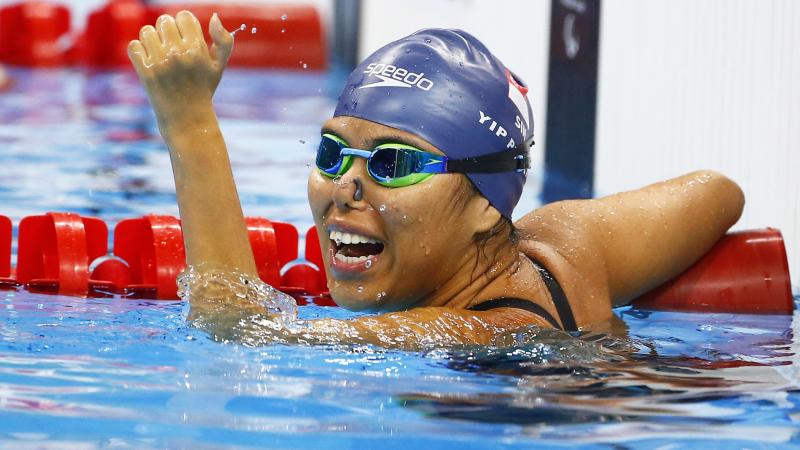 Yip Pin Xiu blazed a trail for Para sport in Singapore when she became her country's first Paralympic gold medallist in history at Beijing 2008.
For her achievement she was awarded the Public Service Medal and followed it up with her first world title in 2010. Subsequently, she would receive the Singapore Youth Award in 2010.
However for the London 2012 Paralympics her favourite event, the 50m backstroke S3, was taken off of the programme. It was subsequently reinstated in time for the 2013 World Championships, but Xiu lost out to Ukraine's Olga Sviderska on her debut.
She would then miss out on the podium completely in 2015, but kept making history out of the pool. In May 2015, she became the first Para athlete to be inducted into Singapore's Sports Hall of Fame and was also welcomed into the Women's Hall of Fame in 2014.
After being reclassified to the S2 she went onto reclaim the historic Paralympic title she had won in 2008 in the 50m backstroke and did so in a world record time. She also claimed gold in the 100m backstroke with a new world record.
Biography
Impairment information
Type of Impairment
Impaired muscle power
Origin of Impairment
Congenital
Further personal information
Occupation
Athlete, Government Official, Public Speaker
Languages
English, Mandarin
Higher education
Political Science - Singapore Management University: Singapore
Sport specific information
When and where did you begin this sport?
She took up the sport at age six in Singapore. She began swimming competitively at age 12.
Why this sport?
She wanted to join her brothers in their swimming lessons, so her mother asked the brothers' coach if it was possible. Yip later took up Para swimming after being spotted by the Singapore Disability Sports Council. "Being able to move about freely is why I love swimming."
Name of coach
Mick Massey [national]; Mark Chay, SGP
General interest
Nicknames
Golden Girl (nlb.gov.sg, 17 Jun 2014)
Most influential person in career
Her parents, Singaporean Para swimmer Theresa Goh, coaches Jiao Yang and Ang Peng Siong. (sportsguide.sg, 21 Jan 2010)
Hero / Idol
Her mother. (fairprice.com.sg, 17 Apr 2015)
Awards and honours
She received the Emerging Leadership award at the 2022 International Women's Day Recognition Awards presented by the International Paralympic Committee [IPC]. (paralympic.org, 08 Mar 2022)

In 2022 she received the inaugural President's Award for Inspiring Achievement from the president of Singapore. (channelnewsasia.com, 11 Feb 2022)

She was named Sportswoman of the Year at the 2019 Singapore Disability Sports Awards. (sg.news.yahoo.com, 07 Aug 2019)

She was flag bearer for Singapore at the opening ceremony of the 2016 Paralympic Games in Rio de Janeiro. She performed the same role at the opening ceremonies of the 2016 European Championships in Funchal, Portugal, and the 2015 Association of Southeast Asian Nations [ASEAN] Para Games in Singapore. (myinfo.rio2016.com, 06 Sep 2016; paralympic.org, 26 Apr 2016; insidethegames.biz, 03 Dec 2015)

In 2015 she was named Athlete of the Year by The Straits Times newspaper in Singapore. (parliament.gov.sg, 01 Sep 2018)

She was inducted into the Singapore Women's Hall of Fame in 2014. The following year she became the first Para athlete to be inducted into Singapore's Sports Hall of Fame. (todayonline.com, 13 May 2015; mindchamps.org, 12 Aug 2014)

In 2014 she received the Outstanding Athlete Award from the Singapore Disability Sports Council. (parliament.gov.sg, 01 Sep 2018)

She was given the Singapore Youth Award in 2010. (nlb.gov.sg, 17 Jun 2014)

In 2008 she received the Meritorious Service Medal from the Prime Minister's Office in Singapore. (Facebook page, 25 Apr 2019; parliament.gov.sg, 01 Sep 2018)
Milestones
She became the first Singaporean athlete from any sport to win a gold medal at the Paralympic Games when she triumphed in the S3 50m backstroke at the 2008 Games in Beijing. (SportsDeskOnline, 28 May 2019; channelnewsasia.com, 16 Dec 2008)
Ambitions
To compete at the 2024 Paralympic Games in Paris. (swimswam.com, 14 Dec 2020)
Impairment
She was born with muscular dystrophy. She also has a vision impairment in her left eye. (womanoftheyear.herworld.com, 01 Sep 2018; straitstimes.com, 16 Sep 2016; swhf.sg, 18 Mar 2014)
Other information
PARLIAMENT
She served as a Nominated Member of Parliament [NMP] in Singapore between 2018 and 2020, where her role was to provide non-partisan views. She has also been a member of the Safe Sport Task Force set up by Sport Singapore. "In the years that I've been swimming, there are two things that I'm happy I've done. One is winning medals. The other is I've helped create more awareness for Para sports in Singapore. People understand it a bit more now and know that it exists, and I hope to be able to continue doing that. So when I was given a platform to do it even better, I took it so that I can help Para sports grow in Singapore. I don't see myself as a role model. What I feel is a responsibility to give back to society, to continue advocating for Para sports, and help [it] grow. Sports has given me so much in life. I don't only want to give back to the Para community. I do hope to see a Singapore where everyone lives a more active and healthier lifestyle." (channelnewsasia.com, 11 Feb 2022; paralympic.org, 03 Dec 2020, 24 May 2019)

OTHER ROLES
She has been a member of the World Anti-Doping Agency [WADA] Athlete Committee. She has served as an ambassador for Swim Champ Kinesis, a company that runs swimming lessons in Singapore. She has served as chairman of the Singapore Para Athlete Commission, and as vice-chairperson on the working committee of The Purple Parade, a movement that promotes inclusion of people with impairments in Singapore. (channelnewsasia.com, 11 Feb 2022; wada-ama.org, 25 Nov 2021; straitstimes.com, 01 Nov 2018; parliament.gov.sg, 01 Sep 2018)

CO-AUTHOR
In 2017 she co-authored a children's book called 'The Mermaid Who Became a Champion'. (straitstimes.com, 04 Sep 2017)
Results
IPC Swimming World Championships Durban 2006 (Durban, South Africa)

| Event | Medal | Unit | Date | Rank |
| --- | --- | --- | --- | --- |
| Women's 50 m Breaststroke SB3 | | Final Round | | 5 |
| Women's 50 m Freestyle S4 | | Heats | | 10 |
| Women's 100 m Freestyle S4 | | Heats | | 10 |
| Women's 150 m Individual Medley SM4 | | Final Round | | 6 |
| Women's 200 m Freestyle S4 | | Final Round | | 7 |
| Women's 50 m Backstroke S4 | | Final Round | | 6 |
IPC Swimming World Championships Eindhoven 2010 (Eindhoven, Netherlands)

| Event | Medal | Unit | Date | Rank |
| --- | --- | --- | --- | --- |
| Women's 50 m Freestyle S3 | | Final Round | | 1 |
| Women's 50 m Freestyle S3 | | Heat 2 | | 1 |
| Women's 50 m Backstroke S3 | | Final Round | | 2 |
| Women's 50 m Backstroke S3 | | Heat 2 | | 1 |
2013 IPC Swimming World Championships (Montreal, Canada)

| Event | Medal | Unit | Date | Rank |
| --- | --- | --- | --- | --- |
| Women's 50 m Backstroke S3 | | Heat 1 | 2013-08-15 | 1 |
| Women's 50 m Backstroke S3 | | Final 1 | 2013-08-15 | 2 |
| Women's 100 m Freestyle S3 | | Final 1 | 2013-08-16 | 5 |
| Women's 100 m Freestyle S3 | | Heat 2 | 2013-08-16 | 4 |
2015 IPC Swimming World Championships (Glasgow, Great Britain)

| Event | Medal | Unit | Date | Rank |
| --- | --- | --- | --- | --- |
| Women's 100 m Freestyle S3 | | Final 1 | 2015-07-14 | 5 |
| Women's 50 m Freestyle S4 | | Final 1 | 2015-07-14 | 8 |
| Women's 100 m Freestyle S3 | | Heat 1 | 2015-07-14 | 6 |
| Women's 50 m Freestyle S4 | | Heat 2 | 2015-07-14 | 8 |
| Women's 50 m Backstroke S3 | | Heat 1 | 2015-07-18 | 4 |
| Women's 50 m Backstroke S3 | | Final 1 | 2015-07-18 | 4 |