Imagen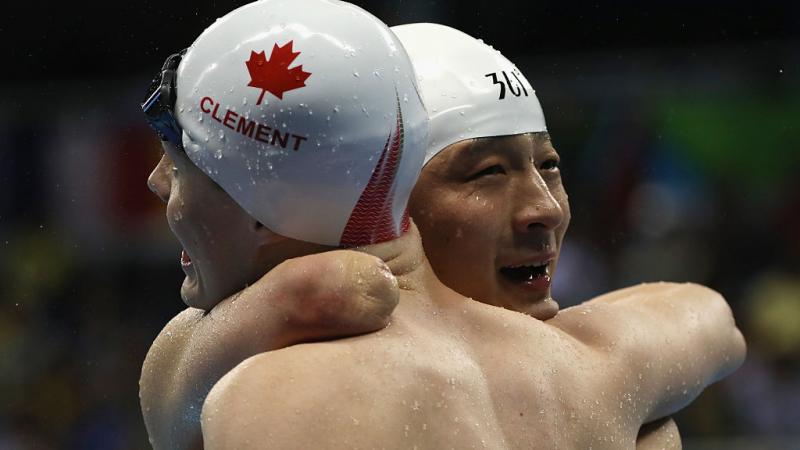 China's S6 swimming star Qing Xu shined at the London 2012 Paralympic Games, winning four gold medals and wowing the crowds.
Previously, Xu won four medals at the Beijing 2008 Paralympic Games, including three golds. He was victorious in the 50m freestyle with a world-record time of 29.78. He broke another world record in the 50m butterfly to take gold in a time of 30.79. And together with his teammates Tang, Du and Yang, Xu swam to another gold and world record, in the 4x50m medley. The Chinese speedster added one more bronze medal, in the 200m individual medley.
At the 2010 IPC Swimming World Championships, Xu swam to one world title in the 50m butterfly. He then added one silver medal to his collection in the 50m freestyle.
Returning to international swimming in the year after his most successful Paralympic Games, in 2013 Xu added a further three medals to an illustrious career. He also claimed gold in his favourite event, the 50m freestyle, at the 2015 World Championships in Glasgow, Great Britain.
Swimming at his fourth Paralympic Games at Rio 2016, Xu was still one of his classification's top swimmers. He set a new world record in the 50m butterfly again and took his title count into double figures.
His next major challenge will be to keep improving as the 2017 World Para Swimming Championships in Mexico City draw near.
Results
IPC Swimming World Championships Eindhoven 2010 (Eindhoven, Netherlands)

| Event | Medal | Unit | Date | Rank |
| --- | --- | --- | --- | --- |
| Men's 50 m Freestyle S6 | | Final Round | | 2 |
| Men's 50 m Freestyle S6 | | Heat 1 | | 1 |
| Men's 50 m Butterfly S6 | | Final Round | | 1 |
| Men's 50 m Butterfly S6 | | Heat 2 | | 8 |
2013 IPC Swimming World Championships (Montreal, Canada)

| Event | Medal | Unit | Date | Rank |
| --- | --- | --- | --- | --- |
| Men's 50 m Freestyle S6 | | Heat 2 | 2013-08-14 | 1 |
| Men's 50 m Freestyle S6 | | Final 1 | 2013-08-14 | 1 |
| Men's 200 m Individual Medley SM6 | | Heat 2 | 2013-08-15 | 4 |
| Men's 200 m Individual Medley SM6 | | Final 1 | 2013-08-15 | 3 |
| Men's 50 m Butterfly S6 | | Final 1 | 2013-08-17 | 2 |
| Men's 100 m Freestyle S6 | | Heat 2 | 2013-08-18 | 9999 |
2015 IPC Swimming World Championships (Glasgow, Great Britain)

| Event | Medal | Unit | Date | Rank |
| --- | --- | --- | --- | --- |
| Men's 400 m Freestyle S6 | | Heat 1 | 2015-07-13 | 15 |
| Men's 50 m Butterfly S6 | | Heat 2 | 2015-07-15 | 5 |
| Men's 50 m Butterfly S6 | | Final 1 | 2015-07-15 | 2 |
| Men's 50 m Freestyle S6 | | Final 1 | 2015-07-16 | 1 |
| Men's 50 m Freestyle S6 | | Heat 1 | 2015-07-16 | 1 |
| Men's 200 m Individual Medley SM6 | | Heat 2 | 2015-07-17 | 6 |
| Men's 200 m Individual Medley SM6 | | Final 1 | 2015-07-17 | 6 |
| Men's 100 m Freestyle S6 | | Heat 1 | 2015-07-19 | 13 |