Imagen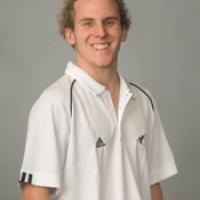 Biography
Impairment information
Type of Impairment
Limb deficiency
Origin of Impairment
Congenital
Classification
S10, SB9, SM10
Further personal information
Family
Wife Jemma, daughter Amara, son Micah
Residence
Brisbane, QLD, AUS
Sport specific information
When and where did you begin this sport?
He began swimming at age 10 and first competed in 1998.
Why this sport?
He played rugby league until age 13, but his mother kept encouraging him to try swimming. "I grew up in a family that was rooted in rugby league culture. My school asked me if I would compete for them at a regional [swimming] championships. As a young hyperactive boy I thought, 'Yeah sure, why not?' I didn't think too much of it. A couple of weeks later, my mum got a phone call from the school, letting her know that I actually achieved a state record. So she became pretty keen on getting me in the water after that point. Soon after I realised that being good wasn't much of an option. I wanted to represent my country. I wanted to be the best."
Club / Team
Genesis Aquatic: Brisbane, QLD, AUS
General interest
Hobbies
Playing golf, watching movies. (swimming.org.au, 15 Sep 2019)
Memorable sporting achievement
Winning gold in the 200m individual medley at the 2008 Paralympic Games in Beijing. (swimming.org.au, 15 Sep 2019)
Most influential person in career
His mother. (paralympic.org.au, 21 Jun 2012)
Hero / Idol
Australian swimmer Kieran Perkins. (paralympic.org.au, 21 Jun 2012)
Injuries
He has torn ligaments in both knees. (catholicweekly.com, 09 Nov 2008)
Sporting philosophy / motto
"It only takes a moment to lose, it takes a lifetime to forget. Even coal under pressure becomes a diamond." (paralympic.org.au, 07 Jan 2010)
Awards and honours
He received the Medal of the Order of Australia [OAM] in 2009. (motionmagazine.com.au, 12 May 2013)
Impairment
He was born without his left hand. (paralympic.org.au, 07 Jan 2010)
Other information
IMPORTANCE OF ACCESSIBILITY
He says the standard of accessibility at facilities available to Para athletes can vary between Games and impact preparation. "I'm no stranger to competing at the top of my physical and mental game on the world's stage, after performing at four separate Paralympic Games, and soon to compete at Tokyo 2020. The quality and design of the Olympic facilities varies across each Games, and this can make an impact on an individual's performance in their events. The facilities in London [in 2012] and Beijing [in 2008] were very high standards, the way that they put things together, you could barely tell the difference between the Olympics and the Paralympics as to how things were operated and organised." (populous.com, 30 Oct 2020)

FAINTING SPELLS
As a teenager he would wear long-sleeve shirts to hide his left hand, even in hot Australian weather, which eventually contributed to fainting spells. "As a young boy growing up in the hustle-bustle inner city of Sydney, you are constantly faced with ever-changing cultural norms. As a person with a disability this can be even harder to navigate, as having a distinguishable difference can make you a target for ridicule and judgement. But I had a plan, I decided to put my hands in my pocket or simply wear a long sleeve jacket or shirts. It didn't pose too much of an issue in the winter. However, in the summer this was starting to cause some issues. One day I started feeling a little bit off. I wasn't sure what was going on but I understood well enough that I needed to find somewhere to sit down. The next thing I realised, I woke up on the ground looking at the roof. I got rushed to the hospital and had eight stitches put in my head. Soon after this incident my mother took me to see a doctor and they strapped an ECG machine on me that I had to wear around for 24 hours to figure out what was going on. When the results came back nothing apparent seem to show up. But the doctor said something about a 'cooked hypothalamus'. I have no idea if that is an actual condition, however still to this day I have fainting spells that can be triggered by heat, lack of food, lack of sleep, dehydration, or simply just by standing in a crowded place." (TEDx Talks YouTube channel, 25 Sep 2017)

OCCUPATION
In 2018 he began working as an assistant coach at Genesis Aquatic swimming club in Australia. (Facebook profile, 24 Dec 2020; populous.com, 30 Oct 2020; Genesis Sport and Aquatics Facebook page, 10 Sep 2020; LinkedIn profile, 01 Mar 2020)
Results
IPC Swimming World Championships Durban 2006 (Durban, South Africa)

| Event | Medal | Unit | Date | Rank |
| --- | --- | --- | --- | --- |
| Men's 200 m Individual Medley SM10 | | Final Round | | 2 |
| Men's 200 m Individual Medley SM10 | | Heats | | 3 |
| Men's 100 m Freestyle S10 | | Heats | | 12 |
| Men's 100 m Butterfly S10 | | Heats | | 10 |
| Men's 100 m Breaststroke SB9 | | Final Round | | 3 |
| Men's 100 m Breaststroke SB9 | | Heats | | 7 |
| Men's 100 m Backstroke S10 | | Heats | | 11 |
| Men's 4x100 m Medley 34 pts | | Heats | | 1 |
| Men's 4x100 m Medley 34 pts | | Final Round | | 1 |
| Men's 50 m Freestyle S10 | | Heats | | 15 |
IPC Swimming World Championships Mar del Plata 2002 (Mar del Plata, Argentina)

| Event | Medal | Unit | Date | Rank |
| --- | --- | --- | --- | --- |
| Men's 100 m Backstroke S10 | | Heats | | 9999 |
| Men's 100 m Breaststroke SB9 | | Heats | | 6 |
| Men's 100 m Breaststroke SB9 | | Final Round | | 5 |
| Men's 100 m Butterfly S10 | | Heats | | 9 |
| Men's 200 m Individual Medley SM10 | | Heats | | 4 |
| Men's 200 m Individual Medley SM10 | | Final Round | | 4 |
2013 IPC Swimming World Championships (Montreal, Canada)

| Event | Medal | Unit | Date | Rank |
| --- | --- | --- | --- | --- |
| Men's 100 m Freestyle S10 | | Heat 1 | 2013-08-12 | 12 |
| Men's 100 m Breaststroke SB9 | | Final 1 | 2013-08-14 | 5 |
| Men's 100 m Breaststroke SB9 | | Heat 1 | 2013-08-14 | 3 |
| Men's 200 m Individual Medley SM10 | | Heat 2 | 2013-08-15 | 7 |
| Men's 200 m Individual Medley SM10 | | Final 1 | 2013-08-15 | 5 |
| Men's 100 m Butterfly S10 | | Heat 2 | 2013-08-16 | 8 |
| Men's 100 m Butterfly S10 | | Final 1 | 2013-08-16 | 8 |
| Men's 4x100 m Medley 34pts | | Final 1 | 2013-08-18 | 4 |
2015 IPC Swimming World Championships (Glasgow, Great Britain)

| Event | Medal | Unit | Date | Rank |
| --- | --- | --- | --- | --- |
| Men's 50 m Freestyle S10 | | Heat 1 | 2015-07-13 | 11 |
| Men's 200 m Individual Medley SM10 | | Final 1 | 2015-07-14 | 5 |
| Men's 200 m Individual Medley SM10 | | Heat 1 | 2015-07-14 | 5 |
| Men's 100 m Breaststroke SB9 | | Final 1 | 2015-07-15 | 3 |
| Men's 100 m Breaststroke SB9 | | Heat 2 | 2015-07-15 | 4 |
| Men's 100 m Butterfly S10 | | Heat 2 | 2015-07-17 | 9 |
| Men's 4x100 m Medley 34pts | | Final 1 | 2015-07-18 | 4 |