Imagen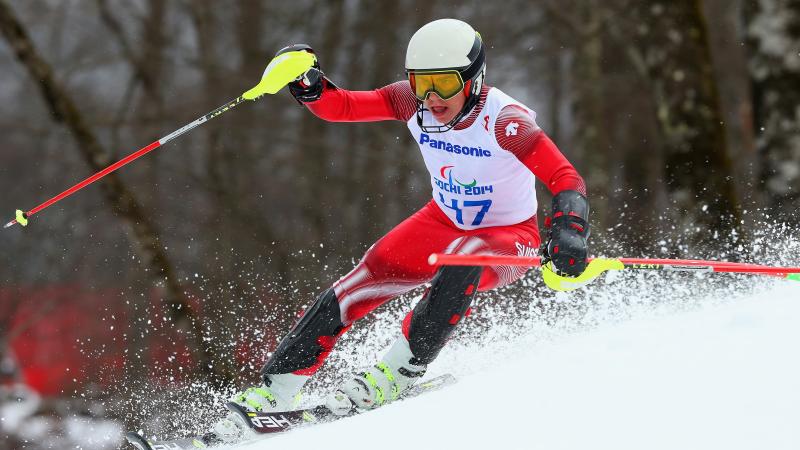 Robin Cuche
Alpine Skiing
Robin Cuche's performance at the PyeongChang 2018 Paralympic Winter Games was definitely not what he had in mind. The Swiss alpine skier left without a medal, with an eighth place in the men´s downhill standing as his best result.
His expectations were high, especially after he sealed his first medal at a World Championships in Tarvisio, Italy, in 2017, a silver in the men's super-combined standing. He also ended second overall in the downhill at the World Cup.
In 2011, he was named 'Newcomer of the Year' in Zurich, Switzerland. Three years later, Cuche competed at his first Paralympic Winter Games in Sochi, Russia, finishing 12th in the giant slalom and 18th in the slalom.
Cuche, who was born with hemiplegia, which affects his right leg, seeks to follow in the footsteps of his uncle Didier Cuche, an Olympic alpine skiing silver medallist.
Results
2015 IPC Alpine Skiing World Championships Panorama (Panorama, Canada)

| Event | Medal | Unit | Date | Rank |
| --- | --- | --- | --- | --- |
| Men's Giant Slalom Standing | | Race 1 | 2015-03-08 | 9999 |
| Men's Slalom Standing | | Race 1 | 2015-03-10 | 9999 |
2017 IPC Alpine skiing World Championships Tarvisio, ITA (Tarvisio, Italy)

| Event | Medal | Unit | Date | Rank |
| --- | --- | --- | --- | --- |
| Men's Downhill Standing | | Race 1 | 2017-01-25 | 6 |
| Men's Super-G Standing | | Race 1 | 2017-01-26 | 6 |
| Men's Super-Combined Standing | | Race 1 | 2017-01-28 | 2 |
| Men's Giant Slalom Standing | | Race 1 | 2017-01-30 | 9 |
Kranjska Gora/Sella Nevea 2019 World Para Alpine Skiing Championships (Kranjska Gora/Sella Nevea, Slovenia)

| Event | Medal | Unit | Date | Rank |
| --- | --- | --- | --- | --- |
| Men's Giant Slalom Standing | | Race 1 | 2019-01-21 | 9999 |
| Men's Slalom Standing | | Race 1 | 2019-01-23 | 7 |
| Men's Downhill Standing | | Race 1 | 2019-01-30 | 9 |
| Men's Super-G Standing | | Race 1 (from SC) | 2019-01-31 | 6 |
| Men's Super-Combined Standing | | Race 1 | 2019-01-31 | 4 |
Lillehammer 2021 World Para Snow Sports Championships (Lillehammer, Norway)

| Event | Medal | Unit | Date | Rank |
| --- | --- | --- | --- | --- |
| Men's Downhill Standing | | Race 1 | 2022-01-14 | 7 |
| Men's Super-G Standing | | Race 1 | 2022-01-15 | 9999 |
| Men's Super-Combined Standing | | Race 1 | 2022-01-17 | 16 |
| Men's Super-G Standing | | Race 1 (from SC) | 2022-01-17 | 22 |
| Men's Slalom Standing | | Race 1 | 2022-01-21 | 17 |