Imagen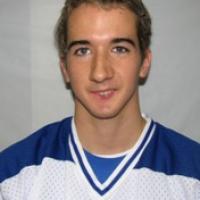 Biography
Impairment information
Type of Impairment
Limb deficiency
Origin of Impairment
Congenital
Classification
S5, SB4, SM5
Further personal information
Residence
Del Mar, CA, USA
Higher education
Earth Sciences - Stanford University: Palo Alto, CA, USA
Sport specific information
When and where did you begin this sport?
He began swimming at age 12 when his family moved to California, United States of America.
Why this sport?
His family gave him swimming lessons as a safety precaution. He was then spotted by coach Don Watkinds when he competed at the San Diego Triathlon Challenge.
International debut
Competing for
United States
General interest
Awards and honours
He was named the Best Male Swimmer of the Meet at the 2014 and 2015 Can-Am Championships. (teamusa.org, 22 Mar 2015; 07 Dec 2014)

In 2008 he was the co-recipient [with Rudy Garcia-Tolson] of the Challenged Athlete of the Year award by the Challenged Athletes Foundation. (Athlete, 10 Aug 2011)

He was named the 2006 Challenged Athlete Star of the Year by San Diego Hall of Champions in California, United States of America. (Athlete, 10 Aug 2011)
Famous relatives
His cousin Levi Knutson has played professional basketball in Spain. (teamusa.org, 2012)
Impairment
He was born without hands and feet. (stanford.edu, 22 Aug 2012)
Other information
FAMILY RULE
Born without hands and feet, his parents encouraged him to try as many sports as he could while he was growing up. Their only rule was that he had to try a sport at least once before he said he could not do it. (sdhoc.com, 22 Jan 2007)
Results
IPC Swimming World Championships Eindhoven 2010 (Eindhoven, Netherlands)

| Event | Medal | Unit | Date | Rank |
| --- | --- | --- | --- | --- |
| Men's 50 m Freestyle S5 | | Final Round | | 3 |
| Men's 100 m Freestyle S5 | | Heat 2 | | 2 |
| Men's 100 m Freestyle S5 | | Final Round | | 2 |
| Men's 200 m Freestyle S5 | | Heat 2 | | 2 |
| Men's 200 m Freestyle S5 | | Final Round | | 2 |
| Men's 4x50 m Freestyle 20pts | | Heat 2 | | 5 |
| Men's 4x50 m Medley 20pts | | Heat 1 | | 5 |
| Men's 50 m Backstroke S5 | | Heat 2 | | 3 |
| Men's 50 m Backstroke S5 | | Final Round | | 5 |
| Men's 50 m Butterfly S5 | | Heat 2 | | 1 |
| Men's 50 m Butterfly S5 | | Final Round | | 2 |
| Men's 50 m Freestyle S5 | | Heat 1 | | 1 |
IPC Swimming World Championships Durban 2006 (Durban, South Africa)

| Event | Medal | Unit | Date | Rank |
| --- | --- | --- | --- | --- |
| Men's 4x50 m Freestyle 20 pts | | Final Round | | 3 |
| Men's 4x50 m Medley 20 pts | | Final Round | | 5 |
| Men's 50 m Backstroke S5 | | Heats | | 7 |
| Men's 50 m Backstroke S5 | | Final Round | | 7 |
| Men's 50 m Butterfly S5 | | Heats | | 1 |
| Men's 50 m Butterfly S5 | | Final Round | | 1 |
| Men's 50 m Freestyle S5 | | Heats | | 4 |
| Men's 50 m Freestyle S5 | | Final Round | | 4 |
| Men's 200 m Individual Medley SM5 | | Final Round | | 3 |
| Men's 200 m Freestyle S5 | | Final Round | | 4 |
| Men's 100 m Freestyle S5 | | Heats | | 6 |
| Men's 100 m Freestyle S5 | | Final Round | | 6 |
| Men's 200 m Freestyle S5 | | Heats | | 3 |
2013 IPC Swimming World Championships (Montreal, Canada)

| Event | Medal | Unit | Date | Rank |
| --- | --- | --- | --- | --- |
| Men's 50 m Butterfly S5 | | Heat 1 | 2013-08-12 | 2 |
| Men's 50 m Butterfly S5 | | Final 1 | 2013-08-12 | 1 |
| Men's 200 m Freestyle S5 | | Final 1 | 2013-08-13 | 2 |
| Men's 200 m Freestyle S5 | | Heat 1 | 2013-08-13 | 2 |
| Men's 4x100 m Freestyle 34pts | | Final 1 | 2013-08-15 | 6 |
| Men's 100 m Freestyle S5 | | Final 1 | 2013-08-17 | 2 |
| Men's 50 m Freestyle S5 | | Heat 2 | 2013-08-18 | 2 |
| Men's 50 m Freestyle S5 | | Final 1 | 2013-08-18 | 2 |
| Men's 4x100 m Medley 34pts | | Final 1 | 2013-08-18 | 6 |
2015 IPC Swimming World Championships (Glasgow, Great Britain)

| Event | Medal | Unit | Date | Rank |
| --- | --- | --- | --- | --- |
| Mixed 4x50 m Freestyle 20pts | | Heat 1 | 2015-07-13 | 6 |
| Mixed 4x50 m Freestyle 20pts | | Final 1 | 2015-07-13 | 6 |
| Men's 200 m Freestyle S5 | | Heat 1 | 2015-07-15 | 3 |
| Men's 200 m Freestyle S5 | | Final 1 | 2015-07-15 | 3 |
| Men's 50 m Butterfly S5 | | Heat 1 | 2015-07-16 | 1 |
| Men's 50 m Butterfly S5 | | Final 1 | 2015-07-16 | 2 |
| Men's 50 m Freestyle S5 | | Final 1 | 2015-07-17 | 5 |
| Men's 50 m Freestyle S5 | | Heat 1 | 2015-07-17 | 4 |
| Men's 100 m Breaststroke SB4 | | Heat 1 | 2015-07-18 | 9999 |
| Men's 100 m Freestyle S5 | | Final 1 | 2015-07-19 | 2 |
| Men's 100 m Freestyle S5 | | Heat 1 | 2015-07-19 | 2 |