Imagen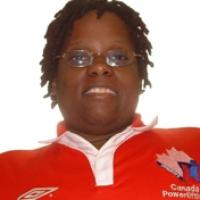 Sally Thomas
Powerlifting
Biography
Further personal information
Residence
Ottawa, ON, CAN
Occupation
Athlete, Motivational Speaker, Personal Trainer, Volunteer
Higher education
Sport and Recreation Studies - Algonquin College: Ottawa, ON, CAN
Sport specific information
When and where did you begin this sport?
She started powerlifting in 2000. She had been heavily involved in sports since a child however,
after her mum saw her draw a picture of football players without legs "which made her realise that I liked sports. There weren't a lot of opportunities for children with disabilities, so she enrolled me in what she could, which turned out to be track and field, then basketball," she says.
Why this sport?
After failing to be selected for Canada's Atlanta 1996 and Sydney 2000 Paralympic Games teams for wheelchair racing, her track and field coach suggested she lift weights to improve her strength and race times. Her times actually decreased, but she discovered she had a knack for powerlifting. "In six months, I surpassed where I was in track," she says.

She says one of the aspects she enjoys most about powerlifting is that it is based on weight classifications and not on disability: "When you win you beat everyone, not just people with your same disability," she says.
Training Regime
"Because I am training for the Paralympics, I am doing something athletic six days a week. I lift on Mondays, Tuesdays, Wednesdays and Fridays. On average, I bench press 135 lbs, but my maximum weight is 170 lbs. I play basketball on Wednesdays and Sundays and do jiu jitsu on Fridays and Saturdays." She also meets with a sports psychologist.
General interest
Nicknames
Buckwheat. (cwsa.ca, 01 Dec 2007)
Hobbies
Public speaking, volunteer work, basketball, jiu jitsu, table tennis. (cwsa.ca, 01 Dec 2007)
Memorable sporting achievement
She says her two memorable moments are winning her first international medal, and competing at her first Paralympic Games: "The first time I competed internationally was in 2001 just shortly after the events of September 11th. I did not know what to expect so I just went with my instincts and came out with an official Canadian record and a silver medal. I remember calling my mum using my coach's credit card because I didn't have one of my own yet. She cried and I had to tell her to stop crying so we could talk...[But] by far my best memory was marching in to the Olympic Stadium in Athens in 2004 as a member of my first Paralympics team and realising how many people had come to see us."
(marysdisabilityblog.blogspot.com, 24 Oct 2010)


Sporting philosophy / motto
"I'm normal, just like you." (carleton.ca, 29 Jun 2007)

"Find something you really love doing and find a way to do it. That way, it never seems like work. If you need help to achieve your goals, don't be afraid to ask for it. If help is offered to you, take it." (marysdisabilityblog.blogspot.com, 24 Oct 2010)
Awards and honours
Was the first Canadian woman to compete in powerlifting at the Paralympic Games when she did so at Athens in 2004. (Abilities Canada, 29 Jun 2007)

Around 2006-07 she was the only female certified personal trainer with a disability in Canada. She also has an interest in coaching and works with disabled athletes across a range of sports. (cwsa.ca, 01 Dec 2007)

2003 Ontario Wheelchair Sports Association Female Athlete of the Year. (Team Canada Parapanamerican Guide 2007)
Other sports
She plays wheelchair basketball with the Ottawa Jazz and plays table tennis with the National Capital Wheelchair Tennis Association. She also competed in track and field and made the minimum qualification times for Atlanta and Sydney Paralympic Games in two events, but was not selected onto the Canadian team. (cwsa.ca, 01 Dec 2007)
Ambitions
In October 2010 she said "I have never won a major event and that still drives me." (marysdisabilityblog.blogspot.com, 24 Oct 2010)
Other information
ATHENS INTIMIDATION
Finishing seventh out of eight competitors at her first Paralympic Games in 2004, she said her poor performance came down to intimidation from other competitors and overly ambitious expectations. She says competitors in Athens were pacing in front of her, staring at her and pointing at her: "Im just not like that. It was really surprising," she said, adding that a lot of people told her she was going to win a medal which went to her head: "I started to believe them. They were saying if I did my best I would win a medal. Well, I did my best and set a Canadian record but finished seventh out of eight. And the eighth competitor was disqualified!" (bleacherreport.com, 05 Aug 2008)

WHEELCHAIR RACING TO WEIGHTLIFTING
She made the minimum qualification times for 100m and 200m wheelchair racing for both the Atlanta and Sydney Paralympic Games. However she was not selected onto the nation team for these events. Her track coach subsequently suggested she try weightlifting to improve her strength and racing times, but the weightlifting had the opposite effect: "I just got worse. The stronger I got, the slower I got," she said. However, she had discovered a natural ability and passion for powerlifting, and says that within six months of taking up the sport she had surpassed the level she was at in track and field. (bleacherreport.com, 05 Aug 2008)

FAMILY BACKGROUND
Her mother left her at the hospital when she was born as it was believed her medical condition meant she would not survive. She grew up in a group home before being adopted as a young girl into a family of six children, five of whom were also adopted and had some sort of disability. As of 2011 she has over 20 years experience working with children and adults with disabilities. (cwsa.ca, 01 Dec 2007)

TATTOO
She got a tattoo to commemorate her first Paralympic experience in Athens in 2004 (marysdisabilityblog.blogspot.com, 24 Oct 2010)

Results
IPC Powerlifting World Championships Kuala Lumpur 2002 (Kuala Lumpur, Malaysia)

| Event | Medal | Unit | Date | Rank |
| --- | --- | --- | --- | --- |
| Women's -40 kg | | Final Round | | 4 |
IPC Powerlifting World Championships Busan 2006 (Busan, South Korea)

| Event | Medal | Unit | Date | Rank |
| --- | --- | --- | --- | --- |
| Women's -40 kg | | Final Round | | 6 |