Imagen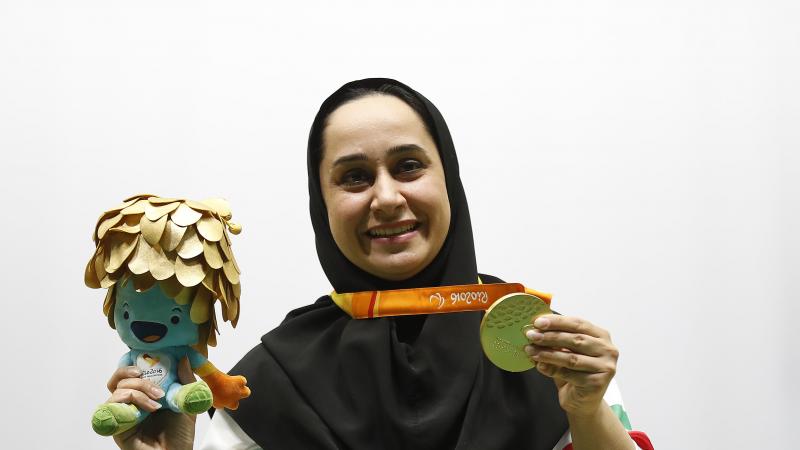 Sareh Javanmardi
Shooting
Sareh Javanmardi has really stepped up her game since winning bronze at the London 2012 Paralympic Games in P2 (women's 10 air pistol SH1).
She is now a three-time world and two-time Paralympic champion. Her most recent achievement was double gold at the 2018 World Championships in Choengju, South Korea. Both her P2 and P4 (mixed 50m pistol SH1) titles were won in comeback fashion, verifying she is the top pistol shooter in the sport.
Five months later, Javanmardi got the honour to carry her country's flag at the Opening Ceremony of the 2018 Asian Para Games in Indonesia, where she again went on to win both pistol events.
Javanmardi began shooting in 2008. She first started with sitting volleyball, then moved onto table tennis and athletics, before finding her passion in shooting.
At her Paralympic debut in 2012, Javanmardi captured P2 bronze, and that was only the beginning of a blossoming career. The 2015 season saw her take two world records in P2 and two wins at World Cups. Her performances placed her amongst the top three in the world rankings in 2015 in P4 and P2 heading into the Paralympic Games year in 2016.
Javanmardi, who is training in business management, completely dominated in both her events at Rio 2016, winning her first titles in P4 and P2 with two finals Paralympic records. Her delight was clear for everyone to see and she has now become another beacon of inspiration for women with impairments in Iran.
Results
2014 IPC Shooting World Championships (Suhl, Germany)

| Event | Medal | Unit | Date | Rank |
| --- | --- | --- | --- | --- |
| Team P2 - Women's 10m Air Pistol SH1 | | Qualification | 2014-07-20 | 2 |
| Women's 10m Air Pistol SH1 | | Qualification | 2014-07-20 | 1 |
| Women's 10m Air Pistol SH1 | | Final | 2014-07-20 | 1 |
Cheongju 2018 World Shooting Para Sport Championships (Cheongju, South Korea)

| Event | Medal | Unit | Date | Rank |
| --- | --- | --- | --- | --- |
| Team P4 - Mixed 50m Pistol SH1 | | Qualification | 2018-05-05 | 2 |
| Team P2 - Women's 10m Air Pistol SH1 | | Qualification | 2018-05-05 | 1 |
| P4 - Mixed 50m Pistol SH1 | | Final | 2018-05-05 | 1 |
| P4 - Mixed 50m Pistol SH1 | | Qualification | 2018-05-05 | 6 |
| P2 - Women's 10m Air Pistol SH1 | | Final | 2018-05-05 | 1 |
| P2 - Women's 10m Air Pistol SH1 | | Qualification | 2018-05-05 | 2 |
Sydney 2019 World Shooting Para Sport Championships (Sydney, Australia)

| Event | Medal | Unit | Date | Rank |
| --- | --- | --- | --- | --- |
| Team P4 - Mixed 50m Pistol SH1 | | Final | 2019-10-15 | 2 |
| P4 - Mixed 50m Pistol SH1 | | Final | 2019-10-15 | 4 |
| P4 - Mixed 50m Pistol SH1 | | Qualification | 2019-10-15 | 4 |
| P2 - Women's 10m Air Pistol SH1 | | Qualification | 2019-10-17 | 3 |
| P2 - Women's 10m Air Pistol SH1 | | Final | 2019-10-17 | 2 |
| P6 - 10m Air Pistol Mixed Team SH1 | | Qualification | 2019-10-17 | 2 |
| P6 - 10m Air Pistol Mixed Team SH1 | | Final | 2019-10-17 | 4 |