Imagen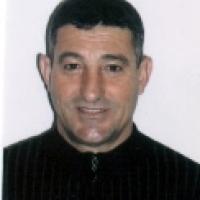 Sebastian Rodriguez
Swimming
Biography
Impairment information
Type of Impairment
Impaired muscle power
Origin of Impairment
Acquired
Classification
S5, SB4, SM5
Further personal information
Sport specific information
When and where did you begin this sport?
He took up swimming competitively in 1995.
Why this sport?
His brother-in-law Paco taught him to swim at the beach when he was around age three. He returned to swimming while in prison in Valencia, Spain, after developing paraplegia. Following his release from prison in 1994 he took up wheelchair basketball and Para swimming.
Club / Team
CN Galaico: Pontevedra, ESP
Name of coach
Alejandro Brea Lopez [club], ESP
General interest
Nicknames
Chano (farodevigo.es, 03 Jun 2019)
Hobbies
Sailing. (Athlete, 15 Aug 2018)
Memorable sporting achievement
Winning five gold medals and setting world records at the 2000 Paralympic Games in Sydney. (Athlete, 15 Aug 2018, 12 Jul 2015)
Sporting philosophy / motto
"Swimming is 90% mental. You are swimming and your head asks you to stop, but you have to learn to continue. Train yourself to ignore it, to know how to suffer. Your mind deceives you, it tells you that you are drowning, but you are not." (diariodealcala.es, 24 May 2021)
Other sports
He has played wheelchair basketball at club level in Spain. (elconfidencial.com, 15 Sep 2016)
Milestones
With his three gold medals at the 2004 Paralympic Games in Athens, he became the first Spanish Para swimmer to win eight career Paralympic gold medals. (SportsDeskOnline, 05 Aug 2021)
Ambitions
To compete at the 2020 Paralympic Games in Tokyo. (Mais Que Auga Facebook page, 09 Apr 2019; atlantico.net, 22 Aug 2018)
Impairment
He has paraplegia after spending 432 days on hunger strike while in prison. (Athlete, 15 Aug 2018; abc.es, 01 Sep 2012; guardian.co.uk, 30 Aug 2012)
Other information
PARALYMPIC VETERAN
He hopes to compete at the 2020 Paralympic Games in Tokyo, when he will be age 64. "Age is not a problem. I still swim in my best times but the new generations are better and better prepared, so they swim faster and the entry standards get harder and harder. Besides, the reorganisation of categories has not benefited me at all, as I am still an S5 but will have to compete with swimmers that were S6 or S7, and that is a big difference. I am trying to gain weight in order to be more competitive and have a chance." (Mais Que Auga Facebook page, 09 Apr 2019; atlantico.net, 22 Aug 2018)

IMPAIRMENT HISTORY
He has paraplegia after spending 432 days on hunger strike while in prison. He was given an 84-year sentence for his alleged involvement in the murder of businessman Rafael Padura in 1984. Rodriguez and the gang involved in the murder were members of GRAPO [1st October Anti-Fascist Resistance Group] who, at the time, were listed as a terrorist organisation by the European Union [EU]. He was paroled in 1994, having served 10 years in prison, under a Spanish law that prevents people from being incarcerated while seriously ill. He was officially pardoned by the Spanish government in 2015. "I am an example that mistakes can lead you to achieve things, and help others not to commit them. I don't pretend to be exemplary, I just learn from the past, live in the present and work for the future." (elconfidencial.com, 15 Sep 2016; abc.es, 01 Sep 2012; guardian.co.uk, 30 Aug 2012; diariodealcala.es, 24 May 2021)
Results
IPC Swimming World Championships Eindhoven 2010 (Eindhoven, Netherlands)

| Event | Medal | Unit | Date | Rank |
| --- | --- | --- | --- | --- |
| Men's 50 m Freestyle S5 | | Final Round | | 2 |
| Men's 50 m Freestyle S5 | | Heat 2 | | 1 |
| Men's 4x50 m Medley 20pts | | Final Round | | 3 |
| Men's 4x50 m Medley 20pts | | Heat 2 | | 1 |
| Men's 4x50 m Freestyle 20pts | | Final Round | | 1 |
| Men's 4x50 m Freestyle 20pts | | Heat 2 | | 1 |
| Men's 200 m Freestyle S5 | | Final Round | | 3 |
| Men's 200 m Freestyle S5 | | Heat 1 | | 1 |
| Men's 100 m Freestyle S5 | | Heat 1 | | 1 |
IPC Swimming World Championships Durban 2006 (Durban, South Africa)

| Event | Medal | Unit | Date | Rank |
| --- | --- | --- | --- | --- |
| Men's 100 m Freestyle S5 | | Heats | | 4 |
| Men's 100 m Freestyle S5 | | Final Round | | 4 |
| Men's 200 m Freestyle S5 | | Heats | | 4 |
| Men's 200 m Freestyle S5 | | Final Round | | 2 |
| Men's 4x50 m Freestyle 20 pts | | Final Round | | 1 |
| Men's 4x50 m Medley 20 pts | | Final Round | | 2 |
| Men's 50 m Freestyle S5 | | Heats | | 3 |
| Men's 50 m Freestyle S5 | | Final Round | | 2 |
IPC Swimming World Championships Mar del Plata 2002 (Mar del Plata, Argentina)

| Event | Medal | Unit | Date | Rank |
| --- | --- | --- | --- | --- |
| Men's 50 m Freestyle S5 | | Final Round | | 1 |
| Men's 50 m Freestyle S5 | | Heats | | 2 |
| Men's 100 m Freestyle S5 | | Heats | | 5 |
| Men's 100 m Freestyle S5 | | Final Round | | 1 |
| Men's 4x50 m Freestyle 20 pts | | Final Round | | 1 |
| Men's 200 m Freestyle S5 | | Final Round | | 1 |
| Men's 200 m Freestyle S5 | | Heats | | 4 |
2013 IPC Swimming World Championships (Montreal, Canada)

| Event | Medal | Unit | Date | Rank |
| --- | --- | --- | --- | --- |
| Men's 4x50 m Freestyle 20pts | | Final 1 | 2013-08-14 | 4 |
| Men's 4x50 m Medley 20pts | | Final 1 | 2013-08-16 | 2 |
| Men's 100 m Freestyle S5 | | Final 1 | 2013-08-17 | 3 |
| Men's 50 m Freestyle S5 | | Final 1 | 2013-08-18 | 3 |
| Men's 50 m Freestyle S5 | | Heat 1 | 2013-08-18 | 3 |
2015 IPC Swimming World Championships (Glasgow, Great Britain)

| Event | Medal | Unit | Date | Rank |
| --- | --- | --- | --- | --- |
| Mixed 4x50 m Freestyle 20pts | | Final 1 | 2015-07-13 | 5 |
| Mixed 4x50 m Freestyle 20pts | | Heat 1 | 2015-07-13 | 4 |
| Men's 200 m Freestyle S5 | | Heat 1 | 2015-07-15 | 5 |
| Men's 200 m Freestyle S5 | | Final 1 | 2015-07-15 | 5 |
| Men's 50 m Freestyle S5 | | Final 1 | 2015-07-17 | 2 |
| Men's 50 m Freestyle S5 | | Heat 2 | 2015-07-17 | 2 |
| Men's 100 m Freestyle S5 | | Heat 2 | 2015-07-19 | 3 |
| Men's 100 m Freestyle S5 | | Final 1 | 2015-07-19 | 4 |
Mexico City 2017 World Para Swimming Championships (Mexico City, Mexico)

| Event | Medal | Unit | Date | Rank |
| --- | --- | --- | --- | --- |
| Men's 50 m Freestyle S5 | | Final 1 | 2017-12-05 | 3 |
| Men's 50 m Freestyle S5 | | Heat 2 | 2017-12-05 | 3 |