Imagen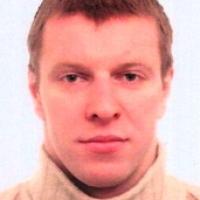 Biography
Impairment information
Type of Impairment
Vision impairment
Origin of Impairment
Congenital
Further personal information
Languages
Belarusian, English, Russian
Higher education
Coaching, Teaching - Vitebsk State University: Belarus
Sport specific information
When and where did you begin this sport?
He began swimming in 1991 in Belarus, under coach Igor Makeev.
Why this sport?
He took up Para swimming in 2002 after watching a television programme featuring swimmer Roman Makarov, who won a gold medal at the 2000 Paralympic Games in Sydney. His father Vyacheslav encouraged him and he took part in his first competition for visually impaired swimmers in 2003.
Club / Team
Youth of Moscow: Russia
Name of coach
Vadim Labokha [personal], RUS, from 2013
General interest
Memorable sporting achievement
Winning gold medals at the Paralympic Games in 2004, 2008 and 2012. (Athlete, 21 Aug 2019)
Awards and honours
He holds the titles of Honoured Master of Sport in Belarus and the Russian Federation. (fss.org.ru, 21 Jan 2020; novaya.by, 02 Aug 2019)

For his achievements at the 2012 Paralympic Games in London, he was awarded the Order of Friendship of the Russian Federation. (pravo.gov.ru, 12 Sep 2012)

For his performance at the 2008 Paralympic Games in Beijing he received the Order of Honour of Belarus. (zn.by, 26 Feb 2009)
Other sports
He participated in national and international competitions as an able-bodied swimmer before his vision deteriorated. (mk.ru, 13 Nov 2012; swimmingworldmagazine.com, 24 Dec 2003)
Ambitions
To win a medal at the 2020 Paralympic Games in Tokyo. (Athlete, 21 Aug 2019)
Impairment
He participated in national and international competitions as an able-bodied swimmer until about age 21. At this time his progressive congenital eye condition worsened and, in 2002, he was certified as an athlete with a visual impairment and given S12 status. (swimmingworldmagazine.com, 24 Dec 2003)
Other information
CHANGE OF ALLEGIANCE
He represented Belarus at the 2004 and 2008 Paralympic Games. In 2009 he was invited to train in Moscow and later began competing for the Russian Federation. (mk.ru, 13 Nov 2012)
Results
IPC Swimming World Championships Eindhoven 2010 (Eindhoven, Netherlands)

| Event | Medal | Unit | Date | Rank |
| --- | --- | --- | --- | --- |
| Men's 5,000 m Open Water S13 | | Final Round | | 1 |
| Men's 50 m Freestyle S12 | | Final Round | | 4 |
| Men's 50 m Freestyle S12 | | Heat 1 | | 2 |
| Men's 4x100 m Medley 49pts | | Final Round | | 1 |
| Men's 400 m Freestyle S12 | | Final Round | | 1 |
| Men's 400 m Freestyle S12 | | Heat 2 | | 1 |
| Men's 200 m Individual Medley SM12 | | Final Round | | 2 |
| Men's 200 m Individual Medley SM12 | | Heat 1 | | 2 |
| Men's 100 m Freestyle S12 | | Final Round | | 3 |
| Men's 100 m Freestyle S12 | | Heat 1 | | 2 |
| Men's 100 m Butterfly S12 | | Final Round | | 2 |
| Men's 100 m Butterfly S12 | | Heat 2 | | 2 |
IPC Swimming World Championships Durban 2006 (Durban, South Africa)

| Event | Medal | Unit | Date | Rank |
| --- | --- | --- | --- | --- |
| Men's 100 m Backstroke S12 | | Heats | | 8 |
| Men's 100 m Backstroke S12 | | Final Round | | 7 |
| Men's 100 m Breaststroke SB12 | | Heats | | 2 |
| Men's 100 m Breaststroke SB12 | | Final Round | | 1 |
| Men's 100 m Butterfly S12 | | Heats | | 2 |
| Men's 100 m Butterfly S12 | | Final Round | | 2 |
| Men's 100 m Freestyle S12 | | Heats | | 2 |
| Men's 100 m Freestyle S12 | | Final Round | | 2 |
| Men's 200 m Individual Medley SM12 | | Heats | | 1 |
| Men's 200 m Individual Medley SM12 | | Final Round | | 1 |
| Men's 400 m Freestyle S12 | | Heats | | 1 |
| Men's 400 m Freestyle S12 | | Final Round | | 1 |
| Men's 4x100 m Freestyle 49 pts | | Final Round | | 2 |
| Men's 4x100 m Medley 49 pts | | Final Round | | 2 |
| Men's 5,000 m Open Water | | Final Round | | 1 |
| Men's 50 m Freestyle S12 | | Heats | | 5 |
| Men's 50 m Freestyle S12 | | Final Round | | 5 |
2013 IPC Swimming World Championships (Montreal, Canada)

| Event | Medal | Unit | Date | Rank |
| --- | --- | --- | --- | --- |
| Men's 100 m Butterfly S12 | | Heat 1 | 2013-08-13 | 5 |
| Men's 100 m Butterfly S12 | | Final 1 | 2013-08-13 | 4 |
| Men's 200 m Individual Medley SM12 | | Heat 1 | 2013-08-14 | 4 |
| Men's 200 m Individual Medley SM12 | | Final 1 | 2013-08-14 | 4 |
| Men's 400 m Freestyle S12 | | Final 1 | 2013-08-16 | 2 |
| Men's 100 m Breaststroke SB12 | | Final 1 | 2013-08-18 | 3 |
2015 IPC Swimming World Championships (Glasgow, Great Britain)

| Event | Medal | Unit | Date | Rank |
| --- | --- | --- | --- | --- |
| Men's 200 m Individual Medley SM13 | | Heat 2 | 2015-07-14 | 6 |
| Men's 200 m Individual Medley SM13 | | Final 1 | 2015-07-14 | 8 |
| Men's 400 m Freestyle S13 | | Heat 1 | 2015-07-16 | 6 |
| Men's 100 m Breaststroke SB12 | | Heat 1 | 2015-07-16 | 8 |
| Men's 400 m Freestyle S13 | | Final 1 | 2015-07-16 | 6 |
| Men's 100 m Breaststroke SB12 | | Final 1 | 2015-07-16 | 6 |