Imagen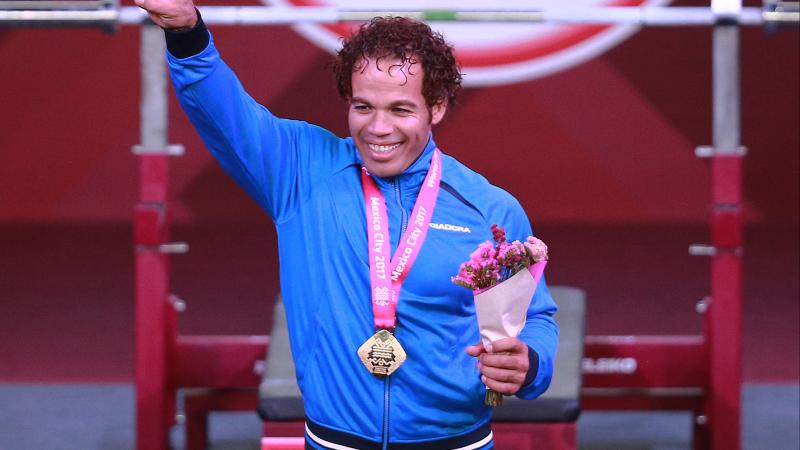 Sherif Osman
Powerlifting
Sherif Osman has a taste for victory.
In 2018, he won the African Championships for a second successive time in Algiers, Algeria. The Egyptian powerlifter topped the podium in the men's up to 59kg.
One year earlier, he claimed the World Championships title in the men's up to 59kg in Mexico City. He lifted 205kg, close to four times his body weight! That was his third title in three different categories over three appearances.
He took his first gold in the men's up to 56kg in Kuala Lumpur, Malaysia, in 2010. Four years later, he repeated the gold in the up to 54kg in Dubai, United Arab Emirates.
Osman enjoyed the same success at Paralympic Games. After making a golden debut at Beijing 2008, he added two more golds to his haul at London 2012 and Rio 2016. And he is hoping to "win three more Paralympic titles."
Before each lift, the Egyptian has a ritual. He walks slowly towards the bench and stares at the bar as if challenging it. "It makes me feel self-confident and stronger. I began with it in 2006 and continued doing it in training and especially when I compete."
Osman took up powerlifting in 2005, encouraged by his first coach Said Abd El Hafez, also Egypt's first powerlifting Paralympic medallist.
Results
2010 IPC Powerlifting World Championships (Kuala Lumpur, Malaysia)

| Event | Medal | Unit | Date | Rank |
| --- | --- | --- | --- | --- |
| Men's Up to 56.00kg | | Final | 2010-07-26 | 9999 |
2014 IPC Powerlifting World Championships (Dubai, United Arab Emirates)

| Event | Medal | Unit | Date | Rank |
| --- | --- | --- | --- | --- |
| Men's Up to 54.00 kg MD | | Record Attempts | 2014-04-06 | 9999 |
| Men's Up to 54.00 kg MD | | Final | 2014-04-06 | 1 |
Mexico City 2017 World Para Powerlifting Championships (Mexico City, Mexico)

| Event | Medal | Unit | Date | Rank |
| --- | --- | --- | --- | --- |
| Men's Up to 59.00kg | | Final | 2017-12-03 | 1 |
Nur-Sultan 2019 World Para Powerlifting Championships (Nur-Sultan, Kazakhstan)

| Event | Medal | Unit | Date | Rank |
| --- | --- | --- | --- | --- |
| Men's Up to 59.00kg | | Final | 2019-07-14 | 1 |
| Mixed Team Event | | Final | 2019-07-20 | 1 |
Tbilisi 2021 World Para Powerlifting Senior World Championships (Tbilisi, Georgia)

| Event | Medal | Unit | Date | Rank |
| --- | --- | --- | --- | --- |
| Men's Up to 59.00kg | | Final | 2021-11-30 | 1 |