Imagen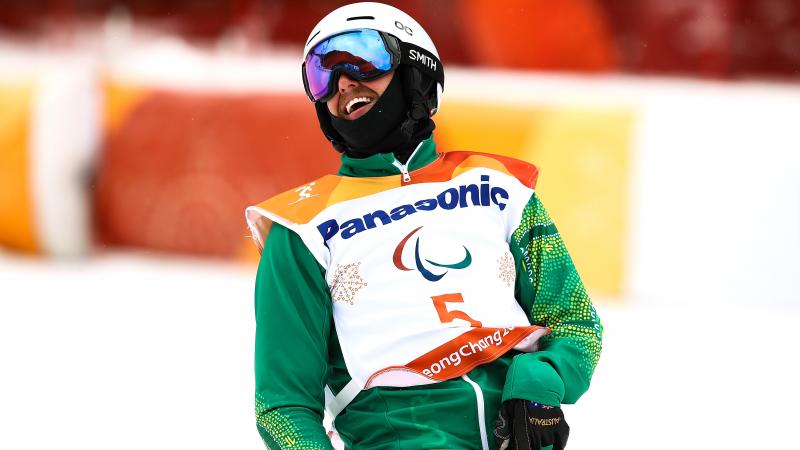 Simon Patmore
Snowboard | Athletics
Simon Patmore made history at PyeongChang 2018, breaking a 16-year drought for Australia at the Paralympic Winter Games when he won snowboard-cross gold. He also became the first Australian male to win a medal at both a Winter and Summer Paralympic Games.
Patmore's Paralympic gold came in thrilling fashion, as he beat Italy's Manuel Pozzerle in a tight race for the men's SB-UL crown. It was the Australian's first major gold in the sport, and certainly one of the biggest surprises in PyeongChang. A few days later, he followed up with bronze in banked slalom.
But perhaps Patmore's rise in snowboard was no surprise, as he was switching over from a successful Para athletics career. In 2010 he won a Commonwealth Games gold medal in the men's 100m T46. He made his Paralympic debut less than two years later at London 2012, where he finished just 0.31 seconds behind Brazil's gold medallist, Yohansson Nascimento, to win bronze over 200m.
He switched to snowboard after learning there was a class for people with an upper limb impairment and that the sport would be on the programme for PyeongChang 2018.
Patmore took top honours in the snowboard-cross at the 2015-16 World Cup in Trentino, Italy. It was his first victory in the sport. But amid tight competition, he did not reach the top spot until the 2017 World Cup in Pyha, Finland, where he also won in boarder-cross.
Patmore has finally found his consistency in the 2018-19 season with more podium finishes and looks on target to secure his first World Championship medal in snowboard.
Results
2011 IPC Athletics World Championships (Christchurch, New Zealand)

| Event | Medal | Unit | Date | Rank |
| --- | --- | --- | --- | --- |
| Men's 200 m T46 | | Heat 1 | 2011-01-23 | 1 |
| Men's 200 m T46 | | Final | 2011-01-24 | 3 |
| Men's 100 m T46 | | Heat 2 | 2011-01-25 | 2 |
| Men's 100 m T46 | | Final | 2011-01-26 | 9999 |
| Men's 4x100 m T42-46 | | Final | 2011-01-29 | 9999 |
IPC Athletics World Championships (Lyon, France)

| Event | Medal | Unit | Date | Rank |
| --- | --- | --- | --- | --- |
| Men's 200 m T46 | | Semifinal 1 | 2013-07-21 | 3 |
| Men's 200 m T46 | | Final 1 | 2013-07-22 | 5 |
| Men's 100 m T46 | | Semifinal 1 | 2013-07-23 | 8 |
| Men's 100 m T46 | | Final 1 | 2013-07-24 | 6 |
2017 IPC Snowboard World Championships Big White, CAN (Big White, Canada)

| Event | Medal | Unit | Date | Rank |
| --- | --- | --- | --- | --- |
| Men's Snowboard Cross SB-UL | | Race 1 | 2017-02-04 | 5 |
| Men's Banked Slalom SB-UL | | Race 1 | 2017-02-07 | 6 |
Pyha 2019 World Para Snowboard Championships (Pyha, Finland)

| Event | Medal | Unit | Date | Rank |
| --- | --- | --- | --- | --- |
| Men's Banked Slalom SB-UL | | Race 1 | 2019-03-27 | 4 |
| Men's Snowboard Cross SB-UL | | Race 1 | 2019-03-30 | 2 |