Imagen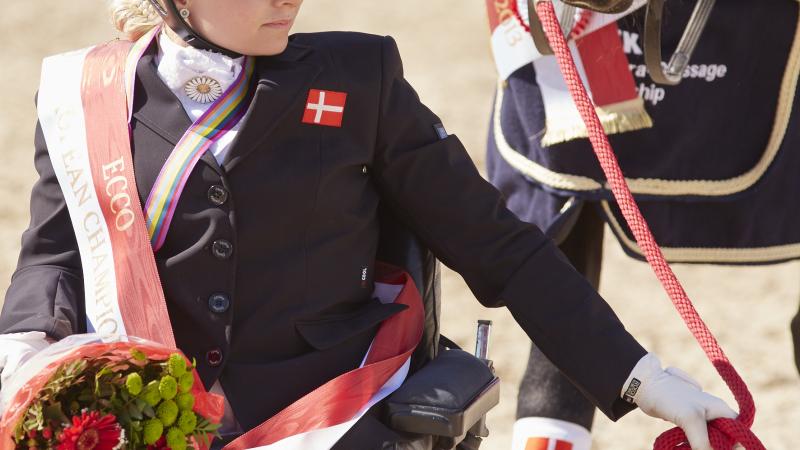 Stinna Kaastrup
Equestrian
Stinna Tange Kaastrup made her global golden breakthrough in the sport with her first world title at the 2018 World Equestrian Games in Tryon, USA. A double bronze medallist at the 2016 Paralympic Games and regular medallist at European Championships, Kaastrup won the grade II individual competition on Horsebo Smarties. She also won the freestyle to conclude a memorable Worlds.
It was only a matter of time that her golden dream would come true. The 2017 season saw her return to the top of the Para equestrian podium for the first time since 2011.
At the 2017 European Championships in Gothenburg, Sweden, she won a medal of every colour. It came off the back of two Rio 2016 Paralympic bronze medals, and all together put to rest a six-year period which could have ended her career entirely.
It began in 2011, when Kaastrup was a one to watch heading into the London 2012 Paralympics. At the 2010 World Equestrian Games she won silver and bronze medal in the ultra-competitive grade Ib and was expected to challenge for the medals in London.
Fate, tragically, had other plans and her beloved horse, Snoevs, died shortly before the Games.
At the following year's Europeans in her home country, Kaastrup – who was born without legs –took three bronze medals on her new ride, Steffi Graf. However, at the 2014 World Equestrian Games and 2015 Europeans, the pair failed to medal.
In the run up to Rio, Kaastrup took the difficult decision to pass Steffi onto another rider and find a horse more suited to her. She found that horse in her new ride, Smarties, but also recognised that such a late change in the preparation for the Games was risky.
At the Games themselves, the pair faced an agonising 24-hour wait to see if Smarties would pass the horse inspection and be able to compete. She described the wait as "the worst night of my life."
The agony was short-lived however, and the pair took two bronze medals to the delight of the sport's fans around the world.
*Competition grades were renamed in 2017