Imagen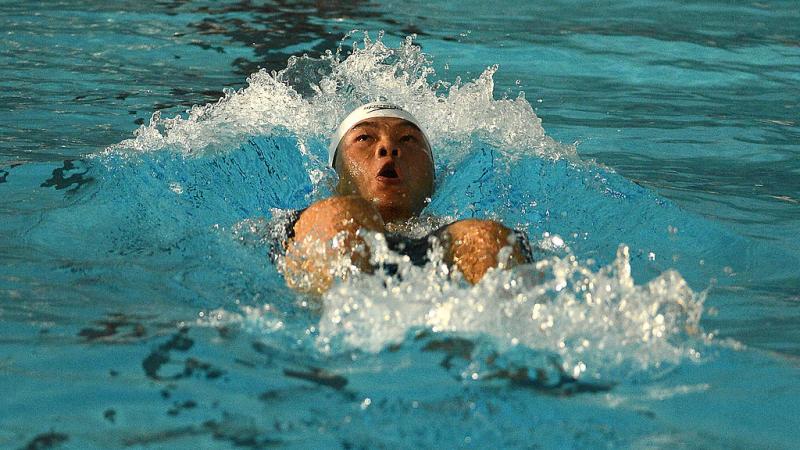 Winning his first major regional medals at the 2010 Asian Para Games in Guangzhou, China, with a silver and bronze medal, S6 swimmer Tao Zheng has been on an upward curve ever since.
As one of the most successful Para swimmers in China, Tao came to swimming after being talent spotted by a local sports association.
It was not until he Paralympic debut at London 2012 that his profile began to grow. As a result of an electric shock as a child, he lost both arms. In the pool, this of course means that he can only propel himself using his legs. And so the image of a young athlete swimming without arms became one of the most popular moments of London 2012 and captured the imagination of millions.
Not only that, Zheng had broken the 100m backstroke S6 world record to claim the gold.
After winning a total of four medals he was awarded the highest honour for young people in China - the 4 May Award. He was also named as one of the top ten personalities of the Yunnan Province in his home country.
In 2013, he continued his great form by winning his favourite 100m backstroke event and also the 50m butterfly against his rival and seven time Paralympic champion teammate Qing Xu.
He retained his 100m backstroke world title in 2015 at the IPC Swimming World Championships in Glasgow, Great Britain, breaking the world record once again, and took home an additional gold and silver medal.
By the Rio 2016 Paralympics, Zheng had gained another Chinese rival in addition to Xu. In the heats of his best event, Zheng was stunned by teammate Hongguang Jia who lowered the world record set by Zheng at London 2012. But Zheng had played it safe with his swim, safely advancing to the final, whilst Jia had to recover from a hot heat.
The head-to-head saw Zheng power to gold with a time more than 1.5 seconds faster than Jia's world record from the heats. He had repeated his iconic performance from four years previously, delivering the crowds a memorable race once again.
Zheng has vowed to fall back in love with swimming in 2017 and if that includes winning golds, he will get his next chance at the World Para Swimming Championships in Mexico City from 30 September where he will defend two titles.
Results
IPC Swimming World Championships Eindhoven 2010 (Eindhoven, Netherlands)

| Event | Medal | Unit | Date | Rank |
| --- | --- | --- | --- | --- |
| Men's 100 m Backstroke S6 | | Heat 1 | | 2 |
| Men's 100 m Backstroke S6 | | Final Round | | 5 |
| Men's 50 m Butterfly S6 | | Final Round | | 4 |
2013 IPC Swimming World Championships (Montreal, Canada)

| Event | Medal | Unit | Date | Rank |
| --- | --- | --- | --- | --- |
| Men's 50 m Freestyle S6 | | Heat 1 | 2013-08-14 | 3 |
| Men's 50 m Freestyle S6 | | Final 1 | 2013-08-14 | 2 |
| Men's 200 m Individual Medley SM6 | | Heat 2 | 2013-08-15 | 5 |
| Men's 200 m Individual Medley SM6 | | Final 1 | 2013-08-15 | 4 |
| Men's 50 m Butterfly S6 | | Final 1 | 2013-08-17 | 1 |
| Men's 100 m Backstroke S6 | | Final 1 | 2013-08-17 | 1 |
2015 IPC Swimming World Championships (Glasgow, Great Britain)

| Event | Medal | Unit | Date | Rank |
| --- | --- | --- | --- | --- |
| Men's 100 m Breaststroke SB7 | | Heat 2 | 2015-07-14 | 12 |
| Men's 50 m Butterfly S6 | | Final 1 | 2015-07-15 | 1 |
| Men's 50 m Butterfly S6 | | Heat 2 | 2015-07-15 | 1 |
| Men's 50 m Freestyle S6 | | Final 1 | 2015-07-16 | 2 |
| Men's 50 m Freestyle S6 | | Heat 2 | 2015-07-16 | 3 |
| Men's 200 m Individual Medley SM6 | | Final 1 | 2015-07-17 | 8 |
| Men's 200 m Individual Medley SM6 | | Heat 2 | 2015-07-17 | 5 |
| Men's 100 m Backstroke S6 | | Final 1 | 2015-07-18 | 1 |
| Men's 100 m Backstroke S6 | | Heat 1 | 2015-07-18 | 1 |
| Men's 100 m Freestyle S6 | | Heat 2 | 2015-07-19 | 16 |