Imagen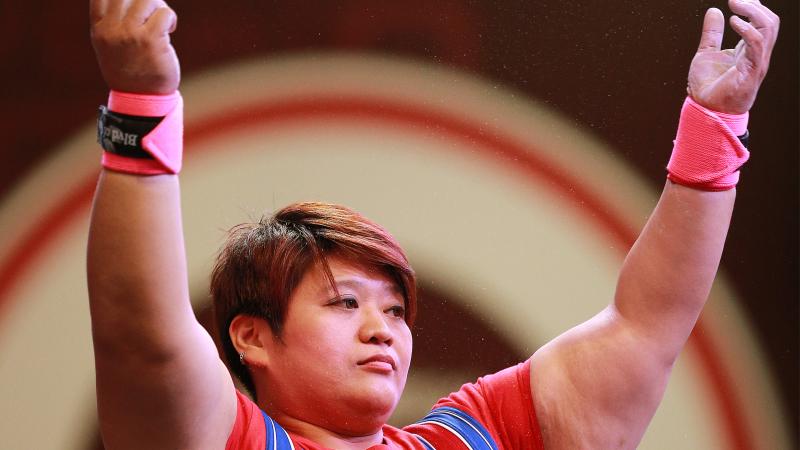 As competition continues to grow, winning titles in powerlifting has become harder even for multiple Paralympic and world champions such as Lin Tzu-Hui.
Lin sealed bronze in the women's up to 79kg at the last four major international events she took part in. Chinese Taipei's most decorated Paralympian ended third at the Asian Para Games in Jakarta, Indonesia, and Asia-Oceania Open Championships in Kitakyushu, Japan, in 2018.
One year before, she also climbed onto the third step of the podium at the World Championships in Mexico City, same as at the Rio 2016 Paralympic Games.
But Lin does not think she is in the downward curve of his career and believes she can return to her glory days.
In 2014, she won her third consecutive world title with a 129kg world record lift.
She also enjoyed success at the Paralympics, winning four medals over five Games. She took gold at Athens 2004 and Beijing 2008, before going on to claim bronze at the following two.
Her performance at London 2012 was memorable as she managed to take bronze despite suffering a shoulder injury during the competition.
Lin also holds European Open Championships and Asian Para Games gold medals.
She took up powerlifting in 1998. "It started as a hobby and soon became something much more."
The impairment to her legs is the result of polio she contracted at age nine months.
Results
IPC Powerlifting World Championships Kuala Lumpur 2002 (Kuala Lumpur, Malaysia)

| Event | Medal | Unit | Date | Rank |
| --- | --- | --- | --- | --- |
| Women's -82.5 kg | | Final Round | | 4 |
IPC Powerlifting World Championships Busan 2006 (Busan, South Korea)

| Event | Medal | Unit | Date | Rank |
| --- | --- | --- | --- | --- |
| Women's -82.5 kg | | Final Round | | 1 |
2010 IPC Powerlifting World Championships (Kuala Lumpur, Malaysia)

| Event | Medal | Unit | Date | Rank |
| --- | --- | --- | --- | --- |
| Women's Up to 75.00kg | | Final | 2010-07-29 | 9999 |
2014 IPC Powerlifting World Championships (Dubai, United Arab Emirates)

| Event | Medal | Unit | Date | Rank |
| --- | --- | --- | --- | --- |
| Women's Up to 79.00 kg MD | | Final | 2014-04-09 | 1 |
Mexico City 2017 World Para Powerlifting Championships (Mexico City, Mexico)

| Event | Medal | Unit | Date | Rank |
| --- | --- | --- | --- | --- |
| Women's Up to 79.00kg | | Final | 2017-12-07 | 3 |