Imagen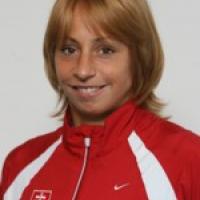 Viera Mikulasikova
Swimming
Biography
Impairment information
Classification
S10, SB9, SM10
Further personal information
Residence
Bratislava, SVK
Languages
Slovak, English
Higher education
Pedagogy: Bratislava, SVK
Sport specific information
When and where did you begin this sport?
She began swimming in 1988 at age eight in Bratislava.
Why this sport?
Her parents thought it would be good for her health.
Club / Team
J&T Sportteam: Bratislava, SVK
Name of coach
Martin Sadlon
Coach from which country?
Slovakia
Coach from what year?
2000
International debut
Tournament
World Championships
General interest
Nicknames
Veve. (Athlete, 08 Feb 2012)
Hobbies
Cycling/handbiking, sleeping, reading books and listening to music. (Athlete, 26 Aug 2010; Athlete, 08 Feb 2012)
Memorable sporting achievement
Winning silver at the 2004 Paralympic Games in Athens. (Athlete, 08 Feb 2012)
Most influential person in career
Her coach and her parents. (Athlete, 08 Feb 2012)
Superstitions / Rituals / Beliefs
She likes to wet her hands before the start of competition. (Athlete, 08 Feb 2012)
Sporting philosophy / motto
"Always dream big. You never know when it comes true." (Athlete, 26 Aug 2010)

"When you really believe in something, the best result will come." (Athlete, 26 Aug 2010)
Ambitions
She wants to be a swim coach after her own swimming career. (Athlete, 26 Aug 2010)
Impairment
Her left leg is shorter than her right leg and she has no left femur due to blood poisoning a few days after her birth. (Athlete, 26 Aug 2010)
Results
IPC Swimming World Championships Eindhoven 2010 (Eindhoven, Netherlands)

| Event | Medal | Unit | Date | Rank |
| --- | --- | --- | --- | --- |
| Women's 50 m Freestyle S10 | | Heat 1 | | 3 |
| Women's 200 m Individual Medley SM10 | | Heat 3 | | 5 |
| Women's 100 m Freestyle S10 | | Heat 2 | | 4 |
| Women's 100 m Breaststroke SB9 | | Heat 1 | | 5 |
IPC Swimming World Championships Durban 2006 (Durban, South Africa)

| Event | Medal | Unit | Date | Rank |
| --- | --- | --- | --- | --- |
| Women's 100 m Breaststroke SB9 | | Heats | | 5 |
| Women's 100 m Breaststroke SB9 | | Final Round | | 3 |
| Women's 100 m Butterfly S10 | | Heats | | 6 |
| Women's 100 m Butterfly S10 | | Final Round | | 7 |
| Women's 100 m Freestyle S10 | | Heats | | 5 |
| Women's 100 m Freestyle S10 | | Final Round | | 6 |
| Women's 50 m Freestyle S10 | | Heats | | 5 |
| Women's 50 m Freestyle S10 | | Final Round | | 6 |
IPC Swimming World Championships Christchurch 1998 (Christchurch, New Zealand)

| Event | Medal | Unit | Date | Rank |
| --- | --- | --- | --- | --- |
| Women's 100 m Freestyle S10 | | Heats | | 8 |
| Women's 800 m Freestyle Open | | Final Round | | 15 |
| Women's 100 m Butterfly S10 | | Final Round | | 3 |
| Women's 50 m Freestyle S10 | | Final Round | | 6 |
| Women's 100 m Breaststroke SB9 | | Heats | | 12 |
| Women's 400 m Freestyle S10 | | Final Round | | 6 |
| Women's 200 m Individual Medley SM10 | | Final Round | | 5 |
| Women's 100 m Freestyle S10 | | Final Round | | 8 |
| Women's 100 m Backstroke S10 | | Heats | | 8 |
| Women's 100 m Backstroke S10 | | Final Round | | 8 |
IPC Swimming World Championships Malta 1994 (Malta, Malta)

| Event | Medal | Unit | Date | Rank |
| --- | --- | --- | --- | --- |
| Women's 200 m Individual Medley SM10 | | Heats | | 10 |
| Women's 100 m Backstroke S10 | | Heats | | 10 |
| Women's 100 m Freestyle S10 | | Heats | | 14 |
| Women's 50 m Freestyle S10 | | Heats | | 13 |
IPC Swimming World Championships Mar del Plata 2002 (Mar del Plata, Argentina)

| Event | Medal | Unit | Date | Rank |
| --- | --- | --- | --- | --- |
| Women's 200 m Individual Medley SM10 | | Final Round | | 6 |
| Women's 100 m Breaststroke SB9 | | Final Round | | 9999 |
| Women's 100 m Breaststroke SB9 | | Heats | | 4 |
| Women's 400 m Freestyle S10 | | Final Round | | 7 |
| Women's 400 m Freestyle S10 | | Heats | | 7 |
| Women's 50 m Freestyle S10 | | Final Round | | 4 |
| Women's 50 m Freestyle S10 | | Heats | | 2 |