Imagen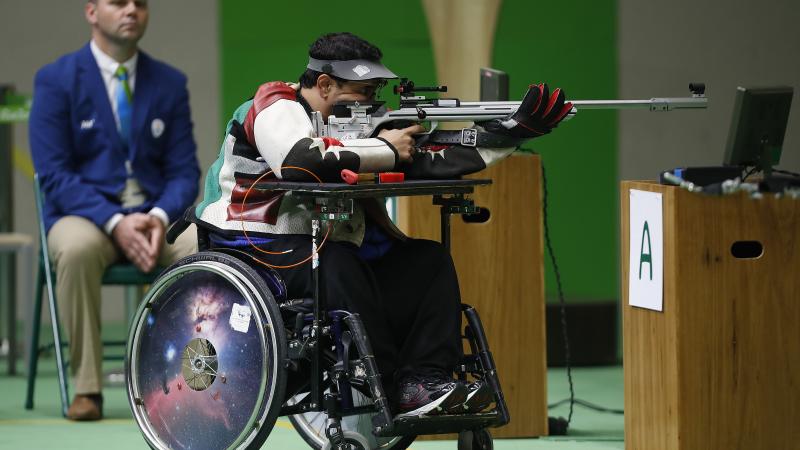 Abdulla Sultan Alaryani
Shooting
Abdullah Sultan Alaryani is coming off his most successful season with double gold at the 2018 World Championships in Cheongju, South Korea. Maybe his most impressive performance in Cheongju was in the R7 (men's 50m rifle 3 positions SH1). Despite battling illness, he dominated to win by more than 10 points, while other athletes struggled for consistency in all three positions.
Alaryani's golden moment was only a matter of time.
He was a member of the UAE's able-bodied shooting team in 2000, but he was seriously injured in a car crash in 2001, leaving him paralysed below the waist. From what started out as an inherited hobby that turned into a professional sporting career.
He returned to competition as a Para athlete at the Beijing 2008 Paralympic Games, just missing out on the mixed 10m air rifle prone SH1 final by a single place. This he explained at the time, made him very focused for London 2012 and he went on to win gold in R6.
At London 2012, Alaryani won the UAE's only gold medal then, with the R6 (mixed 50m rifle prone SH1). He claimed victory over Spain's Juan Antonio Reinaldo by just 0.2 points at London's Royal Artillery Barracks. It made him only the second person from his country to win Paralympic gold at those Games.
In January 2013, he was awarded a National Individual Athlete Award at the Mohammed Bin Rashid Creative Sports Awards, for his exploits at London 2012.
At the Rio 2016 Paralympics, Alaryani secured three silver medals. Two years later at Cheongju 2018, he had the performance of his career.
Results
2010 IPC Shooting World Championships (Zagreb, Croatia)

| Event | Medal | Unit | Date | Rank |
| --- | --- | --- | --- | --- |
| Men's 10m Air Rifle standing SH1 | | Qualification | 2010-07-17 | 27 |
| Mixed 10m Air Rifle prone SH1 | | Qualification | 2010-07-19 | 45 |
| Men's 50m Free Rifle 3x40 SH1 | | Qualification | 2010-07-20 | 5 |
| Mixed 50m Rifle prone SH1 | | Qualification | 2010-07-23 | 15 |
| Mixed 50m Rifle prone SH1 | | Elimination | 2010-07-23 | 4 |
2014 IPC Shooting World Championships (Suhl, Germany)

| Event | Medal | Unit | Date | Rank |
| --- | --- | --- | --- | --- |
| Men's 10m Air Rifle standing SH1 | | Qualification | 2014-07-19 | 12 |
| Mixed 10m Air Rifle prone SH1 | | Final | 2014-07-21 | 3 |
| Mixed 10m Air Rifle prone SH1 | | Qualification | 2014-07-21 | 5 |
| Mixed 50m Rifle prone SH1 | | Final | 2014-07-22 | 4 |
| Mixed 50m Rifle prone SH1 | | Elimination | 2014-07-22 | 6 |
| Team R6 - Mixed 50m Rifle prone SH1 | | Qualification | 2014-07-22 | 3 |
| Mixed 50m Rifle prone SH1 | | Qualification | 2014-07-22 | 2 |
| Men's 50m Free Rifle 3x40 SH1 | | Qualification | 2014-07-25 | 1 |
| Men's 50m Free Rifle 3x40 SH1 | | Final | 2014-07-25 | 2 |
Cheongju 2018 World Shooting Para Sport Championships (Cheongju, South Korea)

| Event | Medal | Unit | Date | Rank |
| --- | --- | --- | --- | --- |
| Team R7 - Men's 50m Rifle 3 positions SH1 | | Qualification | 2018-05-05 | 2 |
| Team R3 - Mixed 10m Air Rifle prone SH1 | | Qualification | 2018-05-05 | 7 |
| Team R6 - Mixed 50m Rifle prone SH1 | | Qualification | 2018-05-05 | 2 |
| R7 - Men's 50m Rifle 3 Positions SH1 | | Final | 2018-05-05 | 1 |
| R7 - Men's 50m Rifle 3 Positions SH1 | | Qualification | 2018-05-05 | 1 |
| R3 - Mixed 10m Air Rifle prone SH1 | | Qualification | 2018-05-05 | 17 |
| R6 - Mixed 50m Rifle prone SH1 | | Final | 2018-05-05 | 1 |
| R6 - Mixed 50m Rifle prone SH1 | | Qualification | 2018-05-05 | 4 |
| R1 - Men's 10m Air Rifle standing SH1 | | Final | 2018-05-05 | 7 |
| R1 - Men's 10m Air Rifle standing SH1 | | Qualification | 2018-05-05 | 3 |