Imagen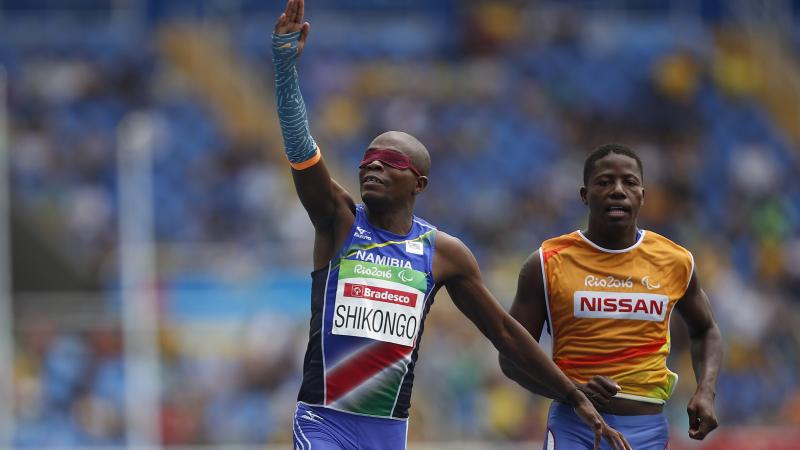 Ananias Shikongo
Athletics
T11 sprinter Shikongo made history at Rio 2016 by becoming the first Namibian man to win an Olympic or Paralympic gold, something even his hero Frankie Fredericks never achieved. He follows in the footsteps of fellow sprinter Johanna Benson who was Namibia's first ever gold medallist when she won a Paralympic title at London 2012.
Shikongo's first race in Rio saw him win bronze in the 100m, lowering the African record in both the heats and final, eventually clocking 11.11 seconds.
In his preferred distance of 200m, he broke the Paralympic record twice, first in the semi-finals with 22.48, before he lowered it to 22.44 in the final, a time good enough to give him gold.
Capping off a memorable Rio 2016, Shikongo set two personal bests on his way to 400m T11 bronze.
Chelsea FC fan Shikongo lost his left eye aged three in a shooting accident as his brother tried to shoot birds using a bow and arrow. Three years later, while working in a field, a donkey kicked him in his right eye, resulting in the loss of sight in that eye too.
He took up Para athletics at age 14 and made his international debut in 2004. He competed at London 2012 but a hamstring injury limited his performances. He has also competed in three World Championships. In 2013 and 2015 he won silver in the 200m T11 and in 2013 also has previously won bronze over 400m in 2011 and 100m in 2013.
Results
2011 IPC Athletics World Championships (Christchurch, New Zealand)

| Event | Medal | Unit | Date | Rank |
| --- | --- | --- | --- | --- |
| Men's 100 m T11 | | Heat 2 | 2011-01-22 | 4 |
| Men's 400 m T11 | | Heat 1 | 2011-01-26 | 2 |
| Men's 400 m T11 | | Final | 2011-01-27 | 3 |
| Men's 200 m T11 | | Heat 1 | 2011-01-28 | 4 |
IPC Athletics World Championships (Lyon, France)

| Event | Medal | Unit | Date | Rank |
| --- | --- | --- | --- | --- |
| Men's 200 m T11 | | Heat 3 | 2013-07-20 | 1 |
| Men's 200 m T11 | | Semifinal 1 | 2013-07-20 | 2 |
| Men's 200 m T11 | | Final 1 | 2013-07-21 | 2 |
| Men's 100 m T11 | | Heat 3 | 2013-07-25 | 1 |
| Men's 100 m T11 | | Semifinal 1 | 2013-07-25 | 3 |
| Men's 100 m T11 | | Final 1 | 2013-07-26 | 3 |
| Men's 400 m T11 | | Semifinal 1 | 2013-07-26 | 4 |
| Men's 400 m T11 | | Final 1 | 2013-07-27 | 4 |
IPC Athletics 2015 World Championships (Doha, Qatar)

| Event | Medal | Unit | Date | Rank |
| --- | --- | --- | --- | --- |
| Men's 400 m T11 | | Heat 2 | 2015-10-25 | 5 |
| Men's 200 m T11 | | Heat 3 | 2015-10-28 | 2 |
| Men's 200 m T11 | | Final 1 | 2015-10-29 | 2 |
| Men's 200 m T11 | | Semifinal 2 | 2015-10-29 | 4 |
World Para Athletics Championships London 2017 (London, Great Britain)

| Event | Medal | Unit | Date | Rank |
| --- | --- | --- | --- | --- |
| Men's 100 m T11 | | Final 1 | 2017-07-15 | 2 |
| Men's 100 m T11 | | Heat 2 | 2017-07-15 | 2 |
| Men's 400 m T11 | | Heat 3 | 2017-07-16 | 7 |
| Men's 200 m T11 | | Heat 3 | 2017-07-20 | 5 |
Dubai 2019 World Para Athletics Championships (Dubai, United Arab Emirates)

| Event | Medal | Unit | Date | Rank |
| --- | --- | --- | --- | --- |
| Men's 400 m T11 | | Heat 1 | 2019-11-10 | 5 |
| Men's 100 m T11 | | Heat 4 | 2019-11-12 | 6 |
| Men's 100 m T11 | | Semifinal 2 | 2019-11-12 | 9999 |