Imagen
Huot's Para swimming career started in 1998 when he won five medals, including gold in the 1,500m open water race, at the World Championships in Christchurch, New Zealand.
'The Shark', as his team mates call him, first time competed in the Paralympics in Sydney in 2000. He went on to win three gold and three silver medals.
At the 2002 World Championships in Mar del Plata, Argentina he made a real name for himself winning seven medals, four of which were gold.
His finest competition to date was arguably the Athens 2004 Paralympic Games, a competition where he won five titles, broke three world records and also picked up a silver medal.
Due to his success in Athens, Swimming World Magazine named him World Disabled Swimmer of the Year 2005.
After four bronze medals at the 2008 Beijing Games, the huge golf enthusiast won one gold and three silver medals at the 2010 IPC Swimming World Championships in Eindhoven, the Netherlands.
Inducted into the Canadian Disability Hall of Fame in 2011, Huot took three podiums in his fourth Paralympic Games at London 2012. He broke the world record to take gold in the 200m individual medley, and also won a silver and bronze medal.
Huot was chosen as flag bearer for the Canadian team at the London 2012 Paralympic Games Closing Ceremony. "I would say it's by far the greatest honour that I can receive as an athlete," he said.
The veteran Para swimmer, who is in the S10 classification, found another world title at the 2013 IPC Swimming World Championships at home in Montreal, Canada, against the likes of Brazil's multiple world champion Andre Brasil.
In the summer of 2014 Huot attracted attention of a different kind when thieves broke into his house and stole seven of his medals, including two from Paralympic Games. The accolades were later replaced by the relevant bodies prompting an emotional response from Huot, who said that receiving them again brought back memories from when they were first awarded.
Deciding to continue his career so that he could compete at home once again at the Toronto 2015 Parapan American Games, Huot collected two silver and bronze medals at the 2015 World Championhsips.
Just three weeks later he won gold in the 400m freestyle S10 at Toronto 2015 and secured a further three silver medals.
At Rio 2016, Huot took bronze in the 400m freestyle - his 20th Paralympic medal.
Photo Gallery
Imagen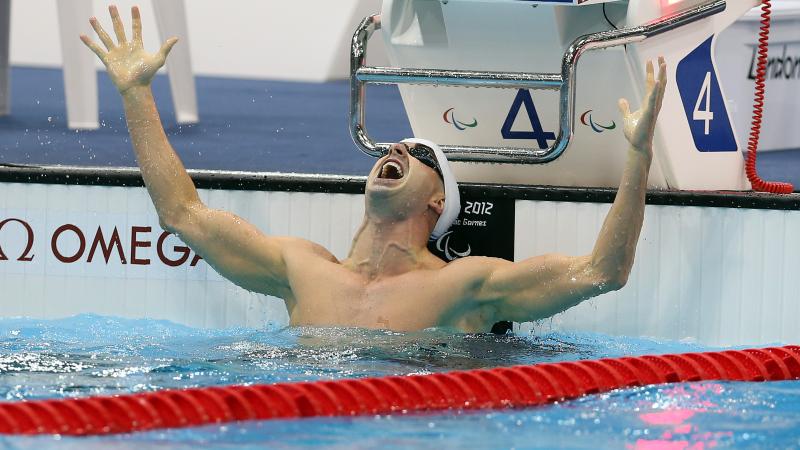 Imagen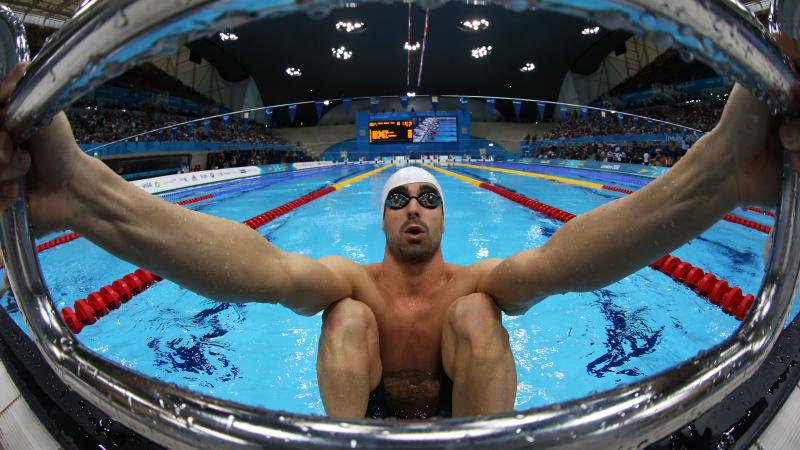 Results
IPC Swimming World Championships Durban 2006 (Durban, South Africa)

| Event | Medal | Unit | Date | Rank |
| --- | --- | --- | --- | --- |
| Men's 400 m Freestyle S10 | | Heats | | 4 |
| Men's 200 m Individual Medley SM10 | | Final Round | | 1 |
| Men's 200 m Individual Medley SM10 | | Heats | | 1 |
| Men's 100 m Freestyle S10 | | Final Round | | 2 |
| Men's 100 m Freestyle S10 | | Heats | | 2 |
| Men's 100 m Butterfly S10 | | Final Round | | 3 |
| Men's 100 m Butterfly S10 | | Heats | | 5 |
| Men's 100 m Backstroke S10 | | Final Round | | 3 |
| Men's 100 m Backstroke S10 | | Heats | | 2 |
| Men's 400 m Freestyle S10 | | Final Round | | 3 |
| Men's 50 m Freestyle S10 | | Heats | | 4 |
| Men's 50 m Freestyle S10 | | Final Round | | 2 |
IPC Swimming World Championships Eindhoven 2010 (Eindhoven, Netherlands)

| Event | Medal | Unit | Date | Rank |
| --- | --- | --- | --- | --- |
| Men's 100 m Butterfly S10 | | Heat 1 | | 2 |
| Men's 100 m Butterfly S10 | | Final Round | | 4 |
| Men's 100 m Freestyle S10 | | Heat 2 | | 1 |
| Men's 100 m Freestyle S10 | | Final Round | | 2 |
| Men's 200 m Individual Medley SM10 | | Heat 2 | | 1 |
| Men's 200 m Individual Medley SM10 | | Final Round | | 1 |
| Men's 400 m Freestyle S10 | | Heat 2 | | 1 |
| Men's 400 m Freestyle S10 | | Final Round | | 2 |
| Men's 50 m Freestyle S10 | | Heat 1 | | 2 |
| Men's 100 m Backstroke S10 | | Final Round | | 2 |
| Men's 100 m Backstroke S10 | | Heat 2 | | 3 |
| Men's 50 m Freestyle S10 | | Final Round | | 4 |
IPC Swimming World Championships Christchurch 1998 (Christchurch, New Zealand)

| Event | Medal | Unit | Date | Rank |
| --- | --- | --- | --- | --- |
| Men's 400 m Freestyle S10 | | Heats | | 2 |
| Men's 4x100 m Medley Open | | Final Round | | 1 |
| Men's 400 m Freestyle S10 | | Final Round | | 2 |
| Men's 50 m Freestyle S10 | | Heats | | 2 |
| Men's 50 m Freestyle S10 | | Final Round | | 2 |
| Men's 1500 m Freestyle Open | | Final Round | | 1 |
| Men's 100 m Freestyle S10 | | Heats | | 2 |
| Men's 100 m Freestyle S10 | | Final Round | | 2 |
| Men's 100 m Backstroke S10 | | Heats | | 2 |
| Men's 100 m Backstroke S10 | | Final Round | | 2 |
| Men's 4x100 m Medley Open | | Heats | | 1 |
IPC Swimming World Championships Mar del Plata 2002 (Mar del Plata, Argentina)

| Event | Medal | Unit | Date | Rank |
| --- | --- | --- | --- | --- |
| Men's 100 m Butterfly S10 | | Final Round | | 2 |
| Men's 200 m Individual Medley SM10 | | Heats | | 1 |
| Men's 200 m Individual Medley SM10 | | Final Round | | 1 |
| Men's 100 m Butterfly S10 | | Heats | | 3 |
| Men's 100 m Breaststroke SB9 | | Final Round | | 3 |
| Men's 50 m Freestyle S10 | | Heats | | 2 |
| Men's 50 m Freestyle S10 | | Final Round | | 1 |
| Men's 100 m Freestyle S10 | | Heats | | 1 |
| Men's 100 m Freestyle S10 | | Final Round | | 1 |
| Men's 400 m Freestyle S10 | | Heats | | 1 |
| Men's 400 m Freestyle S10 | | Final Round | | 1 |
| Men's 100 m Backstroke S10 | | Heats | | 2 |
| Men's 100 m Backstroke S10 | | Final Round | | 2 |
| Men's 100 m Breaststroke SB9 | | Heats | | 4 |
2013 IPC Swimming World Championships (Montreal, Canada)

| Event | Medal | Unit | Date | Rank |
| --- | --- | --- | --- | --- |
| Men's 200 m Individual Medley SM10 | | Heat 2 | 2013-08-15 | 1 |
| Men's 200 m Individual Medley SM10 | | Final 1 | 2013-08-15 | 1 |
| Men's 100 m Backstroke S10 | | Heat 2 | 2013-08-17 | 4 |
| Men's 100 m Backstroke S10 | | Final 1 | 2013-08-17 | 4 |
2015 IPC Swimming World Championships (Glasgow, Great Britain)

| Event | Medal | Unit | Date | Rank |
| --- | --- | --- | --- | --- |
| Men's 200 m Individual Medley SM10 | | Final 1 | 2015-07-14 | 2 |
| Men's 200 m Individual Medley SM10 | | Heat 2 | 2015-07-14 | 1 |
| Men's 100 m Backstroke S10 | | Final 1 | 2015-07-16 | 3 |
| Men's 100 m Backstroke S10 | | Heat 2 | 2015-07-16 | 5 |
| Men's 4x100 m Freestyle 34pts | | Heat 1 | 2015-07-17 | 6 |
| Men's 400 m Freestyle S10 | | Heat 1 | 2015-07-19 | 3 |
| Men's 400 m Freestyle S10 | | Final 1 | 2015-07-19 | 2 |