Imagen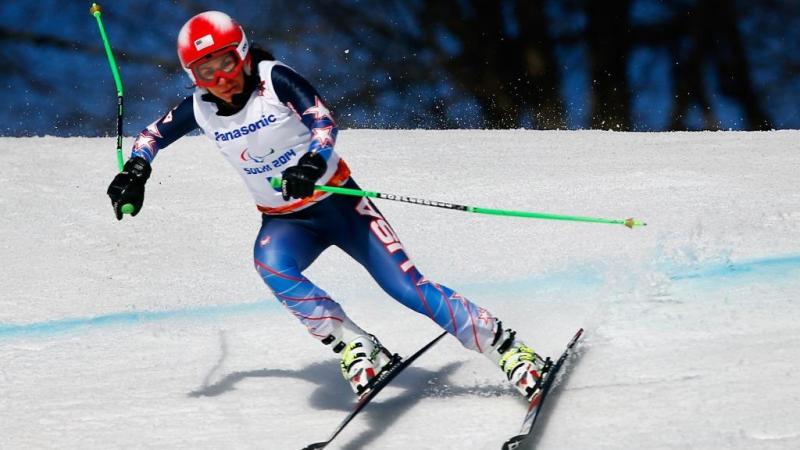 Danelle Umstead
Alpine Skiing
Visually impaired US skier Danelle Umstead and her guide husband Rob are together known as team Vision4Gold.
Their incredible relationship has taken them to two Paralympic Winter Games and has seen them step onto the podium twice consecutively.
However before 2015 they had not won a World Championships medal, agonisingly missing out by just one place four times.
That all changed at the 2015 World Championships, with not just one but three medals. They also finished on top of the World Cup rankings in 2014-15.
Danelle is an inspiration to many not just because of her ability to ski down a mountain with only the voice of her husband to follow, but also because in 2010 she was diagnosed with multiple sclerosis and has being skiing with the condition ever since.
The pair are determined to compete at PyeongChang 2018 and with a switch in focus to the downhill as Danelle's specialist event, the plan appears to be coming together nicely.
Photo Gallery
Imagen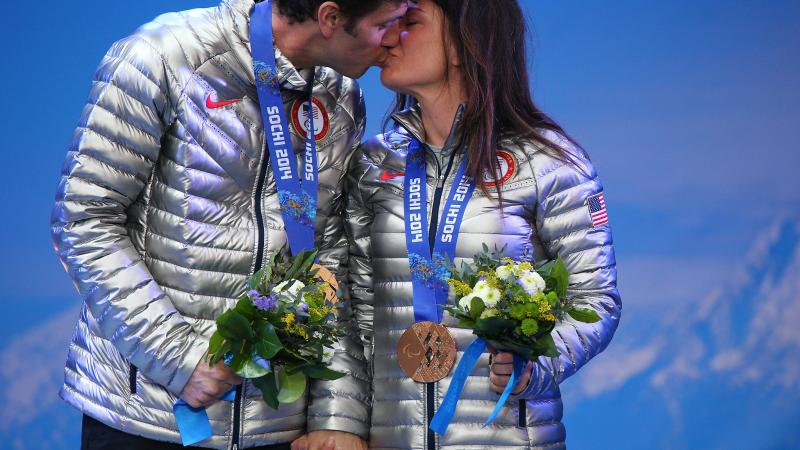 Imagen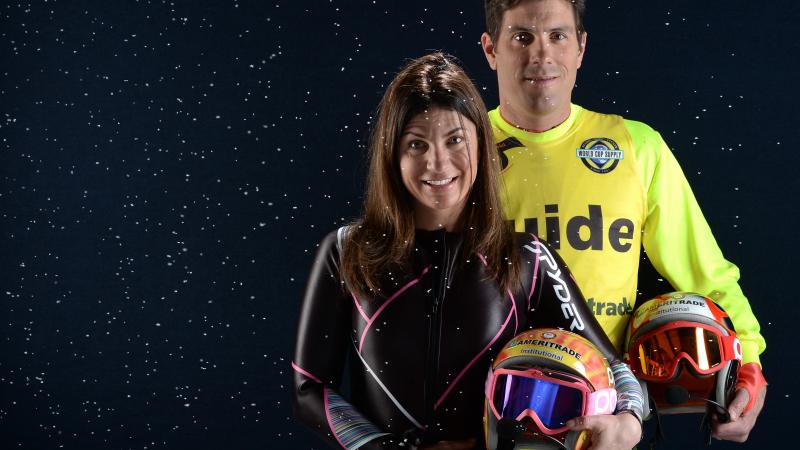 Biography
Impairment information
Type of Impairment
Vision impairment
Origin of Impairment
Acquired
Guide
Rob Umstead [husband]
Further personal information
Family
Husband Rob, son Brocton
Other names
Danelle D'Aquanni
Residence
Park City, UT, USA
Occupation
Motivational Speaker
Sport specific information
When and where did you begin this sport?
She first tried adaptive skiing in 2001 in New Mexico, United States of America.
Why this sport?
Her father introduced her to the sport and was her guide. She found that the more she skied, the more she craved speed and steeper terrain. "I felt a sense of freedom and joy I had not experienced since losing sight. I love to work hard, I love feeling in control, and out of control at the same time. It gives me the adrenaline I never knew I craved. The mountains, the sun, and my skis are my happy place."
Club / Team
National Ability Center: Park City, UT, USA
Name of coach
Erik Leirfallom [club]; Rob Umstead [husband]
International debut
Competing for
United States
Location
Vancouver, BC, CAN
General interest
Nicknames
D (IPC, 10 Feb 2018)
Hero / Idol
Her mother, her husband, and her son. (IPC, 10 Feb 2018)
Injuries
In February 2020 she broke the tibia and fibula bones in her leg during a downhill practice run in Kimberley, BC, Canada. She returned to training in November 2020 after undergoing two operations, and then underwent further surgery on the injury in April 2021. (Facebook page, 27 Jan 2022, 14 Nov 2020; teamusa.org, 03 Nov 2020)

She had to sit out the 2018/19 ski season due to a multiple sclerosis relapse. (Facebook page, 27 Jan 2022)

In 2016 she broke the radius bone in her arm after crashing at the 2016 US National Championships. She had a plate and 10 screws inserted into the injury. (IPC, 10 Feb 2018)
Superstitions / Rituals / Beliefs
She likes to listen to singer Michael Franti prior to a race. (teamusa.org, 30 Jan 2017)
Sporting philosophy / motto
"Living the impossible every day." (IPC, 10 Feb 2018)
Awards and honours
She and fellow alpine skier Tyler Carter were named flag bearers for the United States of America for the opening ceremony at the 2022 Paralympic Winter Games in Beijing. (teamusa.org, 02 Mar 2022)

She was named Adaptive Athlete of the Year at the 2011 United States Ski and Snowboard Association [USSA] Awards. (nordicskiracer.com, 24 May 2011)

She was named the 2009/10 Athlete of the Year by the National Sports Center for the Disabled [NSCD] in Winter Park, CO, United States of America. (LinkedIn profile, 2017)

During her career she has received a Utah History-Maker Award in the United States of America. (IPC, 10 Feb 2018)
Famous relatives
Her husband Rob competed in able-bodied skiing at university level in the United States of America. He has also served as her guide during competitions. (cnn.com, 16 Dec 2016; vision4gold.com, 01 Jan 2010)
Ambitions
To win gold at the 2022 Paralympic Winter Games in Beijing. (nbcdfw.com, 09 Feb 2022)
Impairment
She began losing her sight at age 13 after she was diagnosed with retinitis pigmentosa and early onset macular degeneration. She initially lost all usable vision in her right eye and by age 27 had lost central vision in her left eye. In 2010 she was diagnosed with multiple sclerosis. (IPC, 10 Feb 2018; cnn.com, 16 Dec 2016; paralympic.org, 03 Oct 2015; denverpost.com, 20 Feb 2010)
Other information
RETIREMENT PLANS
She intends to retire from the sport following the 2022 Paralympic Winter Games in Beijing. She made the decision after she suffered a serious broken leg in February 2020 while training in Kimberley, BC, Canada. "I truly believe in my heart that, yes, we are strong enough as a team to make this happen, and that we will be ready. Hopefully, we can do what it takes, you never know." (teamusa.org, 03 Nov 2020)

ILLNESS
A few months after winning two bronze medals at the 2010 Paralympic Games in Vancouver, BC, Canada, she was diagnosed with multiple sclerosis. She had been training in Colorado, United States of America. "I woke up the next morning and I couldn't feel anything on the right side, from my rib cage all the way to my foot. I had to learn how to walk again, I had to learn how to jog again, I had to learn how to do sit-ups again. This is an ongoing struggle. Learning to manage the fatigue and overcoming the bad days has taught me a lot about never giving up and never giving in." (pressroom.toyota.com, 10 Feb 2022; nbcdfw.com, 09 Feb 2022; IPC, 10 Feb 2018; cnn.com, 16 Dec 2016)

TEAM VISION4GOLD
She and her husband and guide Rob named themselves Team Vision4Gold, which has developed into an outlet for people with an impairment to find information and resources. The pair began training together in 2008 and have since competed in the Paralympic Games in 2010, 2014, and 2018, bringing home a total of three bronze medals. "The trust is not automatic. I know when turns are about to end because the tone of his voice starts changing, but that's because of the practice we've done over the years, not because we're husband and wife. It's something you have to work hard on. We wanted to show people that our vision was to get gold at the Paralympic Games. We wanted to share our journey along the way and show people that anything is possible, our vision for gold." (pressroom.toyota.com, 10 Feb 2022; nbcdfw.com, 09 Feb 2022; vision4gold.com, 06 Jan 2021; teamusa.org, 01 Jan 2019)

GUIDE DOGS
She used to use a cane to get around but then decided to have a guide dog after she gave birth to her son Brocton in 2008. She has since been guided by two dogs. A black labrador retriever Bettylynn guided her from 2008 to 2013, and a golden labrador retriever Aziza from 2013 to 2021. Bettylynn went to the 2010 Paralympic Games in Vancouver, BC, Canada, while Aziza went to the 2014 and 2018 Games. "When it was just me, and just my own life, I was more apt to say, 'I'll just take that step into the road'. But when my newborn son was on my back, it made me realise I needed some help. I didn't trust my own judgement with just my cane and determining if it was safe to cross the street and things like that. My very first guide dog name is Bettylynn. She guided me from 2008 to 2013. Bettylynn had to retire because she went blind in one eye. You can laugh, it was the blind leading the blind. Aziza has touched so many hearts, met so many people all over the world. I am a social person and a guide dog helps me be the social butterfly that I am." (Facebook page, 31 Dec 2021, 27 Aug 2021, 10 Feb 2019; espn.com, 09 Mar 2018)

OTHER ACTIVITIES
In 2018 she appeared on the US TV show 'Dancing with the Stars'. "In 2007 I stood in front of the TV, holding my son Brocton as a newborn baby, and said out loud, 'I want to be the first blind person on Dancing with the Stars'. I'm so excited and I'm honoured, and I can't believe life came full circle and my dream is really coming true. You better be really careful what you wish for!" She is also the founder of the Sisters in Sports Foundation, a non-profit organisation that supports women and girls with an impairment. (Instagram profile, 16 Sep 2021; sistersinsportsfou
Results
2011 IPC Alpine Skiing World Championships (Sestriere, Italy)

| Event | Medal | Unit | Date | Rank |
| --- | --- | --- | --- | --- |
| Women's Downhill VI | | Final | 2011-01-16 | 9999 |
| Women's Super-G VI | | Final | 2011-01-18 | 4 |
| Women's Super-Combined VI | | Final | 2011-01-19 | 4 |
| Women's Slalom VI | | Final | 2011-01-20 | 6 |
| Women's Giant Slalom VI | | Final | 2011-01-21 | 9999 |
IPC Alpine Skiing World Championships (La Molina, Spain)

| Event | Medal | Unit | Date | Rank |
| --- | --- | --- | --- | --- |
| Women's Downhill VI | | Race 1 | 2013-02-20 | 4 |
| Women's Super-G VI | | Race 1 | 2013-02-21 | 5 |
| Women's Slalom VI | | Race 1 | 2013-02-24 | 9999 |
| Women's Super-Combined VI | | Race 1 | 2013-02-25 | 4 |
| Women's Giant Slalom VI | | Race 1 | 2013-02-26 | 5 |
2015 IPC Alpine Skiing World Championships Panorama (Panorama, Canada)

| Event | Medal | Unit | Date | Rank |
| --- | --- | --- | --- | --- |
| Women's Downhill VI | | Race 1 | 2015-03-04 | 2 |
| Women's Super-G VI | | Race 1 | 2015-03-05 | 2 |
| Women's Super-Combined VI | | Race 1 | 2015-03-07 | 3 |
| Women's Giant Slalom VI | | Race 1 | 2015-03-08 | 9999 |
| Women's Slalom VI | | Race 1 | 2015-03-10 | 4 |
2017 IPC Alpine skiing World Championships Tarvisio, ITA (Tarvisio, Italy)

| Event | Medal | Unit | Date | Rank |
| --- | --- | --- | --- | --- |
| Women's Downhill VI | | Race 1 | 2017-01-25 | 4 |
| Women's Super-G VI | | Race 1 | 2017-01-26 | 3 |
| Women's Super-Combined VI | | Race 1 | 2017-01-28 | 9999 |
| Women's Giant Slalom VI | | Race 1 | 2017-01-30 | 7 |
| Women's Slalom VI | | Race 1 | 2017-01-31 | 8 |