Imagen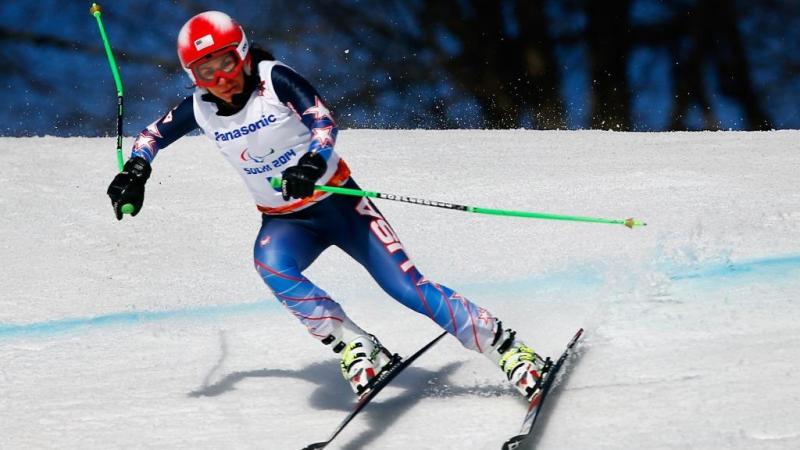 Danelle Umstead
Alpine Skiing
Visually impaired US skier Danelle Umstead and her guide husband Rob are together known as team Vision4Gold.
Their incredible relationship has taken them to two Paralympic Winter Games and has seen them step onto the podium twice consecutively.
However before 2015 they had not won a World Championships medal, agonisingly missing out by just one place four times.
That all changed at the 2015 World Championships, with not just one but three medals. They also finished on top of the World Cup rankings in 2014-15.
Danelle is an inspiration to many not just because of her ability to ski down a mountain with only the voice of her husband to follow, but also because in 2010 she was diagnosed with multiple sclerosis and has being skiing with the condition ever since.
The pair are determined to compete at PyeongChang 2018 and with a switch in focus to the downhill as Danelle's specialist event, the plan appears to be coming together nicely.
Photo Gallery
Imagen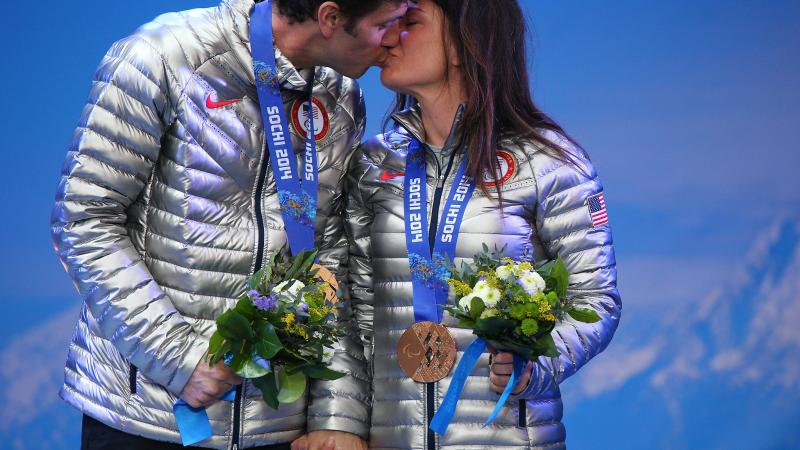 Imagen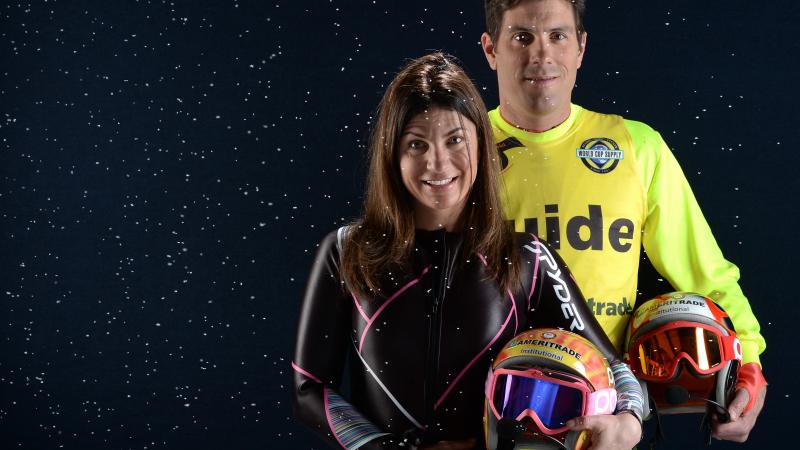 Results
2011 IPC Alpine Skiing World Championships (Sestriere, Italy)

| Event | Medal | Unit | Date | Rank |
| --- | --- | --- | --- | --- |
| Women's Downhill VI | | Final | 2011-01-16 | 9999 |
| Women's Super-G VI | | Final | 2011-01-18 | 4 |
| Women's Super-Combined VI | | Final | 2011-01-19 | 4 |
| Women's Slalom VI | | Final | 2011-01-20 | 6 |
| Women's Giant Slalom VI | | Final | 2011-01-21 | 9999 |
IPC Alpine Skiing World Championships (La Molina, Spain)

| Event | Medal | Unit | Date | Rank |
| --- | --- | --- | --- | --- |
| Women's Downhill VI | | Race 1 | 2013-02-20 | 4 |
| Women's Super-G VI | | Race 1 | 2013-02-21 | 5 |
| Women's Slalom VI | | Race 1 | 2013-02-24 | 9999 |
| Women's Super-Combined VI | | Race 1 | 2013-02-25 | 4 |
| Women's Giant Slalom VI | | Race 1 | 2013-02-26 | 5 |
2015 IPC Alpine Skiing World Championships Panorama (Panorama, Canada)

| Event | Medal | Unit | Date | Rank |
| --- | --- | --- | --- | --- |
| Women's Downhill VI | | Race 1 | 2015-03-04 | 2 |
| Women's Super-G VI | | Race 1 | 2015-03-05 | 2 |
| Women's Super-Combined VI | | Race 1 | 2015-03-07 | 3 |
| Women's Giant Slalom VI | | Race 1 | 2015-03-08 | 9999 |
| Women's Slalom VI | | Race 1 | 2015-03-10 | 4 |
2017 IPC Alpine skiing World Championships Tarvisio, ITA (Tarvisio, Italy)

| Event | Medal | Unit | Date | Rank |
| --- | --- | --- | --- | --- |
| Women's Downhill VI | | Race 1 | 2017-01-25 | 4 |
| Women's Super-G VI | | Race 1 | 2017-01-26 | 3 |
| Women's Super-Combined VI | | Race 1 | 2017-01-28 | 9999 |
| Women's Giant Slalom VI | | Race 1 | 2017-01-30 | 7 |
| Women's Slalom VI | | Race 1 | 2017-01-31 | 8 |