Imagen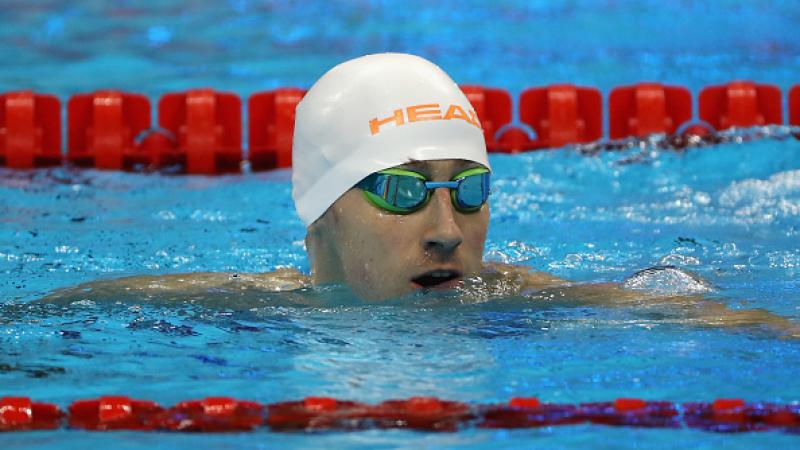 Dmytro Vynohradets
Swimming
Ukraine's Dmytro Vynohradets list of achievements at major international competitions is incredibly impressive and makes him one of the most successful Para swimmers within a hugely competitive national team.
The country finished atop the medals table at the last IPC Swimming World Championships in 2013, collecting a haul of 33 gold medals, seven of which belonged to 29-year-old Vynohradets.
In 2015, whilst his gold medal count reduced, he still left the World Championships in Glasgow, Great Britain, with four world titles.
His dominance in European Para swimming is shown in his total of 16 regional records which stretch back to when he made his international debut in 2006. He also has a total of 13 European titles to his name, having added six in 2016 alone.
To the Ukrainian's delight, he picked up his third Paralympic title at Rio 2016 in the 50m backstroke and his best ever medal haul, leaving with four other podium finishes to show he remains the man to beat in the S3. That included four new regional records.
Vynohradets trains with coach Galina Boyko for the Invasport Team in Poltava.
Biography
Impairment information
Origin of Impairment
Acquired
Classification
S4, SB3, SM4
Further personal information
Languages
Russian, Ukrainian
Higher education
Engineering, Technical Studies - Poltava State Agrarian Academy: Ukraine
Sport specific information
When and where did you begin this sport?
He began training in the sport in 2004 in Poltava, Ukraine.
Why this sport?
He became involved in the sport as part of the rehabilitation for his spinal injury.
Club / Team
Poltava Regional Rehabilitation and Sports School for the Disabled: Ukraine
Name of coach
Galyna Boyko [personal], UKR
General interest
Nicknames
Dima (VK profile, 04 Jun 2017)
Memorable sporting achievement
Winning gold in the S3 200m freestyle at the 2008 Paralympic Games in Beijing. (SportsDeskOnline, 04 Aug 2021; Athlete, 13 Aug 2018)
Most influential person in career
Coach Galyna Boyko. (Athlete, 13 Aug 2018)
Sporting philosophy / motto
"Only victory." (Athlete, 13 Aug 2018)
Awards and honours
He received the Orders for Merit in Ukraine in recognition of his achievements at the Paralympic Games in 2008, 2012 and 2016. (president.gov.ua, 04 Oct 2016, 17 Sep 2012, 07 Oct 2008)

He received the 2015 Ukrainian Sports Hero of the Year award in the Strong Spirit category. (xsport.ua, 30 Mar 2017)

He holds the title of Honoured Master of Sport in Ukraine. (dsmsu.gov.ua, 31 Dec 2020)
Impairment
He sustained an injury to his spine. (Athlete, 13 Aug 2018)
Results
IPC Swimming World Championships Eindhoven 2010 (Eindhoven, Netherlands)

| Event | Medal | Unit | Date | Rank |
| --- | --- | --- | --- | --- |
| Men's 50 m Freestyle S3 | | Final Round | | 1 |
| Men's 200 m Freestyle S3 | | Heat 2 | | 1 |
| Men's 200 m Freestyle S3 | | Final Round | | 1 |
| Men's 4x50 m Freestyle 20pts | | Heat 2 | | 2 |
| Men's 4x50 m Freestyle 20pts | | Final Round | | 2 |
| Men's 4x50 m Medley 20pts | | Heat 1 | | 3 |
| Men's 4x50 m Medley 20pts | | Final Round | | 2 |
| Men's 50 m Backstroke S3 | | Heat 2 | | 1 |
| Men's 50 m Backstroke S3 | | Final Round | | 3 |
| Men's 50 m Breaststroke SB2 | | Heat 2 | | 4 |
| Men's 50 m Freestyle S3 | | Heat 2 | | 2 |
| Men's 150 m Individual Medley SM3 | | Final Round | | 1 |
| Men's 150 m Individual Medley SM3 | | Heat 2 | | 1 |
| Men's 100 m Freestyle S3 | | Heat 2 | | 1 |
| Men's 100 m Freestyle S3 | | Final Round | | 1 |
2013 IPC Swimming World Championships (Montreal, Canada)

| Event | Medal | Unit | Date | Rank |
| --- | --- | --- | --- | --- |
| Men's 200 m Freestyle S3 | | Heat 2 | 2013-08-12 | 2 |
| Men's 200 m Freestyle S3 | | Final 1 | 2013-08-12 | 1 |
| Men's 50 m Breaststroke SB2 | | Final 1 | 2013-08-13 | 3 |
| Men's 4x50 m Freestyle 20pts | | Final 1 | 2013-08-14 | 2 |
| Men's 50 m Freestyle S3 | | Heat 2 | 2013-08-14 | 1 |
| Men's 50 m Freestyle S3 | | Final 1 | 2013-08-14 | 1 |
| Men's 50 m Backstroke S3 | | Final 1 | 2013-08-15 | 1 |
| Men's 4x50 m Medley 20pts | | Final 1 | 2013-08-16 | 1 |
| Men's 100 m Freestyle S3 | | Final 1 | 2013-08-16 | 1 |
| Men's 150 m Individual Medley SM3 | | Final 1 | 2013-08-17 | 1 |
| Men's 50 m Butterfly S3 | | Final 1 | 2013-08-18 | 1 |
2015 IPC Swimming World Championships (Glasgow, Great Britain)

| Event | Medal | Unit | Date | Rank |
| --- | --- | --- | --- | --- |
| Mixed 4x50 m Freestyle 20pts | | Final 1 | 2015-07-13 | 2 |
| Men's 200 m Freestyle S3 | | Heat 2 | 2015-07-13 | 1 |
| Mixed 4x50 m Freestyle 20pts | | Heat 1 | 2015-07-13 | 1 |
| Men's 200 m Freestyle S3 | | Final 1 | 2015-07-13 | 1 |
| Men's 150 m Individual Medley SM3 | | Final 1 | 2015-07-15 | 1 |
| Men's 50 m Freestyle S3 | | Heat 2 | 2015-07-16 | 1 |
| Men's 50 m Freestyle S3 | | Final 1 | 2015-07-16 | 1 |
| Men's 50 m Backstroke S3 | | Heat 1 | 2015-07-18 | 3 |
| Men's 50 m Backstroke S3 | | Final 1 | 2015-07-18 | 1 |