Imagen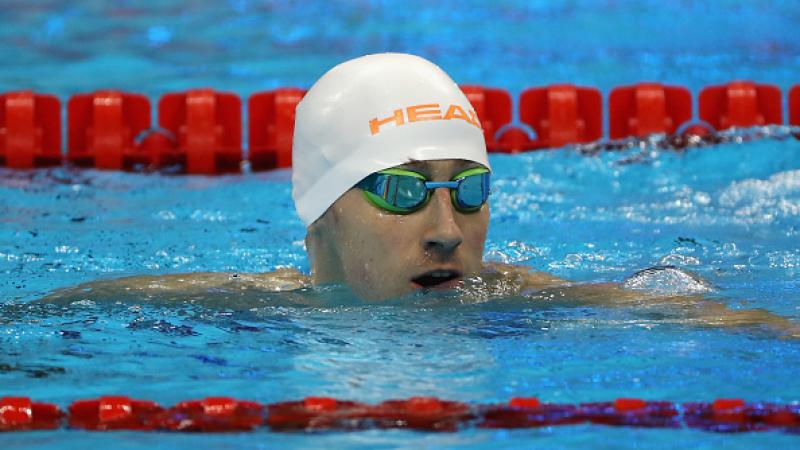 Dmytro Vynohradets
Swimming
Ukraine's Dmytro Vynohradets list of achievements at major international competitions is incredibly impressive and makes him one of the most successful Para swimmers within a hugely competitive national team.
The country finished atop the medals table at the last IPC Swimming World Championships in 2013, collecting a haul of 33 gold medals, seven of which belonged to 29-year-old Vynohradets.
In 2015, whilst his gold medal count reduced, he still left the World Championships in Glasgow, Great Britain, with four world titles.
His dominance in European Para swimming is shown in his total of 16 regional records which stretch back to when he made his international debut in 2006. He also has a total of 13 European titles to his name, having added six in 2016 alone.
To the Ukrainian's delight, he picked up his third Paralympic title at Rio 2016 in the 50m backstroke and his best ever medal haul, leaving with four other podium finishes to show he remains the man to beat in the S3. That included four new regional records.
Vynohradets trains with coach Galina Boyko for the Invasport Team in Poltava.
Results
IPC Swimming World Championships Eindhoven 2010 (Eindhoven, Netherlands)

| Event | Medal | Unit | Date | Rank |
| --- | --- | --- | --- | --- |
| Men's 200 m Freestyle S3 | | Final Round | | 1 |
| Men's 4x50 m Freestyle 20pts | | Heat 2 | | 2 |
| Men's 4x50 m Freestyle 20pts | | Final Round | | 2 |
| Men's 4x50 m Medley 20pts | | Heat 1 | | 3 |
| Men's 4x50 m Medley 20pts | | Final Round | | 2 |
| Men's 50 m Backstroke S3 | | Heat 2 | | 1 |
| Men's 50 m Backstroke S3 | | Final Round | | 3 |
| Men's 50 m Breaststroke SB2 | | Heat 2 | | 4 |
| Men's 50 m Freestyle S3 | | Heat 2 | | 2 |
| Men's 50 m Freestyle S3 | | Final Round | | 1 |
| Men's 200 m Freestyle S3 | | Heat 2 | | 1 |
| Men's 150 m Individual Medley SM3 | | Final Round | | 1 |
| Men's 150 m Individual Medley SM3 | | Heat 2 | | 1 |
| Men's 100 m Freestyle S3 | | Heat 2 | | 1 |
| Men's 100 m Freestyle S3 | | Final Round | | 1 |
2013 IPC Swimming World Championships (Montreal, Canada)

| Event | Medal | Unit | Date | Rank |
| --- | --- | --- | --- | --- |
| Men's 200 m Freestyle S3 | | Final 1 | 2013-08-12 | 1 |
| Men's 200 m Freestyle S3 | | Heat 2 | 2013-08-12 | 2 |
| Men's 50 m Breaststroke SB2 | | Final 1 | 2013-08-13 | 3 |
| Men's 50 m Freestyle S3 | | Final 1 | 2013-08-14 | 1 |
| Men's 4x50 m Freestyle 20pts | | Final 1 | 2013-08-14 | 2 |
| Men's 50 m Freestyle S3 | | Heat 2 | 2013-08-14 | 1 |
| Men's 50 m Backstroke S3 | | Final 1 | 2013-08-15 | 1 |
| Men's 4x50 m Medley 20pts | | Final 1 | 2013-08-16 | 1 |
| Men's 100 m Freestyle S3 | | Final 1 | 2013-08-16 | 1 |
| Men's 150 m Individual Medley SM3 | | Final 1 | 2013-08-17 | 1 |
| Men's 50 m Butterfly S3 | | Final 1 | 2013-08-18 | 1 |
2015 IPC Swimming World Championships (Glasgow, Great Britain)

| Event | Medal | Unit | Date | Rank |
| --- | --- | --- | --- | --- |
| Men's 200 m Freestyle S3 | | Final 1 | 2015-07-13 | 1 |
| Mixed 4x50 m Freestyle 20pts | | Final 1 | 2015-07-13 | 2 |
| Men's 200 m Freestyle S3 | | Heat 2 | 2015-07-13 | 1 |
| Mixed 4x50 m Freestyle 20pts | | Heat 1 | 2015-07-13 | 1 |
| Men's 150 m Individual Medley SM3 | | Final 1 | 2015-07-15 | 1 |
| Men's 50 m Freestyle S3 | | Heat 2 | 2015-07-16 | 1 |
| Men's 50 m Freestyle S3 | | Final 1 | 2015-07-16 | 1 |
| Men's 50 m Backstroke S3 | | Heat 1 | 2015-07-18 | 3 |
| Men's 50 m Backstroke S3 | | Final 1 | 2015-07-18 | 1 |
London 2019 World Para Swimming Championships (London, Great Britain)

| Event | Medal | Unit | Date | Rank |
| --- | --- | --- | --- | --- |
| Men's 100 m Freestyle S4 | | Heat 1 | 2019-09-10 | 8 |
| Men's 100 m Freestyle S4 | | Final 1 | 2019-09-10 | 8 |
| Men's 150 m Individual Medley SM4 | | Final 1 | 2019-09-11 | 5 |
| Men's 150 m Individual Medley SM4 | | Heat 1 | 2019-09-11 | 5 |
| Men's 50 m Backstroke S4 | | Heat 1 | 2019-09-12 | 6 |
| Men's 50 m Backstroke S4 | | Final 1 | 2019-09-12 | 7 |
| Men's 50 m Breaststroke SB3 | | Heat 1 | 2019-09-15 | 11 |