Imagen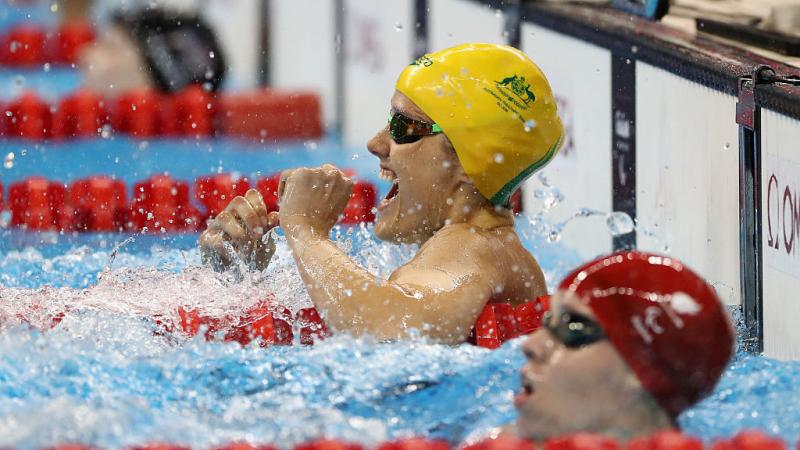 Ellie Cole
Swimming | Athletics
Just as the Netflix documentary 'Rising Phoenix' depicts, Ellie Cole does not give up. The Australian faced a tough decision to retire after the London 2012 Paralympic Games, where she stole the thunder with four gold medals.
A reconstructive surgery on her shoulder in 2013 would have seen her out of the pool indefinitely, but Cole remained undeterred and was more determined to pursue her passion for swimming.
After recovering from the operation, Cole returned to training and in 2015 went on to win her first world titles. She left Glasgow, Great Britain, with three gold medals in the 100m backstroke S9, 100m freestyle S9 and 4 x 100m freestyle relay 34 points.
Her 100m backstroke title also came with a world record. A further bronze medal in the 50m freestyle S9 and a silver in the 4 x 100m medley relay 34 points sealed an incredible competition for the Melbourne-born athlete.
For her efforts, Cole received Swimming Australia's Golden Moment Award in 2015.
At Rio 2016, Cole successfully defended her 100m backstroke title and was part of the relay team that defended their 4x100m freestyle relay 34 points crown. In all, she won medals in six of her events, sharing the honour as Australia's top medallist in Rio.
She returned to the London pool for the 2019 World Championships. She came away with a silver in the 100m backstroke and bronze in the 400m freestyle in her S9 class. While not satisfied, it only fuels the fire for Tokyo 2020.
Cole, whose right leg was amputated as a result of cancer at the age of two, excelled at swimming right from the start.
Eight weeks after the amputation, Cole's mother took her swimming as part of the rehabilitation process. Her instructors predicted it would take her a year to learn to swim in a straight line. It took her two weeks.
Photo Gallery
Imagen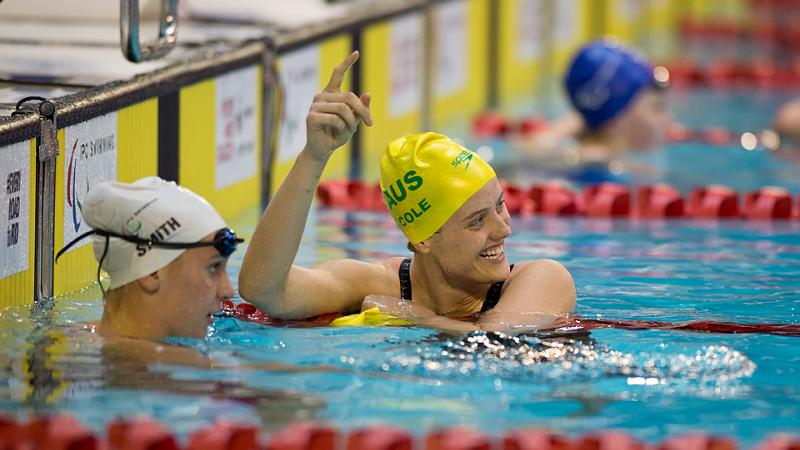 Imagen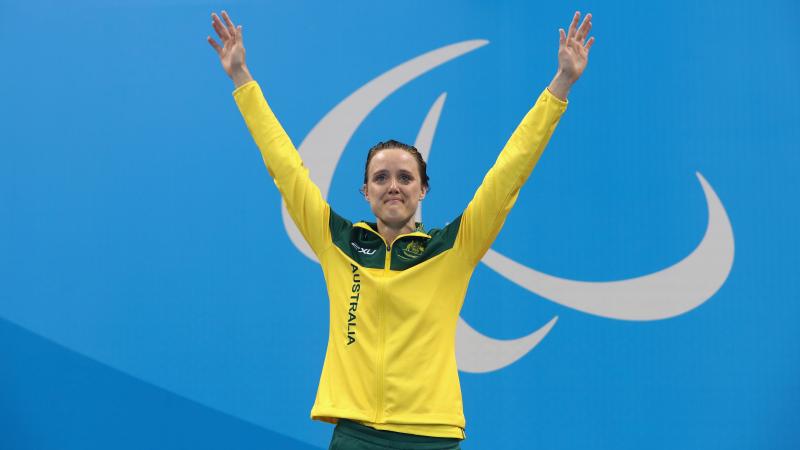 Imagen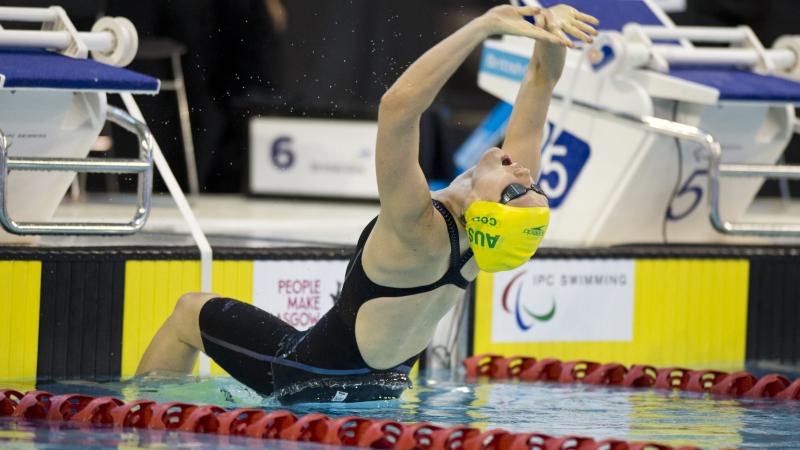 Imagen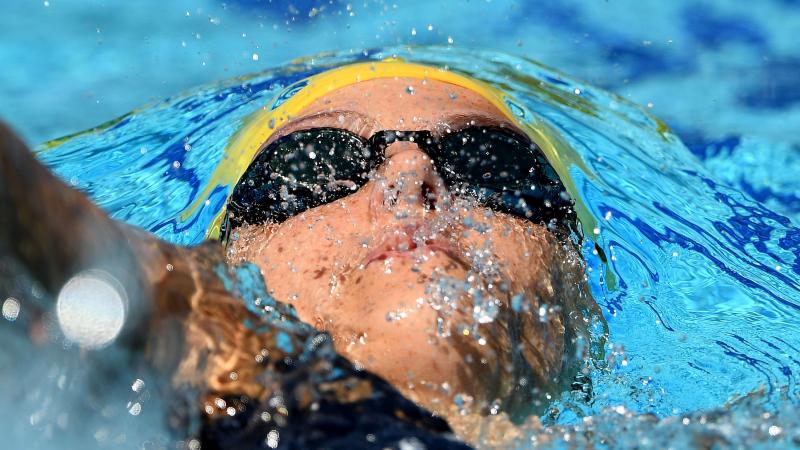 Imagen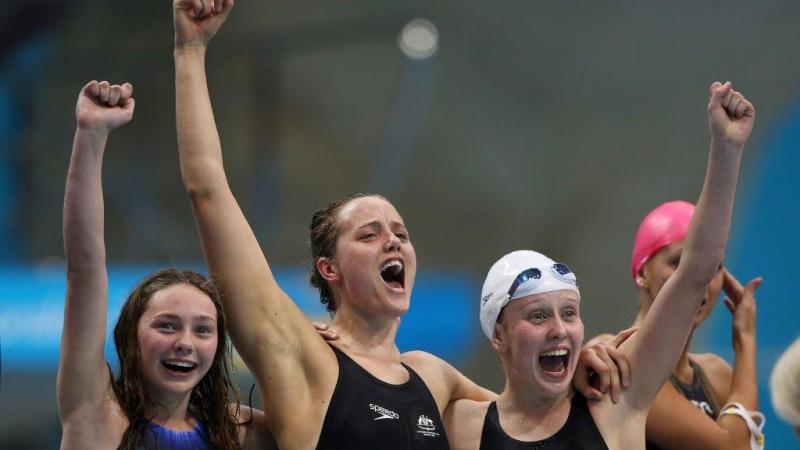 Biography
Impairment information
Type of Impairment
Limb deficiency
Origin of Impairment
Acquired
Classification
S9, SB8, SM9
Further personal information
Higher education
Coaching, Exercise Science - University of Canberra: Australia
Sport specific information
When and where did you begin this sport?
She learnt to swim at age three. She began competing in 2003.
Why this sport?
Her mother took her swimming as part of her rehabilitation following the amputation of her right leg. She participated in a number of sports at school, but she decided to focus on swimming as some of her teachers were reluctant for her to play team sports. "I think that's why I really enjoyed swimming: it was a sport where I could just get in there. I was representing myself and no one could take me out of it."
Name of coach
Simon Cusack [personal], from 2019
Training Regime
Her sessions last for between four and six hours a day. "Usually, we are in the pool but we also mix up our sessions with weights, cardio and pilates."
International debut
Tournament
World Championships
General interest
Nicknames
El (vis.org.au, 17 Dec 2009)
Memorable sporting achievement
Being able to compete again after undergoing reconstruction surgery on both shoulders in 2013. (womenshealth.com.au, 19 Sep 2019)
Hero / Idol
Australian triathlete Emma Moffatt, South African Para swimmer Natalie du Toit. (paralympic.org.au, 28 Feb 2015, 01 Feb 2012)
Injuries
She fractured the fifth metatarsal in her left foot in 2017. The injury affected her training for three months. (sunshinecoastdaily.com.au, 22 Feb 2018)

In 2013 she underwent surgery on both of her shoulders. She returned to full fitness in August 2014. (paralympic.org, 28 Dec 2014; hillsnews.com.au, 13 Aug 2014)

She broke her ankle in 2002 and was out of action for four months. (Athlete, 29 Dec 2010)
Sporting philosophy / motto
"Better to get a sore neck from aiming too high than a hunchback from aiming too low." (performerawards.com.au, 18 Nov 2011)
Awards and honours
She was a co-recipient of the 2015 Golden Moment of the Year presented by Swimming Australia. The honour was in recognition of the three gold medals she won at the 2015 World Championships in Glasgow, Scotland. (swimswam.com, 05 Sep 2015)

She was named the 2015 Sportswoman of the Year by the Australian edition of 'Cosmopolitan' magazine. (cosmopolitan.com.au, 18 Nov 2015)

She received the Medal of the Order of Australia [OAM] in 2014. (paralympic.org.au, 26 Jan 2014)

In August 2011 she was named Athlete of the Month by the International Paralympic Committee [IPC]. (swimming.org.au, 28 Nov 2013)

She received a sport achievement prize from the Australian Institute of Sport [AIS] in recognition of her performance at the 2008 Paralympic Games in Beijing. (ausport.gov.au, 17 Dec 2009)
Impairment
She was diagnosed with cancer in her right leg at age two. The limb was amputated after chemotherapy was unsuccessful. (paralympic.org.au, 15 Jul 2010)
Other information
DOCUMENTARY
She featured in the 2020 documentary film 'Rising Phoenix', which focused on the Paralympic Games. "The first time I watched it, I was sitting there thinking these are just nine of thousands and thousands of athletes that have incredible stories. When I see a piece of work like this one, and especially something that a brand like Netflix is taking up, I think back to when I was nine or 10 years old and not knowing that Para sport even existed. I've seen the evolution to what it has become to the point where there's a Netflix documentary and that is something else. It makes me proud because I've seen it change so dramatically. I know what it used to be like. Seeing things for the first time was an out of body experience. The viewer will see and hear things about me for the first time, but I did too. And seeing them in a documentary setting that was made so well was so emotional. There's footage of my mum's reaction to me winning my first [Paralympic] gold medal in London. I've never seen that before. That was my sister's footage. Whenever I think about me swimming and my race and winning my first gold medal, I never ever thought about what happened to mum on the spectator side of things. So when I saw mum tearing up, it made me tear up. I made her proud." (paralympic.org, 18 Sep 2020)

FURTHER EDUCATION
She has studied exercise science at the Australian Catholic University in Sydney, NSW, Australia. (dailytelegraph.com.au, 09 Aug 2015)
Results
IPC Swimming World Championships Eindhoven 2010 (Eindhoven, Netherlands)

| Event | Medal | Unit | Date | Rank |
| --- | --- | --- | --- | --- |
| Women's 50 m Freestyle S9 | | Final Round | | 8 |
| Women's 100 m Backstroke S9 | | Heat 1 | | 1 |
| Women's 100 m Backstroke S9 | | Final Round | | 5 |
| Women's 100 m Butterfly S9 | | Heat 3 | | 5 |
| Women's 100 m Freestyle S9 | | Heat 1 | | 2 |
| Women's 100 m Freestyle S9 | | Final Round | | 5 |
| Women's 200 m Individual Medley SM9 | | Heat 2 | | 4 |
| Women's 200 m Individual Medley SM9 | | Final Round | | 3 |
| Women's 400 m Freestyle S9 | | Final Round | | 3 |
| Women's 4x100 m Freestyle 34pts | | Heat 1 | | 2 |
| Women's 4x100 m Freestyle 34pts | | Final Round | | 4 |
| Women's 4x100 m Medley 34pts | | Heat 2 | | 3 |
| Women's 4x100 m Medley 34pts | | Final Round | | 7 |
| Women's 50 m Freestyle S9 | | Heat 1 | | 3 |
IPC Swimming World Championships Durban 2006 (Durban, South Africa)

| Event | Medal | Unit | Date | Rank |
| --- | --- | --- | --- | --- |
| Women's 4x100 m Medley 34 pts | | Final Round | | 6 |
| Women's 4x100 m Freestyle 34 pts | | Final Round | | 5 |
| Women's 400 m Freestyle S9 | | Final Round | | 6 |
| Women's 400 m Freestyle S9 | | Heats | | 6 |
| Women's 100 m Freestyle S9 | | Heats | | 9 |
| Women's 100 m Butterfly S9 | | Final Round | | 7 |
| Women's 100 m Butterfly S9 | | Heats | | 8 |
| Women's 100 m Backstroke S9 | | Final Round | | 2 |
| Women's 100 m Backstroke S9 | | Heats | | 1 |
2015 IPC Swimming World Championships (Glasgow, Great Britain)

| Event | Medal | Unit | Date | Rank |
| --- | --- | --- | --- | --- |
| Women's 100 m Backstroke S9 | | Heat 2 | 2015-07-13 | 1 |
| Women's 100 m Backstroke S9 | | Final 1 | 2015-07-13 | 1 |
| Women's 100 m Freestyle S9 | | Final 1 | 2015-07-14 | 1 |
| Women's 100 m Freestyle S9 | | Heat 1 | 2015-07-14 | 1 |
| Women's 50 m Freestyle S9 | | Final 1 | 2015-07-16 | 3 |
| Women's 4x100 m Freestyle 34pts | | Final 1 | 2015-07-16 | 1 |
| Women's 50 m Freestyle S9 | | Heat 2 | 2015-07-16 | 1 |
| Women's 4x100 m Medley 34pts | | Final 1 | 2015-07-19 | 2 |