Paralympic goalball champion Altunoluk targets Paris 2024, LA28 and may play to 2032
Younger sister Sevtap brings extra motivation as Turkey's goalball siblings make speeches to inspire each other
18 Jan 2023
Imagen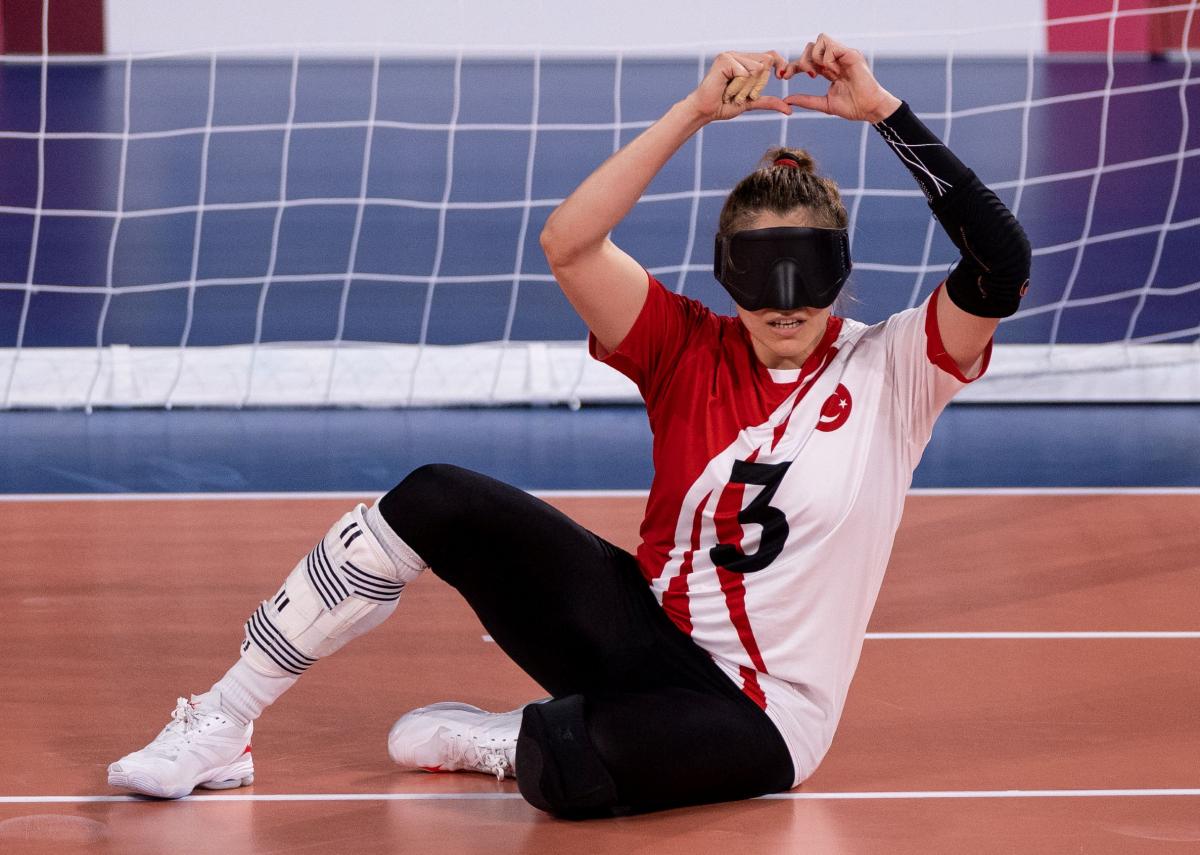 ⒸSimon Bruty/OIS
By AMP Media I For The IPC
When it comes to the art of scoring in goalball, the prolific Sevda Altunoluk makes it look easy. 
Behind the statistics and honours, however, it is not always plain sailing for the Turkish athlete with a vision impairment, who is twice a Paralympic gold medallist and who, in December 2022, added a world title to her ever-increasing roll of honour.
When moments of doubt creep in, that is when Altunoluk employs various motivational techniques, including giving and taking speeches from her younger sister Sevtap.
We are family
Sevtap Altunoluk made her Paralympic debut at Tokyo 2020 Paralympic Games, much to the delight of her 28-year-old sibling. 
"Playing with her makes me happy," Sevda Altunoluk said. "We train together and, although we disagree on some issues, we get along very well.
"We both have a competitive spirit and we motivate each other by giving speeches. We don't have any problems during a match.
"We have been playing for the same club since Sevtap started playing sports and we've never played against each other. If that happened, we would have to be professional."
The sisters live separate lives away from the sport but they enjoy going to the theatre together.
"I live a different life in dance, volleyball and horseback riding but theatre is our hobby area," Sevda explained.
Ups and downs
Sevda has been centre stage from the moment she first threw a goalball at the age of 12, displaying a rare power. She finished top scorer at Tokyo 2020 with 46 goals while the BBC named her one of their 100 influential women of the year.
In December 2022, at the World Championships in Matosinhos, Portugal, she scored 57 times as Turkey took the gold medal.
Yet it is what happened between the Paralympic Games and the World Championships which defined her year. At the 2021 European Championships, Turkey were beaten by Russia 5-4 in the final.
"Tokyo was the pinnacle of my career and performance. As a result, I was included by the BBC. Then we finished second in the European Championships. I had physical and mental declines in this tournament," Sevda recalled.
"I tried very hard to pull myself together and again I achieved my first World Championship by catching my peak performance."
Goalball innovation
Sevda, who has already targeted Paris 2024 and LA 2028, has the knack of turning something negative into something positive – like revenge at the European Championships, which will be held in Rotterdam from 8 to 17 August.
"We have a European Championship ahead of us for 2023. Our competitors are strong and we want to move forward by thinking step by step. Our goal is to win the European Championship," she said.
"I need to be open to innovation, and in this way I can develop new techniques so I can reduce my shortcomings to a lesser extent.
"Before the matches, I focus my motivation and keep my energy high. Thus, I keep my calm during the match and erase these pressures from my mind. Also, I don't think anything has been achieved without work. 
"Goalball is getting better every year. I think the 2024 Paris Paralympics will be more difficult because each team is gaining more experience and putting it on top in terms of performance."
A light in the dark
Sevda admits she was stunned to be named on the BBC's prestigious list. 
"I found out about it on social media and I was quite surprised because it was something new for me. First of all, I was proud and happy to be able to represent myself and then my country and sport well. 
"The fact that I get the result of my efforts in this way is an indication that I am going in the right direction. I see and hear from vision impaired athletes that they have chosen me as a role model for themselves, so I can touch their lives in any way. 
"If my achievements can be a light in the dark for my colleagues with disabilities, it makes me even happier."