Amy Purdy on Sochi, Bibian Mentel and making history
One to Watch Amy Purdy will be amongst the first snowboarders making their Paralympic debut from March 7.
09 Oct 2013
Imagen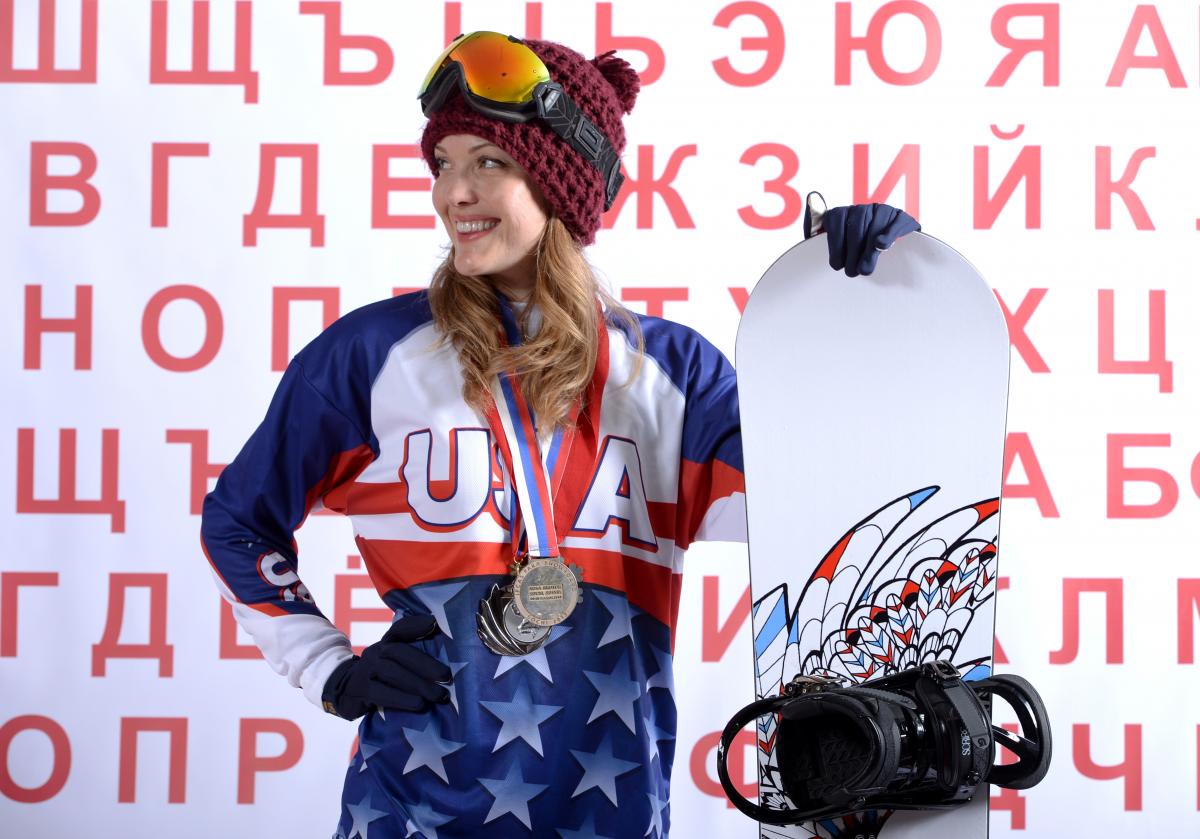 ⒸGetty
By Will Davies | For the IPC
"It makes you a better racer chasing someone or having someone on your tail."
Excitement is one thing the Sochi 2014 Paralympic Winter Games will have no shortage of, but it's an event making its Games debut in 2014 that will perhaps bring the biggest energy.
Snowboard-cross was announced as an addition to the Sochi 2014 programme in March 2012. It requires speed, agility, precision and courage as competitors race down a man-made course constructed from a variety of terrain features like bank turns and various types of jumps and rollers.
USA's Amy Purdy is central to the development and prominence of para-snowboard and will be as proud as anyone when the sport makes its Paralympic Games debut.
"It's incredibly rewarding to have played a role in helping to get snowboarding into the Paralympic Games," Purdy said.
"I've always had the attitude that if something doesn't already exist, why not create it?"
Purdy has been a top ranked adaptive snowboarder since 2011 and is a three-time world cup gold medallist. With her perseverance and will to succeed, she has pushed the boundaries of snowboarding in the USA and abroad, helping others find and love the sport so central to her life.
"I think that the passion that I have as well as all the other competing athletes is the force that led it to become a Paralympic Sport," she said.
"Being a part of this movement confirms to me that if you believe in something to never give up, that we are all capable of making our dreams come true."
In 1999, then aged 19, Purdy lost both of her legs to bacterial meningitis and was not sure if she would ever snowboard again. Months after defying huge odds to simply survive, she was back snowboarding, searching for ways to make it work.
Since then, Purdy has overcome all sorts of challenges to be where she is today and she says it's hard to believe the Sochi 2014 Paralympic Winter Games are nearly here.
"It has finally become very real to me. For a while there when people would ask me what it feels like to be on my way to the Paralympics, I almost felt out of place, it felt very surreal. But the events I have attended and the sponsors that have stepped on board to support my dream have helped to make it a very real, tangible thing for me.
"I think the most exciting part is to know that when I am in those start gates in Sochi that I have the support of other Paralympians, Olympians, my sponsors and the world behind me. It's actually a very emotional thing for me to think about at this moment."
Purdy's record of success will see her among the favourites when competition starts on 7 March, along with fellow Sochi 2014 International Paralympic Committee (IPC) One to Watch, Bibian Mentel. At the 2013 snowboard-cross Test Event at Sochi in March 2013, Purdy finished second behind the Netherlands' Mentel and she says rivalries such as this are key for her in the sport and are part of what makes the experience all the more rewarding.
"It makes you a better racer chasing someone or having someone on your tail. Bibian (Mentel) also happens to be one of my closest friends. We have been a part of this movement from the very beginning and I couldn't be more grateful to share this experience with her. She will probably be the first person I celebrate with in Sochi," Purdy said.
Of the celebrations, Purdy is giving very little away ahead of the Games, but feels her background in the sport and intense training, preparation and support from home and abroad, will put her in a strong position when at the top of the course at Rosa Khutor, the Paralympic snow sports venue in Sochi.
"I feel that those of us that had the opportunity to go to Sochi to do the Test Event have a good idea of what the conditions and terrain may be like. Maybe this gives us an advantage or maybe not. For me I'm a huge visualiser so already having an idea of what the terrain and conditions may be like helps to build my confidence.
"But to tell you the truth, we have no clue what the conditions will be like; we could have dry packed powder or wet sloppy conditions. The athletes who make the podium may end up being the ones who are most prepared for whatever Mother Nature brings that day."
Related Images