Day 2: Paralympic Winter Games preview
Scores will be settled on the ice in Para Ice Hockey and Wheelchair Curling
Para Snowboard gets underway with the first taste of cross competition
06 Mar 2022
Imagen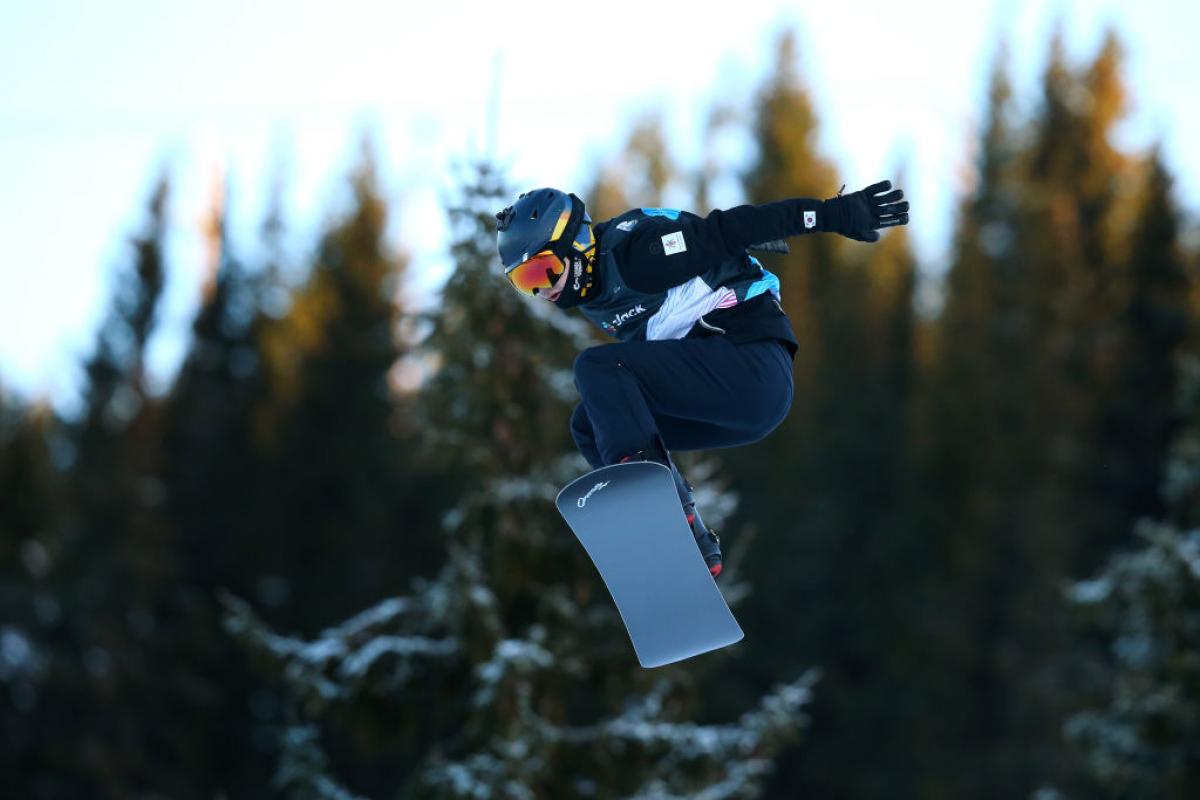 Ⓒ Alex Livesey/Getty Images
By Lucy Dominy I For The IPC
The excitement of the Beijing 2022 Paralympic Winter Games continues on Sunday (6 March) with the first Para Snowboard and Para Cross-Country Skiing skiing competitions.
Para Alpine Skiing will see the second set of speed medals awarded, while old rivalries can be found on the ice in Para Ice Hockey and Wheelchair Curling.
Para Alpine Skiing 

Following on from an incredible downhill from Saturday, there is no let-up in the speed in Beijing.
Competing in the super-G, some skiers will go for their second medals.
Slovakia's Henrieta Farkasova is on a high after winning her 10th Paralympic medal with guide Martin Motyka in the women's downhill vision impaired on Saturday. Farkasova returns as the defending super-G champion.
French world champion Hyacinthe Deleplace will be looking for revenge against Austrian teenager Johannes Aigner in the men's vision impaired. Aigner stormed to gold 24 hours ago with guide Matteo Fleischmann having never raced downhill before. Deleplace collected bronze, guided by Valentin Giraud-Moine.
France's Arthur Bauchet is in the hunt for his second gold in the men's standing. However Austria's Markus Salcher is the world title-holder and is aiming to regain his Paralympic gold from Sochi 2014.
In the women's standing, France's 30-time major international medallist Marie Bochet is looking for redemption. The Frenchwoman lost a ski during the downhill on Saturday and will be determined not to miss out on the podium again.
The hunt for gold in Beijing 2022 goes on for France's Marie Bochet. Ⓒ OIS Photos/Joel Marklund
Norway's Jesper Pedersen is another world champion hoping to improve on a silver medal from Saturday.
Germany's Anna-Lena Forster will go for her first super-G Paralympic title in the women's sitting. Amongst those who could challenge her is Japan's Momoka Muraoka who excelled to win the downhill.

Para Cross-Country Skiing 

Para Cross-Country Skiing will get underway at the Zhangjiakou National Biathlon Centre with the long distance men's and women's sitting.
The upper body strength of skiers will be tested to the extreme over 18km for the men and 15km for the women.
The USA's Kendell Gretsch heads out as the defending champion and a Para Triathlon gold medallist from the Tokyo 2020 Paralympics. Competing less than six months after her triumph in Japan, Gretsch is aiming to defend medals from both Para Cross-Country Skiing and Para Biathlon in Beijing.
One of her biggest rivals will be teammate Oksana Masters, herself a dual sport athlete who competes in Para Cycling. Masters took bronze behind Grestch at PyeongChang 2018 but beat her to the world title at the start of the year.
US teammates Kendell Gretsch are friends off the snow and rivals on it. Ⓒ Alex Livesey/Getty Images

In the men's Ukraine's Maksym Yarovyi will want to level-up on his performances at major competitions since winning gold in the long distance in PyeongChang.
The legacy of the last Winter Paralympics has also been shining bright for hosts South Korea in the category. Eui Hyun Shin picked up silver at the Worlds in January to place himself in contention for Beijing 2022. 
Para Snowboard

Snowboarders will get their first taste of the conditions and course at the Zhangjiakou Genting Snow Park on Saturday with qualification for snowboard-cross across classifications.
The Canadian duo of Tyler Turner and Lisa Dejong all look in great shape to take their country's first Paralympic gold in the sport and will want to qualify strongly.
Turner is the new world champion in the men's SB-LL1 and will be looking to advance to Monday's medal races. However the Canadian is likely to see the USA's Paralympic champion Mike Schultz in his rear-view mirror as he has done many times this season.
Tyler Turner made a huge impact at the recent World Championships. Ⓒ Samuel Andersen/Lillehammer 2021 

Dejong meanwhile picked up silver at the World Championships in Lillehammer, Norway, in the women's SB-LL2, finishing behind Dutch rider Lisa Bunschoten.
According to the most recent men's cross SB-LL2 results, Finland's Matti Suur-Hamari – the defending Paralympic champion – looks in form. The Flying Fin took the world title at Lillehammer 2022.
France's Maxime Montaggioni recently retained his world title in the men's snowboard-cross SB-UL to place himself firmly in the podium picture for Beijing 2022. But the USA's Mike Minor is the defending bronze medallist and has finished in the top three at World Cups this season.
China also have a maiden Para Snowboard medal hope in the men' SB-UL, courtesy of Ji Lija. Lija was winning at World Cups in 2019 before the pandemic struck. 

Para Ice Hockey
After winning their opening match against arch-rivals Canada, title-holders the USA will take on PyeongChang 2018 bronze medallists South Korea on Sunday.
Declan Farmer has already achieved one goal and three assists to become the USA's highest Paralympic point scorer. He will look to continue his form, whilst South Korea will take to the ice for the first time in Group A.
In the day's second game, both Italy and Slovakia are hoping to get their first wins on the board in Group B having lost their opening fixtures.
China are in a good position on their Paralympic debut having chalked a win in Group B. But the same can also be said for their opponents, the Czech Republic.
Wheelchair Curling
Headlining the day's clashes at the Water Cube is a replay of the 2018 semi-final between Norway and South Korea.
Norway emerged the victors four years ago, breaking the hearts of the hosts who had hoped for a medal at home. The Norwegians then went on to claim silver.
Defending champions China will play twice as they look to recover from their opening game loss against Canada.
Debutants Latvia face a tough but intriguing clash with triple champions Canada. The Latvians will be buoyed by a good start against South Korea from Saturday, as will Canada who won both their opening games.
Polina Rozkova is the Latvian skip who has had to help her team navigate difficult waters on the way to Beijing 2022. Ⓒ Getty Images