Double duty: Athletes who competed at both the Olympic and Paralympic Games
Olympian or Paralympian? More than a dozen athletes around the world can call themselves both names
23 Jun 2022
Imagen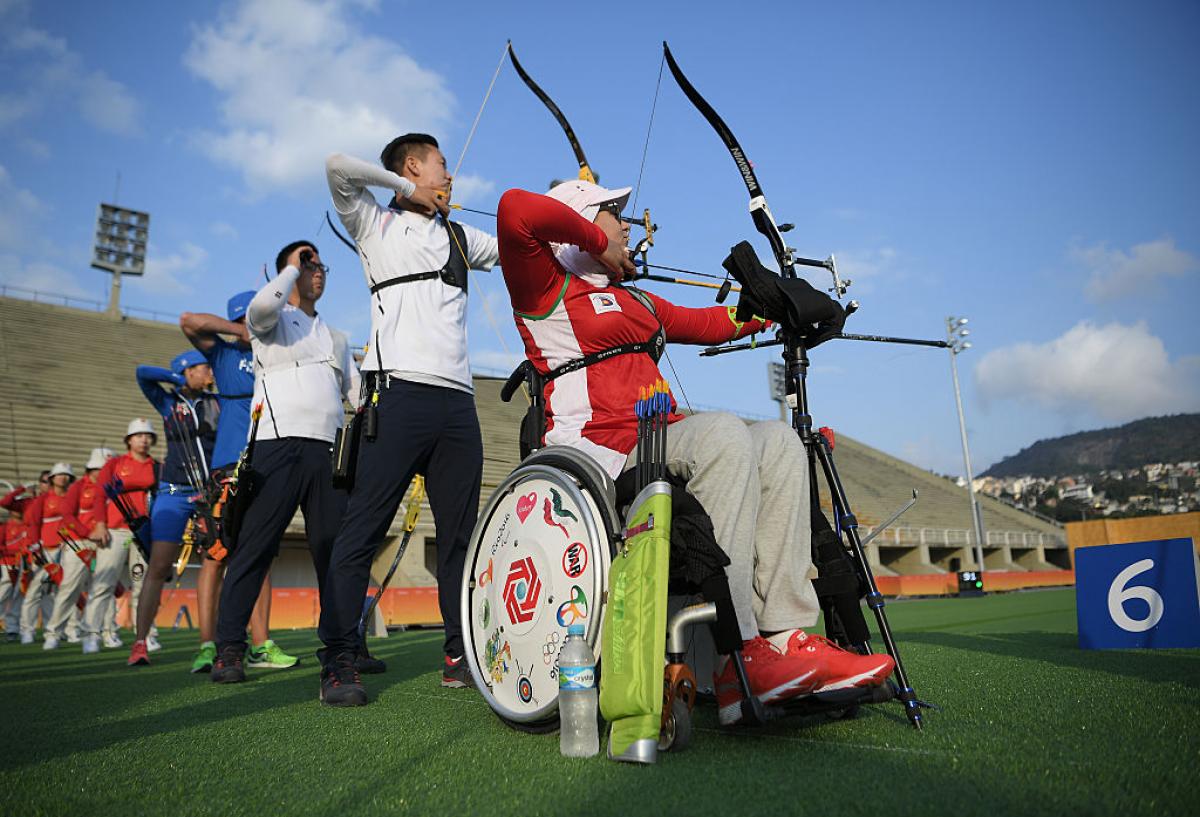 ⒸMatthias Hangst/Getty Images
By IPC
As the world celebrates Olympic Day on June 23, Paralympians are ready to join the party — and some of them are guaranteed front row seats.
In nearly 10 Para sports, there are multiple athletes who have competed in both the Olympic and Paralympic Games, including those who have reached this milestone just weeks apart.
Here we look back at some of the legends who made history with their double appearances at the Games and at those who continue to push boundaries on the international sports stage to this day.
Climbing Mount Olympus
Neroli Fairhall made history when she became the first Paralympian to compete in an Olympic Games in 1984. The New Zealander made her Paralympic debut twelve years earlier, then as a Para athlete. She added Para archery to her repertoire in Arnhem 1980, won a gold medal in the sport and set a world record. Fairhall also qualified for the Olympics that year, but was unable to participate due to the US-led boycott.
In 1982, Fairhall competed in the Commonwealth Games, where she won a gold medal and became the first disabled athlete to compete in the multi-sport event. Two years later, she made her Olympic debut in LA 1984.
Belgium's Sonja Vettenburg and American distance runner Marla Runyan followed a similar path. Vettenburg won gold and bronze medals in shooting at the 1984 and 1988 Paralympic Games before making her Olympic debut, in the 10m air pistol, in Barcelona 1992.
Runyan collected five Paralympic gold medals in her races in Barcelona 1992 and Atlanta 1996. In 2000, she competed in the Sydney Olympics, becoming the first legally blind athlete to compete in an Olympics. She returned to the Olympic stage for the second time in Athens 2004.
Double take
Olympics and Paralympics a few weeks apart? Not a problem for these five athletes who competed at both Games back-to-back.
Italian Para archer Paola Fantato set the bar high when she competed in the 1996 Olympic and Paralympic Games. Atlanta 1996 was the third of her five Paralympic appearances, earning the five-time Paralympic champion two medals.
Poland's Natalia Partyka, South Africa's Natalie du Toit and Iran's Zahra Nemati are more recent examples of Paralympians who did double duty during the Games.  
Six-time Paralympic champion Partyka competed in table tennis at both Games for four consecutive editions, starting with Beijing 2008.
Fellow Para table tennis player Melissa Tapper followed a similar path eight years later when she competed in the 2016 Olympic and Paralympic Games. The Australian track athlete repeated this feat in Tokyo 2020, where she won team silver in the Paralympic competition.
Para swimmer Natalie du Toit joined Partyka as the only other Paralympic athlete to compete in the 2008 Olympics. She won five gold medals at the 2008 Paralympic Games, bringing her total Paralympic titles to 13, becoming the first athlete who carried the flag at the opening ceremonies of both the Olympic and Paralympic Games in one year.
Zahra Nemati also embraced flag-carrying duties when she was selected for the role in the 2016 Rio Olympics. The Para archer also carried the flag of Iran at the opening ceremony of the Tokyo 2020 Paralympic Games, where she won her third consecutive gold medal in the women's individual recurve.
New world explorers
While there are multiple Paralympic athletes who have taken on the Olympics, there are also many cases of Olympians who have discovered Paralympic sports and pursued their newfound passion to the highest level of competition.
A prominent example is Hungary's Pal Szekeres, who is the first athlete to win medals at both the Olympic and Paralympic Games. A bronze medalist in the team foil event at the 1988 Seoul Olympics, Szekeres switched to wheelchair fencing after being injured in an accident in 1991 and went on to win three gold and three bronze medals in five Paralympic appearances.
Italy's Orazio Fagone has the distinction of being the only winter athlete to have competed in doubles at the Games. Fagone competed in short track speed skating at three Winter Olympics and became Olympic champion in 1994. Although he was unable to skate after his leg was amputated as a result of a road accident, Fagone's love for ice remained unabated. He took up sledge hockey and competed with the Italian team at their home games of the 2006 Paralympic Winter Games.
Other Olympians who have pursued a Paralympic career after serious injuries include Germany's Ilke Wyludda and Croatian Sandra Paovic.
Wyludda, a three-time Olympian, won gold in the women's discus throw at Atlanta 1996 and became a Paralympian in 2012. Paovic competed in table tennis at the 2008 Olympics, but had a serious accident the following year and switched to Para table tennis. She won Paralympic gold in Rio 2016.
To look at
If you missed these Paralympics during the past Olympic Games editions, and vice versa, there are plenty of opportunities on the road to Paris 2024 to make up for that.
Apart from Partyka and Tapper who continue to shine in the top-level table tennis competitions, Assunta Legnante from Italy is always sure to put on a show on the athletic field. The 2008 Olympic shot putter switched to Para competitions after her vision deteriorated. Legnante, a double Paralympic gold medalist from London 2012 and Rio 2016, settled for two silver medals last summer in Tokyo and will be happy to regain her golden glow in Paris.
Another journey worth following is that of equestrian rider Pepo Puch. The five-time Paralympic medallist represented Croatia at the 2004 Olympics and switched to Para sport after suffering an incomplete spinal cord injury from an accident. Puch made his Paralympic debut in London 2012, where he won gold and bronze for his native Austria. He also won medals in his next two Games appearances and wants to continue this streak on French soil.