Fourth-place finish fuels new Paralympic ambition for Uwe Herter
German Para archer is targeting a podium spot at the Tokyo 2020 Paralympic Games
03 Jan 2020
Imagen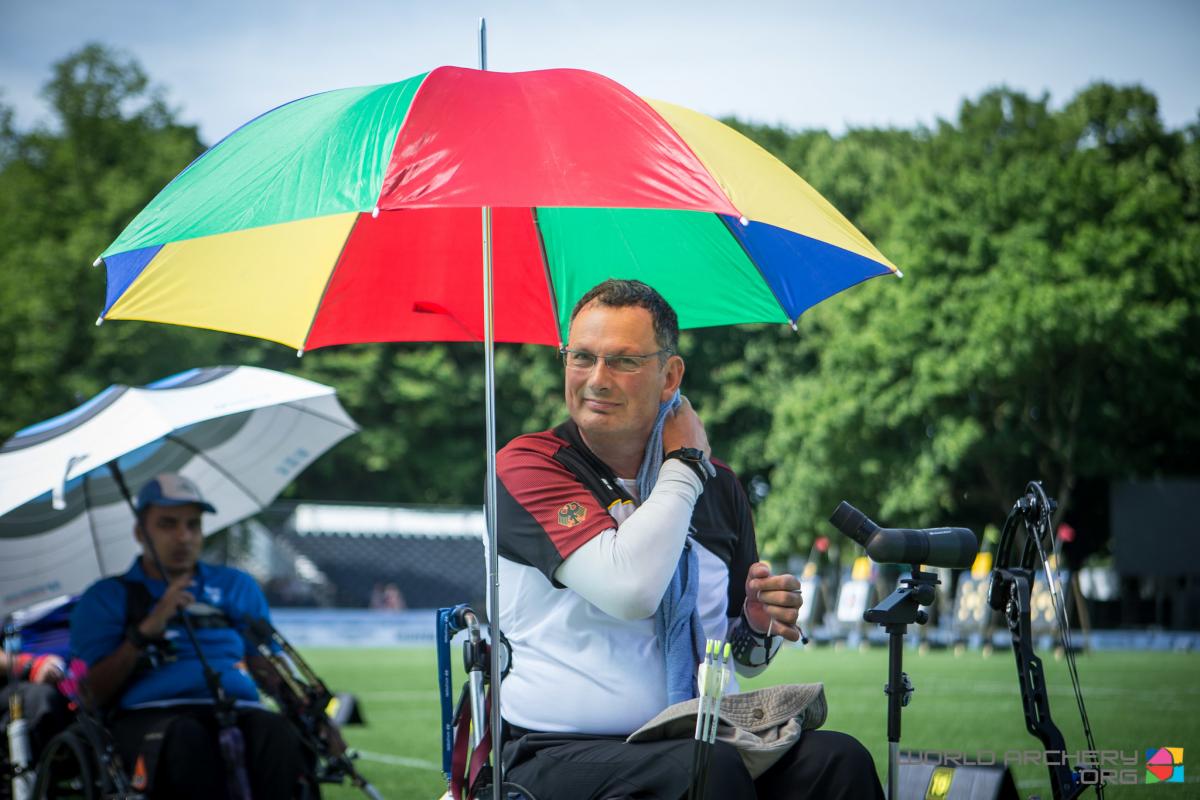 ⒸWorld Archery
By Lena Smirnova | IPC
Uwe Herter was ready to quit competing in Para archery three years ago after nearly two decades in the sport. His family was also ready for him to quit.
But when the German archer finished one spot off the podium in the men's individual compound W1 at the Rio 2016 Paralympic Games, he decided not to call it a day.
"I said OK, one time at the Paralympics, it's enough and I'm not the youngest. But then when I came home and everyone said, 'You got fourth place, you can't stop. Try again'," revealed the 58-year-old.
"My family and all my friends say, 'You can't stop now. Please go on'. And so, I go on."
With his home support base stronger than ever, Herter is now working to qualify for his second Paralympic Games and, this time, make that crucial leap onto the podium.
Fateful encounter
Herter was introduced to archery in 1998 as part of his rehabilitation following a road accident. He collided with a car while cycling to work, which resulted in tetraplegia, and stayed in the hospital nearly a year.
Archery and table tennis were the two sport options presented to him during rehabilitation, but almost immediately Herter knew archery was the one.
"I can't explain what I like about archery. I held the bow in the hospital. They put the bow in my hand and said, 'Try to shoot', and I tried it and I said, 'That's my thing'.
"I tried table tennis too, but I choose archery because it's my passion."
Through archery Herter also discovered a brand new world of competitive sport. While he played handball as a teenager and cycled recreationally in his adult years, archery was his first experience competing as an athlete on a big stage.
Herter has now competed at five World Archery Para Championships, finishing in the top 10 on four occasions, as well as the Paralympic Games and multiple smaller competitions.
"I'm surprised about myself because I never thought I would go to a competition, go to a world championships," said the father of two. "I just went every day to the range and did it for fun."
Powering to the podium
An engineer by day, Herter hones his archery skills in the evenings and on weekends.
While on paper his results appear stable, the bigger picture - which takes the growing competition field and improving performances from other athletes into account - shows that Herter is shooting better than ever.
The veteran Para archer reached the top 10 at the World Archery Para Championships in 2011 and 2013, where there were 17 and nine athletes in the men's compound W1 class, respectively.
With the exception of 2019 where he tied for 17th place, Herter has managed to keep that top 10 standing over the past four years even though the field has expanded to nearly 30 athletes.
"I had fun since 1998 and it's amazing how the results are improving just after 20 years," Herter said. "My results have gone up, but the results of the others went up too."
One of his career highlights came in 2016 when Herter finished a surprising fourth in the men's W1 competition after beating world silver medallist Omer Asik of Turkey in the quarterfinal.
"I am glad to reach fourth place," Herter said. "After the qualification I was eighth and I know that the eighth has to shoot against the first in the quarter-final so I didn't hope to reach the bronze medal match or the gold medal match."
While Herter was happy with fourth place three years ago, he is aiming to place better and bring back a physical memento from his next journey to the Paralympic Games.
"The mental side of it is that I have no medal. I have to do it for myself and I think that I can," he said. "Now it's harder to reach a medal, but I never give up."
The archer's family are also eager to see him accomplish the task, in contrast to their skeptical attitude ahead of the Paralympic Games in Rio de Janeiro.
"My daughter used to say, 'Papa, what do you want? You shoot arrows thousands and thousands of times. Isn't it enough now?' But since I have returned from Rio, she stopped saying that," Herter said with a laugh.