India's ace Para shuttler Bhagat uses downtime to work on weaknesses
'This time (COVID-19 lockdown) has helped me work on my biggest challenge – the movement in my disabled leg'
20 Aug 2020
Imagen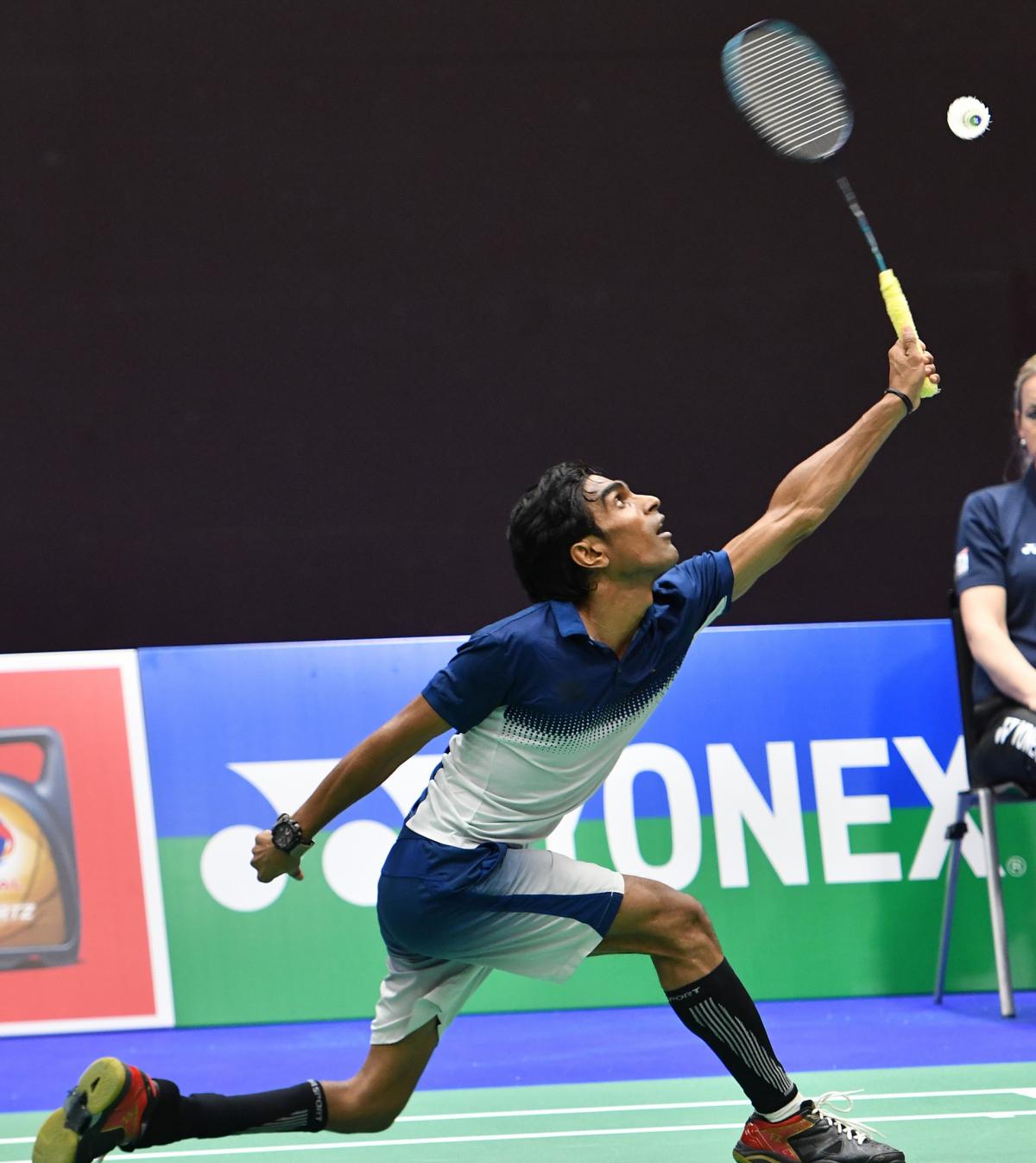 ⒸBadmintonphoto/BWF
By Priyanka Sharma (Asian Paralympic Committee) for IPC
The COVID-19 pandemic has surely brought the world to a standstill but India's Para badminton star Pramod Bhagat feels, it has turned out to be a 'blessing in disguise' for him.
The World no. 1 and the reigning World Champion in SL3 singles and doubles category, has been confined to his home in Bhubaneswar, an ancient city in India's eastern state of Odisha, for more than four months now.
But he isn't complaining and is using the downtime to attain peak fitness and mental strength in his quest for podium at the Tokyo 2020 Games where badminton is scheduled to make its debut.
"During our usual training time, we distribute our time on our skills, technique, tactics and fitness. Now that our training has been halted, I had ample of time to focus on my fitness, work on my weaknesses and mental well-being.
"And I am more than satisfied with the outcome of these four months of workout at home — I have never felt so good about my body; am fitter than ever before. The COVID-19 is a big challenge for the world now. But for me, however, this time has helped me work on my biggest challenge – the movement in my disabled leg. I am able to move the leg more comfortably, which is a great satisfaction. Mentally, I feel more confident about my movements now," said the left-handed shuttler who was affected by polio in his left leg in his childhood.
Depressed with Tokyo 2020 postponement
The 32-year-old is the country's brightest prospect of winning a medal at the Tokyo 2020 Paralympic Games and is currently at the top of the Tokyo 2020 qualifying list in men's singles SL3 category.
Like most, Bhagat too was disappointed with the postponement of the Games and it took some time for him to regroup and start his fitness training again.
"Initially, I was a bit depressed with the way things were turning out. I have waited and trained all these years to play at the Paralympic Games. First, we had hopes at Rio 2016 and then now when Para badminton was making its debut in Tokyo, it was postponed. It was frustrating. But then, training and staying positive was the minimum I could do to keep myself going. Also, I kept saying myself that I have to stay fit to be ready for the Games next year.
"The postponement of the Games has definitely taken our mind and body back to relaxed mode. Thus, it will be important to stay active and maintain the fitness level," said the five-time World Champion who has now started court training after four months gap at the Railway Indoor Stadium in Bhubaneswar.
Talking about his main competitor for the Tokyo 2020 Games, Bhagat said England's Daniel Bethell has always been his toughest opponent. "At Tokyo 2020, he will have the psychological advantage having won in the test event in Tokyo. I have to be prepared to tackle him this time."
However, at the 2019 World Para Badminton Championships, Bhagat came back from a game down to defeat Bethell and clinch his third title in the men's singles SL3 category. He also had a "great start" to 2020 with two gold medals each at Brazil and Peru International events.
Unique Partnership
Not just in singles, Bhagat has been a two-time world champion in men's doubles SL3 event as well. And he says his "unique partnership and bonding" with compatriot Manoj Sarkar since 2013 is the key to their success. "I am quite relaxed and controlled in the matches, while Manoj is opposite to me; he is very aggressive and plays freely. Thus, we balance each other and make a great pair together. I just need to calm him down in crucial situations and he takes control of the match."
India's prestigious Arjuna Award winner, Bhagat went on to add that the 2013 World Championships gold in men's doubles SL3 stands out as his favourite in his 15-year career span. "It remains close to my heart as I and Manoj played the finals relying on my decisions and tactics. This gave me immense confidence and self-belief once we knocked down the final points."
However, for him, the 2014 Incheon Asian Para Games bronze medal was the turning point in his career and recognition and financial help started coming in thereafter.
Asked to choose between singles and doubles, Bhagat said "playing is more important."
"But given a choice, I like to play doubles more than singles as I am able to enjoy the game. In fact, I prefer playing mixed doubles than men's doubles. Hopefully soon; and if I get a chance, I would like to partner with promising player Palak Kohli for the mixed doubles," said Bhagat, who is supported by GoSports Foundation.
He also never forgets to acknowledge the support of his mentor and coach SP Das and Gaurav Khanna, who he says have shaped his career. "I would have been nothing without them."
Psychological advantage
Having taken up the role of a Badminton coach in schools in recent years, Bhagat said it gives him a psychological advantage in his matches. "I can read my opponents' game better. Maybe I am able to utilise all these years of my coaching experience and skills during my matches. And that is the reason, I am able to win matches from a critical situation.
"Though I am not taking up coaching roles currently, but I enjoy it and hopefully, after I retire as a player, this will be the one thing I would look to pursue to give back to the sport."
For now, his dream is to win a Paralympic medal and meet his idol and cricketing legend Sachin Tendulkar, whom he describes as a "humble human being and true sportsman".
"A Paralympic medal will fulfil two of my dreams at a time. Tendulkar ji (India's cricketing legend) is my idol and he met the Olympic and Paralympic medallists of Rio 2016, even congratulated them. I hope I can meet him next year after the Tokyo 2020 Games with a Paralympic medal around my neck."