No. 24: Sir Philip Craven elected IPC President
Since taking over as President in 2001, the IPC, Paralympic Movement and Paralympic Games have grown in size, stature and credibility.
29 Aug 2014
Imagen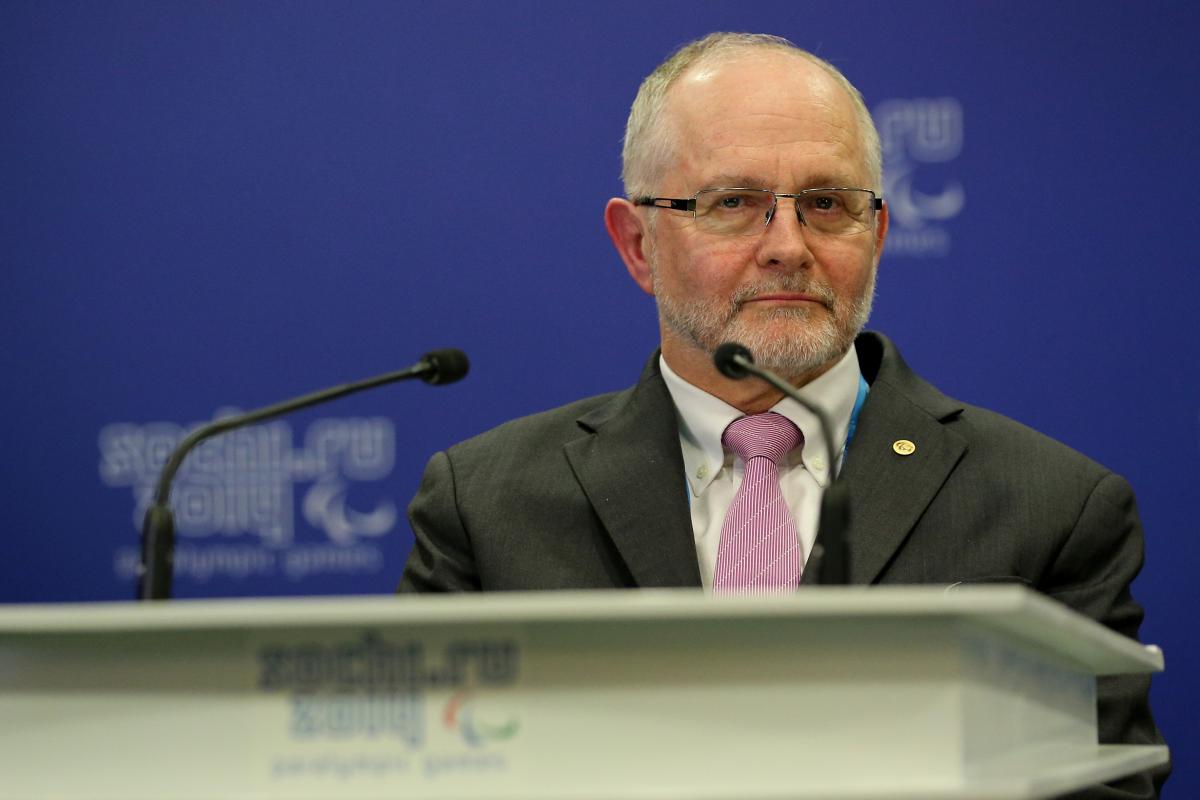 ⒸGetty Images
By IPC
"In Sir Philip Craven the IPC have a leader who is widely respected and who speaks with a passion for the cause he has served as president since 2001." BBC Sport
The ninth IPC General Assembly took place on 7 December 2001 with representatives form 75 nations, 5 IOSDs and 22 sports in attendance.
The main topic of conversation was who would succeed Canadian Bob Steadward as the IPC President with four candidates Philip Craven, Bob McCullough, Hans Lindstrom and Francois Terranovam, all in the frame.
Great Britain's Philip Craven, the President of the International Wheelchair Basketball Federation, was the clear winner after impressing members with his boundless energy and proposals to transform the IPC and the Paralympic Movement.
Craven, a five-time Paralympian, has been a man to his word and under his leadership the Paralympic Movement has enjoyed unprecedented growth in all areas.
He has transformed the IPC from a disability sports organisation to one of world sports' most respected and recognised international organisations. The IPC has grown in size to nearly 70 full-time staff, whilst the IPC membership now exceeds 200.
The Paralympic Games have grown in size and scale, most recently with both London 2012 and Sochi 2014 breaking multiple records in terms of ticket sales, global TV audience, participation and commercial revenues. Only the Olympics and FIFA World Cup are now bigger than the Paralympic Games.
During his tenure, he has been instrumental in launching the IPC's vision, which took many themes form his 2001 election campaign, securing the "one bid, one city" concept with the IOC, producing four-year-long strategic plans and leading governance reforms.
He was elected an IOC member in 2003 and two years later was knighted by Queen Elizabeth II for his services to Paralympic sport.
Sir Philip's down-to-earth and personable style has seen the IPC develop many long-lasting relationships with multiple strategic partners. Notably, the IPC's relationship with the IOC has never been stronger.
In 2005 and 2009, Sir Philip was re-elected President unopposed and in November 2013, ironically again in Athens, Greece, he was elected for a fourth and final term. His majority of 107 votes over challenger Alan Dickson, underlined the high regard the IPC membership still holds him in after 12 years at the helm.
Upon his re-election, Sir Philip wasted no time in outlining his priorities for a final term.
"It's about athletes. It's about developing an even wider athlete base in all our nations. It's also to maintain the momentum with regard to the Paralympic Games."