No. 29 Agitos Foundation grows Paralympic Movement globally
The continuation and launch of several projects as well as a nomination for an award have seen the development arm of the International Paralympic Committee flourish further in 2014.
03 Dec 2014
Imagen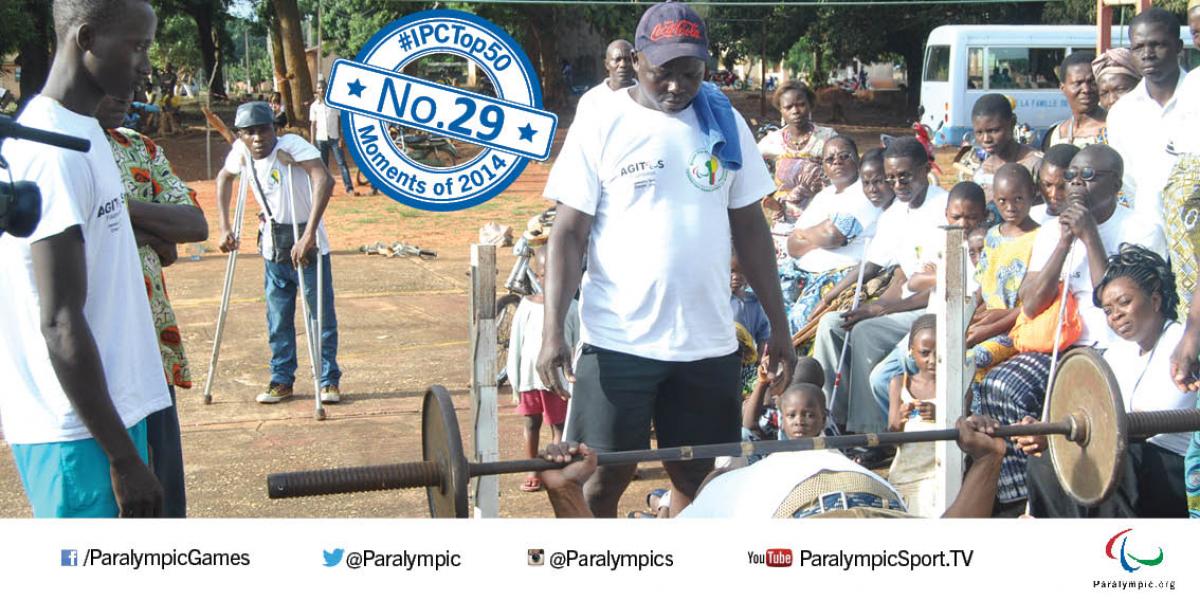 ⒸNPC Benin
By IPC
"After I lost my arm, I was useless in my family and I didn't go to school…but I liked running and used to run faster than my brothers."
Another successful year for the growing development arm of the International Paralympic Committee (IPC), the Agitos Foundation, is at No. 29 in the Top 50 Moments of 2014.
Granting support
The second round of the Grant Support Programme (GSP), launched in 2013, saw 650,000 EUR given to 28 development projects around the world run by Regional Organisations, National Paralympic Committees and International Federations.
The conclusion of a project from 2013, an initiative to develop para-sport and athlete pathways towards Rio 2016 in Rwanda, has seen a number of training camps and workshops take place for athletes, classifiers and coaches, culminating in a national competition in August 2014.
In a major boost for sport in the country, 31 coaches have been trained in para-athletics, some of which are staff members in centres for children with impairments. This increased the number of participants in those centres to 1,350 and more than doubled participation in the national competition in the capital Kigali from 60 to 128 people.
Of those 128, 20 have been talent-spotted for further training towards international competitions.
Josephine Ngabire, who lost her arm in a car accident, is one of those athletes. "I am very happy to win this competition," she said after taking victory in the 100m and 200m. "It is my first time to participate in any sport activity, even my first time to go out of my community to Kigali City.
"After I lost my arm, I was useless in my family and I didn't go to school…but I liked running and used to run faster than my brothers.
"I am excited to participate and come first in both events."
Ten classifiers have been trained and are reported to be facilitating the classification of some 900 athletes by the end of 2016.
The grant has also helped the Rwandan Paralympic Committee to recruit a permanent member of staff and distribute sports equipment to local clubs.
In 2014, there was also funding for the development of a low-cost wheelchair rugby chair by the International Wheelchair Rugby Federation and increasing participation in wheelchair tennis in the Caribbean by the International Tennis Federation.
Support is also being provided to the International Rowing Federation for a training camp and regatta and to Cerebral Palsy International Sports and Recreation Association (CPISRA), Inas (International Sports Federation for Persons with Intellectual Disability), and IBSA (International Blind Sports Federation) for classification research for athletes with cerebral palsy, intellectual and visual impairment respectively.
The full list of funded projects can be found on the Agitos Foundation website.
Spreading the word
In 2014, the Organisational Capacity Programme (OCP) launched with the aim of improving the organisation and resources within para-sport organisations through training workshops in partnership with the IPC Academy.
Work with one such participant - the Ghanaian Paralympic Committee (GPC) - attracted attention and led to the Agitos Foundation being nominated for the Ghana Sports Excellence Award.
Using what he had learnt from the first round of OCP workshops in Bonn, Germany, Ignatius Elletey successfully engineered the implementation of a vision, mission statement and organisational structure for the GPC and engaged with sports practitioners from 10 regions. This is in addition to funding obtained through the GSP for a national para-sport festival set to take place in December 2014.
Other participants in 2014 included Cameroon, Cape Verde, Ethiopia, Haiti, Liberia, Puerto Rico, Serbia, Seychelles, Suriname, Vanuatu (Oceania Paralympic Committee), Sierra Leone and Argentina, all of whom have returned to their countries to deliver training on administering and promoting para-sport.
The second round of workshops included representatives from Burundi, Benin, Mongolia, Zimbabwe, Namibia, Mauritius, India, Hungary, Gambia, Ecuador, Chile, Botswana and the African Paralympic Committee.
WoMentoring
The Agitos Foundation's WoMentoring Programme, dedicated to helping the Paralympic Movement achieve its aim of 30 per cent of women in leadership roles, paired 16 experienced female leaders and 16 women in emerging senior positions from over 20 IPC Member Organisations, amongst others, in 2014.
The mentors are experienced in a wide variety of sports organisations from both within and outside the Movement, including National Paralympic Committees, International Federations, International Organisations of Sports for the Disabled and consultancies.
The mentees meanwhile are equally as varied, from athletes and coaches to secretaries and even some existing board members.
At a launch event in Vienna, Austria, in May, the mentors and mentees started building their relationships and developed communication and development plans for the 18-month-long project.
Visit the IPC's Top 50 Moments of 2014 campaign page for more information.