From small theatre stage to global sports arena: Enock is making history for Vanuatu
Disability advocate Elie Enock will compete in Para athletics and Para powerlifting at the Birmingham 2022 Commonwealth Games
13 Jul 2022
Imagen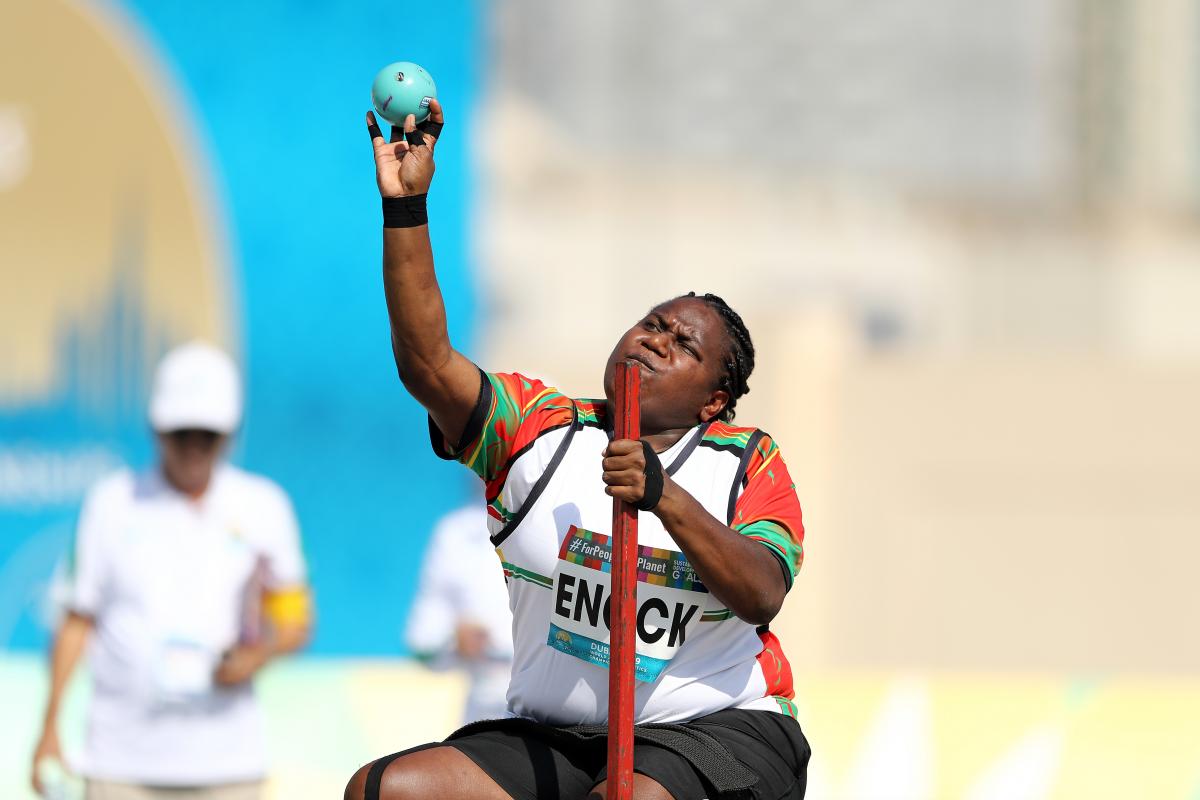 ⒸBryn Lennon/Getty Images
By Lena Smirnova | For the IPC
As a theatre actress, Elie Enock is used to the spotlight.
But her stage is small. The theatre is a local amateur production based in her homeland Vanuatu, an island country whose total population is barely more than 300,000 people. 
Her next performance promises to be a lot bigger. Enock is set to compete at the Birmingham 2022 Commonwealth Games in just over two weeks after achieving a historic first for Vanuatu of qualifying in two different sports, Para athletics and Para powerlifting.
The Games will be held from 28 July to 8 August and after missing out on the Tokyo 2020 Paralympic Games due to Covid-19 concerns, Enock is ready to put on a show.
"I was super excited and delighted to be the first for Vanuatu and looking forward to try my best in the coming competition," she said.
Sports stage
A car accident at the age of 20 led to Enock having to amputate her left leg above the knee. She started Para athletics eight years later, in 2016, after attending a talent identification session ran by the Agitos Foundation and the Oceania Paralympic Committee. Her chosen disciplines were shot put and javelin, with rowing added into the mix as cross-training. 
A year later Enock competed at her first competition, the Pacific Mini Games in Port Vila, Vanuatu. More events – and medal results - followed.
She won a silver medal in the javelin at the 2019 Pacific Games in Apia, Samoa. She has also competed at the Arafura Games in Australia, where she won a bronze medal, and the Dubai 2019 World Para Athletics Championships.
The Tokyo 2020 Paralympic Games were her next goal, but due to strict coronavirus measures in the Pacific Islands, several athletes from the region opted not to take the trip. 
Instead of getting discouraged, Enock picked up another sport.
"I just started training powerlifting last year," the dual athlete said. "I went to do gym trainings with the Vanuatu CrossFit Team here for my shot put throws and that's when two of my female coaches at CrossFit come up with the idea for me to start powerlifting, so they asked me if I am interested. I told them that OK, I'll try, and that's when I started doing powerlifting." 
Enock not only took up the new sport, but also excelled in it and earned a qualification in the women's 60kg+ event at the upcoming Commonwealth Games to complement her qualification in the women's F57 shot put.
"This is an amazing outcome, not just for Elie personally or for Team Vanuatu but for all of those people sitting at home following an amputation due to an accident like Elie who can be inspired by Elie's example," said Margaret Macfarlane, president of the Vanuatu Paralympic Committee.
Theatre stage
Through her sports performances, Enock is showing people with disabilities in Vanuatu what is possible. It is a message that resonates with Enock on a personal level. A single mother and an amputee, Enock has spoken about struggling with depression and using sport to find self-acceptance. 
Theatre was another outlet that helped Enock to overcome her struggles. After the media attention on her athletic career, she was invited to work in the Wan Smolbag Rainbow Theatre, a regionally renowned troupe that tackles inclusion issues in their performances. 
"We mainly advocate for the rights of people living with disability through theatre play and we also do some activities after our shows because if we go out and do awareness by talking, people will not be interested and get the message," said Enock. "By doing small theatre play people are interested because they laugh and cry, but they get the message. We have different theatre plays that are based on different issues in life." 
The 33-year-old has played a variety of roles to show the spectrum of problems that people with disabilities face in Vanuatu. For example, in a play about violence Enock performs the role of a woman with a disability who gets beaten by her husband. In another, about hygiene, she plays a mother who has a son with diarrhea. 
The troupe has also staged a play based on the true story of one of their actors. In it Enock plays the mother of a disabled son who gets discriminated against by the village community but manages to defy the odds.
"We use his story to advocate for the rights of people living with a disability," Enock said. "Many people in the communities that we went to, they cried and apologised, even regretted what they've been doing to a person with a disability who lives with them and from that play they come to understand that a person with a disability has the same rights as able people."
The subjects that Enock touches upon as an actress are the same ones she has encountered in her own life. People with disabilities face a lot of discrimination in Vanuatu when they go out, Enock says, especially with public transportation. 
"One of the biggest challenges for people living with disability in Vanuatu is we always get discriminated (against). Many people always look down at our ability, what we can do being a person with a disability," said Enock, who also serves as president of the Vanuatu Disability Alliance. 
"Most people with a disability that are interested in sport live in a rural area and it's hard for them to find transport to the training complex. Most of them don't have a job due to the educational background and can't avoid bus fare to trainings."
Enock hopes to change that using her acting and sports performances as a platform, and inspire people in Vanuatu to get the most out of life.
"(My big dream is to) be a role model to young people living with a disability, that no matter your disability you can be involved in Para sports and different activities," she said. "I want to see more persons with a disability involved in sport, accessible transport, accessible sport complexes and for the government to invest more on Para sport in the future."