Two years until Paris 2024: 24 things to look forward to
Dynamic sports? Iconic venues? Unforgettable arts performances and initiatives to make society more inclusive? There is so much to look forward to as we count down two years until the Paris 2024 Paralympic Games
28 Aug 2022
Imagen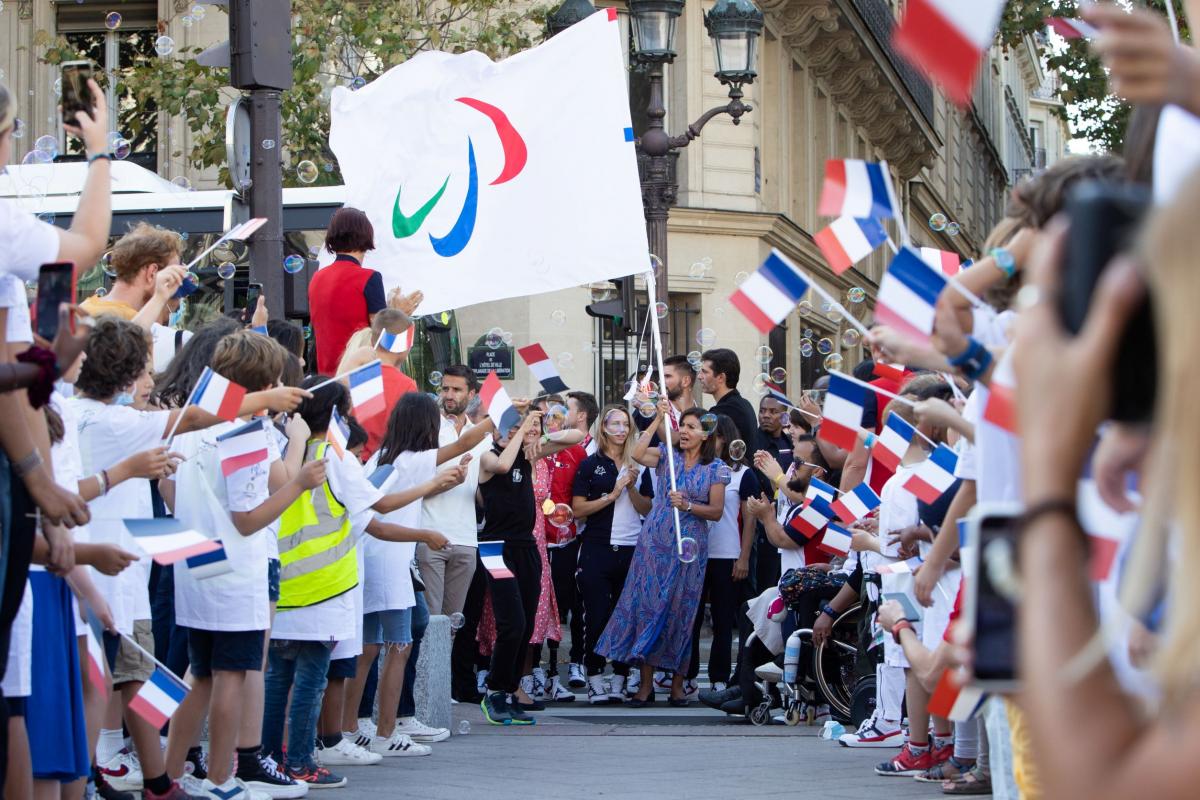 ⒸParis 2024
By IPC
Chacun à son goût, as is said in France, and that statement could not be more true when it comes to the Paris 2024 Paralympic Games.
Sports. Culture. History. A city vibe like no other - there will be something to satisfy every taste when the Paralympic Games open in the French capital in two years' time.
Here are the Top 24 things we are looking forward to the most.
1. First Paralympic Games in France
While Paris 2024 will mark the third time the French capital is hosting the Summer Olympic Games, becoming only the second city in the world to achieve this milestone after London, it will be its first time hosting a Summer Paralympic Games. France previously hosted the Winter Paralympics in 1992 in Albertville.
2. First-ever Paralympic Day
The first ever Paralympic Day will be held in Paris on 8 October 2022. Following the theme of Olympic Day, which is held every year on 23 June, Paralympic Day will offer people a chance to try Para sports and speak to Paralympic athletes.
3. A shared emblem
Paris 2024 is also the first time in history that the Olympic and Paralympic Games have the same emblem. The emblem features three symbols: a gold medal, a flame and Marianne – a symbol of the revolution and France as a nation.
4. Mascot reveal
Mandeville, Tom, Someity… Who will be the next beloved Paralympic mascot? We cannot wait to see what Paris 2024 comes up with.
5. Another masterpiece from Sadeck
French dancer and choreographer Sadeck Waff wowed spectators with the group performance he put together for the handover ceremony between Tokyo 2020 and Paris2024 a year ago. The dance featured nine people in wheelchairs and 10 people who cannot talk or hear moving in perfect unison to a majestic music track. While Waff is keeping silent about upcoming projects, he has confirmed that his work with Paris 2024 continues, which has us dreaming of another unforgettable performance.
6. A wave of qualifier events
Two years too long to wait for top-quality sports action? No problem. The road to Paris 2024 is packed with exciting qualification events. The majority of the quotas will be handed out in 2023, including at the world championships in Para archery, Para athletics, Para canoe, goalball, Para rowing, shooting Para sport, sitting volleyball, Para swimming and wheelchair rugby.
7. Sport for all
The Paris 2024 Organising Committee has launched various initiatives to raise Para sport participation ahead of the Games. In one such initiative, accessibility experts visit sports clubs to show staff members how to welcome people with disabilities and make their experience there more enjoyable.
8. Historic venues
Travelling through time is easy. Just get tickets to Paris 2024! The Paralympic sports events will be held at some of the most historic places in the city: Grand Palais for the wheelchair fencing and Para taekwondo competitions, Les Invalides for Para archery, and Champ-de-Mars Arena for judo and wheelchair rugby. Looking for a royal experience? Head to Chateau de Versailles for the Para equestrian events.
9. The spectators are back
Athletes are the stars of the Paralympic Games, but let's not underestimate the power of a good audience. Spectators will return to the sports arenas after two editions of the Paralympic Games where their number was restricted due to coronavirus countermeasures.
10. Super weekend
Eleven out of 22 sports will be contested on the first day of the Games while the opening weekend will deliver an even bigger punch, with no fewer than 16 Para sports on offer.
11. Broadcasting's wider lens
All Para sports will be filmed and broadcast live for the first time in the history of the Paralympic Games, adding up to 300 hours of live coverage. To compare, during past Games, spectators had access to 100 hours of coverage.
12. Record number of tickets
Not content to watch the Paralympic Games on television? The chances of getting a ticket to watch your favourite Para sport from the stands are looking good. There will be 3.4 million tickets sold for the Paralympic Games events, including day passes that give spectators a chance to experience multiple sports in one day.
13. Moving towards gender parity
The Paris 2024 programme will feature a record 236 medal events for women and at least 1,859 slots for female athletes, the most ever in Paralympic Games history. 
14. Youngsters, grown up
Young, up-and-coming athletes like Hungarian Para canoeist Peter Kiss and Indian shooter Avani Lekhara were the unexpected stars of Tokyo 2020. How will they fare in Paris with three more years of training… and the weight of added expectations?
15. The legends return
While the youngsters who shone at Tokyo 2020 will be in a brighter spotlight three years later, you can still bet on the older Paralympic legends to give them a good fight for the medals. If you need proof, look no further than Japan's Para cyclist Keiko Sugiura who won gold in the women's road time trial at Tokyo 2020 at the age of 50 and is now aiming to defend her title in Paris.
16. Sports x Eiffel Tower
You've seen it in movies, you've seen it on postcards, but you've never seen it like this. The iconic landmark will serve as a backdrop to the blind football matches at Paris 2024.
17. France takes on undefeated blind football champions
Brazil have never lost a Paralympic tournament in blind football, but France are hoping to turn the tables when it comes to Paris 2024. Inspired by the example of their compatriots, the FIFA 2018 World Cup champions, the French blind football team is training hard to make history on home turf and has already clinched the European title earlier this year.
18. India on the rise
The Paralympic Movement in India has been on the rise over the past decade. From one medal at the London 2012 Games to four at Rio 2016 and 19 at Tokyo 2020, including five gold, India is becoming a real powerhouse in Para sports and will be looking for an even more dazzling medal result in Paris.
19. Tokyo 2020 legacy put to the test
Japan finished just outside the Top 10 nations in the overall medals tally at the Tokyo 2020 Paralympic Games. With 51 medals, including 13 gold, it was the country's most successful performance at a Paralympic Games by a large margin. Will Japanese athletes be able to build on the Tokyo 2020 legacy and deliver more stellar performances in Paris?
20. Second Paralympic cycle for Para badminton and Para taekwondo
We were amazed with the skill of the athletes when Para badminton and Para taekwondo made their debut at the Tokyo 2020 Paralympic Games. And that was just the beginning. Expect the competition level to get even higher after the sports have been through a second Paralympic cycle of training and funding.
21. Attention to detail
Paris 2024 will mark the first time that boccia has gender-specific medal events, stemming from the broader effort to give more competition opportunities to athletes with high support needs. Paris 2024 will also be the first time that fully blind athletes, classified as B1, will have separate medal events in the judo competition.
22. Crazy for clay
There are tennis tournaments and then there is Roland-Garros. The venue of the major tennis tournament will host the wheelchair tennis events during the Paris 2024 Paralympic Games. Sitting volleyball competitions will also take place there.
23. Marathon for all
Feel like an elite athlete for a day when you take to the marathon courses used during the 2024 Olympic and Paralympic Games. For the first time in history, spectators will be invited to experience the event with the option of doing 42km or 10km. People with disabilities will be able to compete on the 10km course along with other runners of all ages and abilities.
24. Climate positive Games
Paris 2024 is promising to become the first climate positive Games. Its climate strategy looks at ways to reduce greenhouse gas emissions, support projects that have a positive effect on climate, such as projects to restore forests, and accelerate long-term initiatives against climate change.