Imagen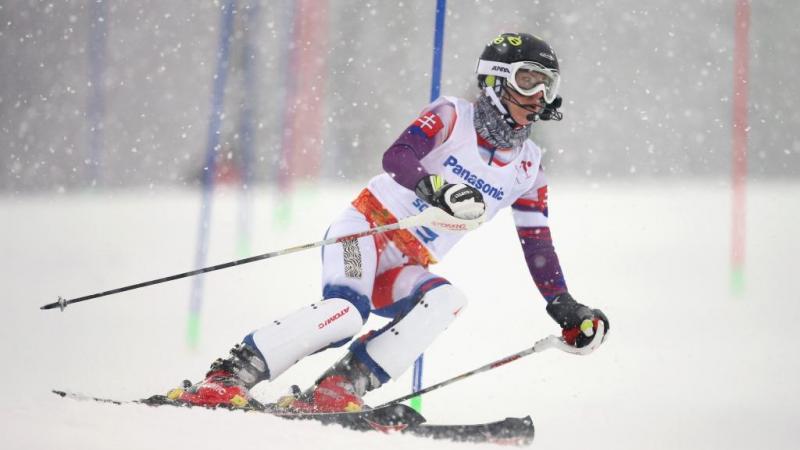 Henrieta Farkasova
Alpine Skiing
Henrieta Farkasova is arguably the most dominance force in alpine skiing. Most recently, she left the PyeongChang 2018 Paralympic Winter Games as the most decorated athlete with four golds and one silver in the women´s vision impaired alongside guide Natalia Subrtova.
She also claimed the Crystal Globe after ending top of the World Cup standings, defending the title from the previous season. In 2017, Farkasova also shone by winning four golds at the World Championships in Tarvisio, Italy.
She showed early in her career what she was capable of achieving, winning two golds and one silver at her maiden World Championships in 2009.
Vancouver 2010 was her first Winter Paralympics, leaving Canada with three golds and one silver after an outstanding performance.
She also stood out at the 2011 World Championships in Sestriere, Italy, claiming four titles. She added two more golds to her Worlds haul in La Molina, Spain, in 2013.
Farkasova took up alpine skiing in high school and has not stopped since.
Biography
Impairment information
Type of Impairment
Vision impairment
Origin of Impairment
Congenital
Guide
Michal Cerven; Martin Motyka
Further personal information
Languages
English, Hungarian, Slovak
Higher education
Social Work Studies - University of Trnava: Slovakia
Sport specific information
When and where did you begin this sport?
She began the sport at age 17 at a high school ski camp in Levoca, Slovakia.
Why this sport?
"I had never thought or dreamt of being a ski racer, since I don't even come from a mountainous area. However, I felt mesmerised by the sport from the very first moment."
Name of coach
Roman Petrik [national], SVK
General interest
Nicknames
Hena (IPC, 18 Jan 2018)
Hero / Idol
US alpine skier Mikaela Shiffrin. (IPC, 18 Jan 2018)
Injuries
She injured her right knee after crashing during the downhill event at the 2019 World Championships in Slovenia and Italy. The injury sidelined her for the entire 2019/20 season. (paralympic.org, 14 Dec 2021, 31 Jan 2019)

She experienced trouble with her back in 2017. (pyeongchang2018.com, 11 Mar 2018)

She was unable to compete for two-and-a-half years due to a knee injury she suffered in Austria in October 2014. She returned to competition at the 2017 World Championships in Tarvisio, Italy. (teraz.sk, 01 Feb 2017)

At the 2013 World Championships in La Molina, Spain, she crashed and broke her wrist and three ribs. (paralympic.org, 14 Oct 2013)

She has suffered multiple facial bone fractures during her career. (IPC, 18 Jan 2018)
Sporting philosophy / motto
"Don't pity yourself." (IPC, 18 Jan 2018)
Awards and honours
In 2019 at the International Paralympic Committee's biennial Paralympic Sport and Media Awards ceremony, she received the Best Female award for her achievements at the 2018 Paralympic Winter Games in Pyeongchang. (paralympic.org, 25 Oct 2019)

She was named 2018 Para Athlete of the Year at the 2019 Laureus World Sports Award ceremony in Monaco. (paralympic.org, 19 Feb 2019)

She was named Slovakia's flag bearer at the opening ceremony of the 2018 Paralympic Winter Games in Pyeongchang. She was also the nation's flag bearer at the closing ceremony of the 2014 Paralympic Winter Games in Sochi. (pyeongchang2018.com, 09 Mar 2018; paralympic.org, 16 Mar 2014)

She was named the 2017 and 2018 Paralympic Athlete of the Year in Slovakia. (spv.sk, 21 Dec 2018; IPC, 18 Jan 2018)

She has received the Ludovit Stur Order [first class] from the Slovakian government. (sport.aktualne.cz, 17 Dec 2018; IPC, 18 Jan 2018)

She has been presented with the Award of the Secretary of Education of Slovakia. (IPC, 18 Jan 2018)
Milestones
Her four gold medals and one silver medal at the 2018 Paralympic Winter Games in Pyeongchang meant she finished the Games as the most decorated female athlete in Pyeongchang, ahead of France's Marie Bochet, who won four gold medals. (SportsDeskOnline, 01 Jan 2019)
Ambitions
To win gold in slalom at the Paralympic Winter Games. (Athlete, 12 Jan 2019)
Impairment
She has a visual impairment. Doctors believe it may be linked to the Chernobyl nuclear disaster, as there is no history of vision problems in her family. (pluska.sk, 25 Mar 2010)
Other information
SWITCHING GUIDES
She won gold in the women's visually impaired super combined event at the 2022 Paralympic Winter Games in Beijing. She competed with guide Michal Cerven in the super G, and then switched to ski with her other guide, Martin Motyka, for slalom. "[It was] crazy for me because I had two guides, one for the first run [super G] and one for the second one but we are very happy. [Michal Cerven] got an injury one month ago and his knee is not perfect now and I needed to change the guide for slalom." (OIS, 07 Mar 2022)
Results
IPC Alpine Skiing World Championships (Kangwonland, South Korea)

| Event | Medal | Unit | Date | Rank |
| --- | --- | --- | --- | --- |
| Women's Slalom VI | | Final | 2009-02-20 | 4 |
| Women's Giant Slalom VI | | Final | 2009-02-21 | 6 |
| Women's Super-G VI | | Final | 2009-02-23 | 2 |
| Women's Super-Combined VI | | Final | 2009-02-23 | 2 |
| Women's Super-G VI | | Run 2 | 2009-02-24 | 1 |
| Women's Downhill VI | | Final | 2009-02-28 | 1 |
2011 IPC Alpine Skiing World Championships (Sestriere, Italy)

| Event | Medal | Unit | Date | Rank |
| --- | --- | --- | --- | --- |
| Women's Downhill VI | | Final | 2011-01-16 | 1 |
| Women's Super-G VI | | Final | 2011-01-18 | 9999 |
| Women's Super-Combined VI | | Final | 2011-01-19 | 1 |
| Women's Slalom VI | | Final | 2011-01-20 | 1 |
| Women's Giant Slalom VI | | Final | 2011-01-21 | 1 |
| Mixed Team Event VI/Sitting/Standing | | Final | 2011-01-23 | 3 |
IPC Alpine Skiing World Championships (La Molina, Spain)

| Event | Medal | Unit | Date | Rank |
| --- | --- | --- | --- | --- |
| Women's Downhill VI | | Race 1 | 2013-02-20 | 1 |
| Women's Super-G VI | | Race 1 | 2013-02-21 | 6 |
| Women's Slalom VI | | Race 1 | 2013-02-24 | 1 |
| Women's Super-Combined VI | | Race 1 | 2013-02-25 | 9999 |
2017 IPC Alpine skiing World Championships Tarvisio, ITA (Tarvisio, Italy)

| Event | Medal | Unit | Date | Rank |
| --- | --- | --- | --- | --- |
| Women's Downhill VI | | Race 1 | 2017-01-25 | 2 |
| Women's Super-G VI | | Race 1 | 2017-01-26 | 1 |
| Women's Super-Combined VI | | Race 1 | 2017-01-28 | 1 |
| Women's Giant Slalom VI | | Race 1 | 2017-01-30 | 1 |
| Women's Slalom VI | | Race 1 | 2017-01-31 | 1 |
Kranjska Gora/Sella Nevea 2019 World Para Alpine Skiing Championships (Kranjska Gora/Sella Nevea, Slovenia)

| Event | Medal | Unit | Date | Rank |
| --- | --- | --- | --- | --- |
| Women's Giant Slalom VI | | Race 1 | 2019-01-22 | 1 |
| Women's Slalom VI | | Race 1 | 2019-01-24 | 1 |
| Women's Downhill VI | | Race 1 | 2019-01-30 | 9999 |
Lillehammer 2021 World Para Snow Sports Championships (Lillehammer, Norway)

| Event | Medal | Unit | Date | Rank |
| --- | --- | --- | --- | --- |
| Women's Downhill VI | | Race 1 | 2022-01-14 | 1 |
| Women's Super-G VI | | Race 1 | 2022-01-15 | 1 |
| Women's Super-Combined VI | | Race 1 | 2022-01-17 | 9999 |
| Women's Giant Slalom VI | | Race 1 | 2022-01-20 | 2 |
| Women's Slalom VI | | Race 1 | 2022-01-22 | 4 |
| Women's Parallel Event VI | | Race 1 | 2022-01-23 | 7 |