Imagen
Ievgenii Bogodaiko
Swimming
A new Ukrainian star has risen on the swimming scene in Ievgenii Bogodaiko.
At only 16, Bogodaiko entered the 2010 IPC Swimming World Championships in Eindhoven, the Netherlands, capturing five medals and swimming to one world title in men's S7 and SB6 (breaststroke) events.
Germany's Sebastian Iwanow, one of Bogodaiko's main rivals, already predicted that the then-17-year-old would be the one to beat at the 2011 IPC Swimming European Championships in Berlin.
In the end, Bogodaiko exceeded all expectations, becoming the most decorated swimmer of the European Championships with a total of 10 medals, eight them gold.
In the year after winning two Paralympic golds, Bogodaiko went on to add three world titles to his resume in Montreal, Canada and in 2014 left Eindhoven, the Netherlands, with seven European golds.
In 2015, Bohodayko set a new European record in the 50m butterfly S7 setting himself as the man to beat in 2016 at both the European Open Championships and of course, the Rio 2016 Paralympic Games.
He delivered four European titles six months out from the Paralympics, sending a message to his rivals that he was in top form. That message could not have been received clearer, when in Rio Bogodaiko stormed to three world records in the 50m and 100m breaststroke and 200m individual medley.
Photo Gallery
Imagen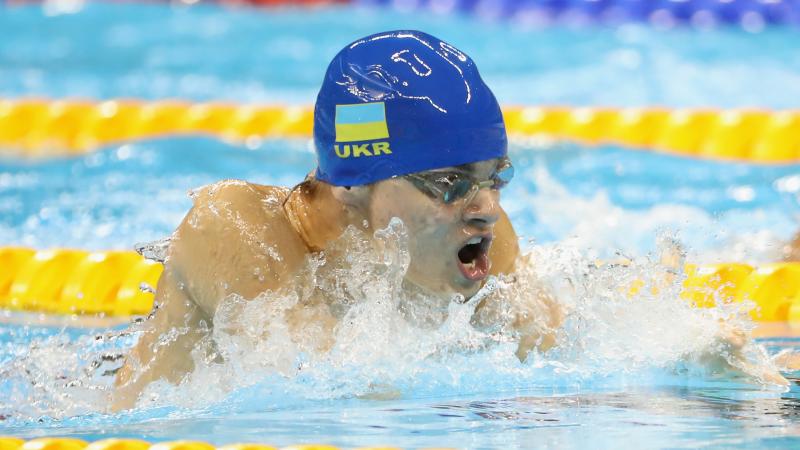 Results
IPC Swimming World Championships Eindhoven 2010 (Eindhoven, Netherlands)

| Event | Medal | Unit | Date | Rank |
| --- | --- | --- | --- | --- |
| Men's 100 m Backstroke S6 | | Heat 2 | | 3 |
| Men's 50 m Freestyle S6 | | Final Round | | 4 |
| Men's 50 m Freestyle S6 | | Heat 2 | | 2 |
| Men's 50 m Butterfly S6 | | Final Round | | 3 |
| Men's 50 m Butterfly S6 | | Heat 2 | | 4 |
| Men's 4x50 m Medley 20pts | | Final Round | | 2 |
| Men's 4x50 m Medley 20pts | | Heat 1 | | 3 |
| Men's 4x50 m Freestyle 20pts | | Final Round | | 2 |
| Men's 4x50 m Freestyle 20pts | | Heat 2 | | 2 |
| Men's 400 m Freestyle S6 | | Final Round | | 3 |
| Men's 400 m Freestyle S6 | | Heat 2 | | 2 |
| Men's 100 m Freestyle S6 | | Final Round | | 4 |
| Men's 100 m Freestyle S6 | | Heat 2 | | 1 |
| Men's 100 m Breaststroke SB6 | | Final Round | | 2 |
| Men's 100 m Breaststroke SB6 | | Heat 2 | | 2 |
| Men's 100 m Backstroke S6 | | Final Round | | 1 |
2013 IPC Swimming World Championships (Montreal, Canada)

| Event | Medal | Unit | Date | Rank |
| --- | --- | --- | --- | --- |
| Men's 100 m Breaststroke SB6 | | Final 1 | 2013-08-13 | 1 |
| Men's 4x50 m Freestyle 20pts | | Final 1 | 2013-08-14 | 2 |
| Men's 50 m Freestyle S7 | | Heat 1 | 2013-08-14 | 3 |
| Men's 50 m Freestyle S7 | | Final 1 | 2013-08-14 | 3 |
| Men's 4x100 m Freestyle 34pts | | Final 1 | 2013-08-15 | 5 |
| Men's 100 m Backstroke S7 | | Heat 1 | 2013-08-15 | 4 |
| Men's 100 m Backstroke S7 | | Final 1 | 2013-08-15 | 3 |
| Men's 100 m Freestyle S7 | | Heat 1 | 2013-08-16 | 3 |
| Men's 100 m Freestyle S7 | | Final 1 | 2013-08-16 | 3 |
| Men's 4x50 m Medley 20pts | | Final 1 | 2013-08-16 | 1 |
| Men's 50 m Butterfly S7 | | Final 1 | 2013-08-17 | 1 |
| Men's 50 m Butterfly S7 | | Heat 1 | 2013-08-17 | 1 |
| Men's 200 m Individual Medley SM7 | | Final 1 | 2013-08-18 | 9999 |
2015 IPC Swimming World Championships (Glasgow, Great Britain)

| Event | Medal | Unit | Date | Rank |
| --- | --- | --- | --- | --- |
| Men's 100 m Freestyle S7 | | Heat 1 | 2015-07-13 | 5 |
| Men's 100 m Freestyle S7 | | Final 1 | 2015-07-13 | 4 |
| Men's 100 m Breaststroke SB6 | | Final 1 | 2015-07-14 | 1 |
| Men's 100 m Breaststroke SB6 | | Heat 1 | 2015-07-14 | 2 |
| Men's 200 m Individual Medley SM7 | | Heat 2 | 2015-07-16 | 3 |
| Men's 200 m Individual Medley SM7 | | Final 1 | 2015-07-16 | 1 |
| Men's 50 m Butterfly S7 | | Heat 2 | 2015-07-17 | 1 |
| Men's 50 m Butterfly S7 | | Final 1 | 2015-07-17 | 2 |
| Men's 100 m Backstroke S7 | | Heat 2 | 2015-07-18 | 9999 |
| Men's 4x100 m Medley 34pts | | Final 1 | 2015-07-18 | 3 |
| Men's 50 m Freestyle S7 | | Final 1 | 2015-07-19 | 2 |
| Men's 50 m Freestyle S7 | | Heat 2 | 2015-07-19 | 3 |
London 2019 World Para Swimming Championships (London, Great Britain)

| Event | Medal | Unit | Date | Rank |
| --- | --- | --- | --- | --- |
| Men's 50 m Butterfly S7 | | Final 1 | 2019-09-09 | 2 |
| Men's 50 m Butterfly S7 | | Heat 2 | 2019-09-09 | 2 |
| Men's 100 m Backstroke S7 | | Heat 2 | 2019-09-12 | 7 |
| Men's 100 m Backstroke S7 | | Final 1 | 2019-09-12 | 6 |
| Men's 200 m Individual Medley SM7 | | Heat 2 | 2019-09-13 | 7 |
| Men's 200 m Individual Medley SM7 | | Final 1 | 2019-09-13 | 9999 |
| Men's 4x100 m Medley 34pts | | Final 1 | 2019-09-13 | 6 |
| Men's 100 m Freestyle S7 | | Heat 2 | 2019-09-14 | 12 |
| Men's 100 m Breaststroke SB6 | | Heat 2 | 2019-09-15 | 4 |
| Men's 50 m Freestyle S7 | | Heat 2 | 2019-09-15 | 4 |
| Men's 50 m Freestyle S7 | | Final 1 | 2019-09-15 | 3 |
| Men's 100 m Breaststroke SB6 | | Final 1 | 2019-09-15 | 2 |
Madeira 2022 World Para Swimming Championships (Funchal, Portugal)

| Event | Medal | Unit | Date | Rank |
| --- | --- | --- | --- | --- |
| Men's 50 m Butterfly S7 | | Final 1 | 2022-06-16 | 5 |
| Men's 100 m Breaststroke SB6 | | Heat 1 | 2022-06-17 | 4 |
| Men's 50 m Freestyle S7 | | Final 1 | 2022-06-17 | 6 |
| Men's 100 m Breaststroke SB6 | | Final 1 | 2022-06-17 | 4 |