Imagen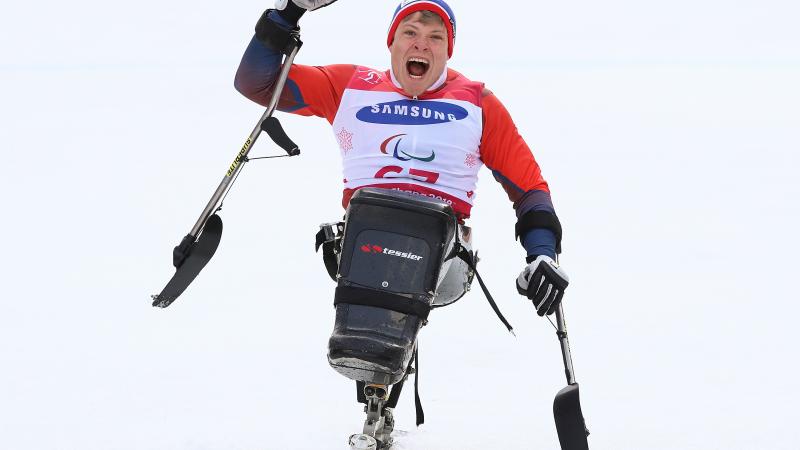 Jesper Pedersen
Alpine Skiing
Competing at PyeongChang 2018 was a life-changing experience for Jesper Pedersen. The young Norwegian alpine skier won gold in the men's giant slalom sitting and bronze in the super-combined.
"Nobody knew me when I went to Korea but when I got back everybody did. The TV coverage from PyeongChang 2018 was good in Norway so lots of people wanted a chat.
"It was pretty cool. Everyone knows me in my hometown anyway but now I'm the guy with a gold medal. They think, 'Whoa'."
It was the cherry on the cake of a perfect season which also saw him climbing onto the top of the World Cup overall standings for the first time.
Following such outstanding results, he received the Paralympic Honour Award from the Norwegian government. He was also presented with the Gold Medal Honour by the Norwegian Ski Federation.
Pedersen, who was born with spina bifida, competed at one World Championships in 2017, failing to reach the podium.
Results
2017 IPC Alpine skiing World Championships Tarvisio, ITA (Tarvisio, Italy)

| Event | Medal | Unit | Date | Rank |
| --- | --- | --- | --- | --- |
| Men's Downhill Sitting | | Race 1 | 2017-01-25 | 8 |
| Men's Super-G Sitting | | Race 1 | 2017-01-26 | 7 |
| Men's Super-Combined Sitting | | Race 1 | 2017-01-28 | 6 |
| Men's Giant Slalom Sitting | | Race 1 | 2017-01-30 | 9999 |
| Men's Slalom Sitting | | Race 1 | 2017-01-31 | 5 |
Kranjska Gora/Sella Nevea 2019 World Para Alpine Skiing Championships (Kranjska Gora/Sella Nevea, Slovenia)

| Event | Medal | Unit | Date | Rank |
| --- | --- | --- | --- | --- |
| Men's Giant Slalom Sitting | | Race 1 | 2019-01-21 | 3 |
| Men's Slalom Sitting | | Race 1 | 2019-01-23 | 2 |
| Men's Downhill Sitting | | Race 1 | 2019-01-30 | 7 |
| Men's Super-G Sitting | | Race 1 (from SC) | 2019-01-31 | 3 |
| Men's Super-Combined Sitting | | Race 1 | 2019-01-31 | 2 |
Lillehammer 2021 World Para Snow Sports Championships (Lillehammer, Norway)

| Event | Medal | Unit | Date | Rank |
| --- | --- | --- | --- | --- |
| Men's Downhill Sitting | | Race 1 | 2022-01-14 | 1 |
| Men's Super-G Sitting | | Race 1 | 2022-01-15 | 2 |
| Men's Super-Combined Sitting | | Race 1 | 2022-01-17 | 2 |
| Men's Super-G Sitting | | Race 1 (from SC) | 2022-01-17 | 2 |
| Men's Giant Slalom Sitting | | Race 1 | 2022-01-19 | 1 |
| Men's Slalom Sitting | | Race 1 | 2022-01-21 | 1 |