Imagen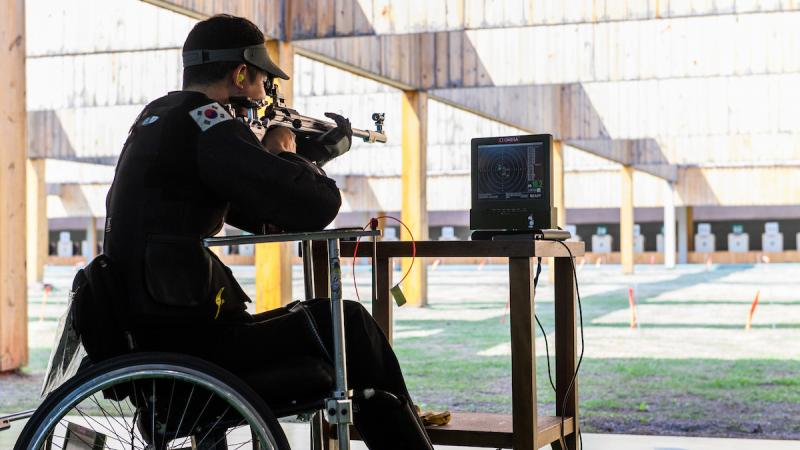 Jinho Park starred in his home 2018 World Championships in Cheongju. He reached the top three in three separate medal events, keeping the home fans on the edge of their seats. To their dismay, he fell short twice of the gold medal. But his two silvers and bronze-medal performances displayed the successful revival of a career that seemed finished after a disappointing showing at the Rio 2016 Paralympics.
Park had secured a quota place for South Korea for Rio 2016 via the 2014 Worlds. That year was his best on record, winning 10 medals across his first Worlds, and at the Asian Para Games in Incheon, South Korea. Park smashed two world records and won five medals in individual and team events at the Worlds. He also claimed five medals, including three golds, at Incheon 2014.
He came into his first Paralympic Games in Rio with high expectations. But he left empty-handed.
Slovakia's great Veronika Vadovicova claimed two golds whilst Park agonised at just missing out on the podium in R6 (mixed 50 rifle prone) with fourth. He did however set a Paralympic record in R1 (men's 10m air rifle standing SH1) as small consolation.
At the 2017 World Cup in Bangkok, Thailand, Park showed his intent to not make the same mistake. He won the R1 and R3 (mixed 10m air rifle prone SH1) events, and bronze in the R7 (men's 50m rifle 3 positions). It was his last competition before his home Worlds in Cheongju the following year, where he fought to make the top three in all those events.
Later in 2018, Park returned to action at the Asian Para Games in Indonesia, where he captured R7 silver.
Results
2014 IPC Shooting World Championships (Suhl, Germany)

| Event | Medal | Unit | Date | Rank |
| --- | --- | --- | --- | --- |
| Team R1 - Men's 10m Air Rifle standing SH1 | | Qualification | 2014-07-19 | 1 |
| Men's 10m Air Rifle standing SH1 | | Qualification | 2014-07-19 | 1 |
| Men's 10m Air Rifle standing SH1 | | Final | 2014-07-19 | 5 |
| Mixed 10m Air Rifle prone SH1 | | Final | 2014-07-21 | 1 |
| Mixed 10m Air Rifle prone SH1 | | Qualification | 2014-07-21 | 3 |
| Men's 50m Free Rifle 3x40 SH1 | | Final | 2014-07-25 | 3 |
| Team R7 - Men's 50m Rifle 3 positions SH1 | | Qualification | 2014-07-25 | 1 |
| Men's 50m Free Rifle 3x40 SH1 | | Qualification | 2014-07-25 | 3 |
Cheongju 2018 World Shooting Para Sport Championships (Cheongju, South Korea)

| Event | Medal | Unit | Date | Rank |
| --- | --- | --- | --- | --- |
| Team R7 - Men's 50m Rifle 3 positions SH1 | | Qualification | 2018-05-05 | 1 |
| Team R3 - Mixed 10m Air Rifle prone SH1 | | Qualification | 2018-05-05 | 1 |
| Team R6 - Mixed 50m Rifle prone SH1 | | Qualification | 2018-05-05 | 4 |
| R7 - Men's 50m Rifle 3 Positions SH1 | | Final | 2018-05-05 | 2 |
| R7 - Men's 50m Rifle 3 Positions SH1 | | Qualification | 2018-05-05 | 2 |
| R3 - Mixed 10m Air Rifle prone SH1 | | Final | 2018-05-05 | 3 |
| R3 - Mixed 10m Air Rifle prone SH1 | | Qualification | 2018-05-05 | 1 |
| R6 - Mixed 50m Rifle prone SH1 | | Qualification | 2018-05-05 | 10 |
| R1 - Men's 10m Air Rifle standing SH1 | | Final | 2018-05-05 | 2 |
| R1 - Men's 10m Air Rifle standing SH1 | | Qualification | 2018-05-05 | 1 |
Sydney 2019 World Shooting Para Sport Championships (Sydney, Australia)

| Event | Medal | Unit | Date | Rank |
| --- | --- | --- | --- | --- |
| Team R3 - Mixed 10m Air Rifle prone SH1 | | Final | 2019-10-12 | 4 |
| R3 - Mixed 10m Air Rifle prone SH1 | | Final | 2019-10-12 | 7 |
| R3 - Mixed 10m Air Rifle prone SH1 | | Qualification | 2019-10-12 | 2 |
| R7 - Men's 50m Rifle 3 Positions SH1 | | Qualification | 2019-10-14 | 3 |
| Team R7 - Men's 50m Rifle 3 positions SH1 | | Final | 2019-10-14 | 1 |
| R7 - Men's 50m Rifle 3 Positions SH1 | | Final | 2019-10-14 | 2 |
| R1 - Men's 10m Air Rifle standing SH1 | | Qualification | 2019-10-16 | 2 |
| R1 - Men's 10m Air Rifle standing SH1 | | Final | 2019-10-16 | 7 |
| R10 - 10m Air Rifle Standing Mixed Team SH1 | | Qualification | 2019-10-17 | 1 |
| Team R6 - Mixed 50m Rifle prone SH1 | | Final | 2019-10-17 | 6 |
| R10 - 10m Air Rifle Standing Mixed Team SH1 | | Final | 2019-10-17 | 4 |
| R6 - Mixed 50m Rifle prone SH1 | | Elimination | 2019-10-17 | 18 |
| R6 - Mixed 50m Rifle prone SH1 | | Qualification | 2019-10-18 | 13 |