Imagen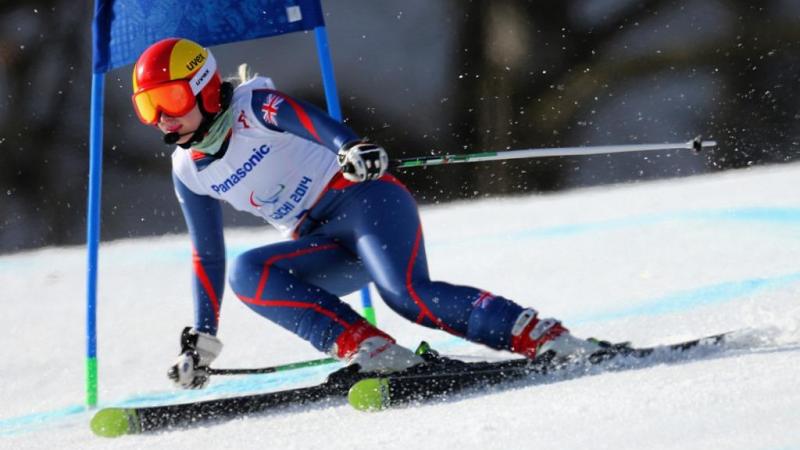 Kelly Gallagher
Alpine Skiing
Great Britain's Kelly Gallagher became the first ever British Winter Paralympic gold medallist at the Sochi 2014 Paralympic Winter Games.
She finished in fourth and sixth in her two events at her first Paralympics at the Vancouver 2010 Games, but has won a combined six medals at two IPC Alpine Skiing World Championships in 2011 and 2013.
Together with guide Charlotte Evans, she won her first World Cup title in Sochi, Russia, in the 2012-13 season and captured two silver medals and two bronze at the 2013 IPC Alpine Skiing World Championships.
Gallagher, who suffers from oculocutaneous albinism, a condition that affects the pigment of her skin, hair and eyes, is the first athlete from her country to win a medal of any kind at the World Championships level.
However just before the 2015 Worlds, Gallagher was forced to withdraw after Evans suffered concussion after a collision between the two during training. Gallagher returned in 2015-16, competing in the finals of the World Cup where she reached the podium several times in both the speed and technical editions.
In 2017, Gallagher will aim to improve still further when she competes at the World Para Alpine Skiing Championships in Tarvisio, Italy.
Gallagher received a "Ski Barbie" when she was younger and later persuaded her father to take a detour during a family vacation so she could try the sport for the first time. After a few years, her university friends told her she should try racing. As she is not able to drive or cycle, she thinks it is the fastest sport she can do.
Off the snow, she has a bachelor's degree in mathematics from the University of Bath, a master's degree from the University of Belfast and worked for the Northern Ireland Statistics and Research Agency.
Photo Gallery
Imagen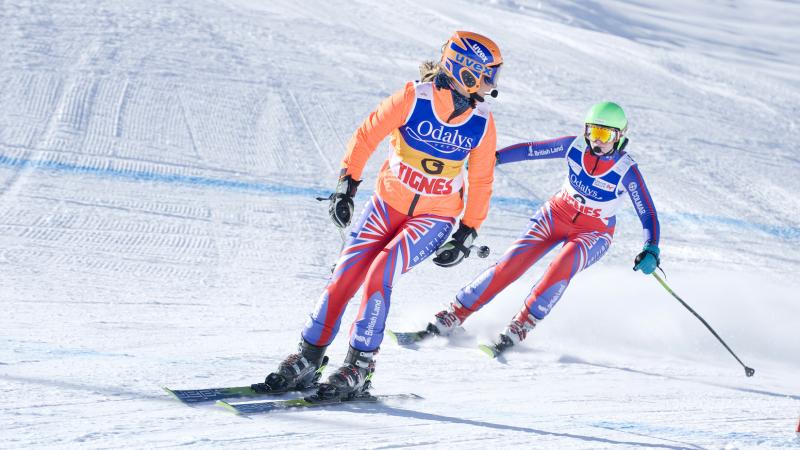 Results
2011 IPC Alpine Skiing World Championships (Sestriere, Italy)

| Event | Medal | Unit | Date | Rank |
| --- | --- | --- | --- | --- |
| Women's Slalom VI | | Final | 2011-01-20 | 2 |
| Women's Giant Slalom VI | | Final | 2011-01-21 | 3 |
IPC Alpine Skiing World Championships (La Molina, Spain)

| Event | Medal | Unit | Date | Rank |
| --- | --- | --- | --- | --- |
| Women's Downhill VI | | Race 1 | 2013-02-20 | 3 |
| Women's Super-G VI | | Race 1 | 2013-02-21 | 2 |
| Women's Slalom VI | | Race 1 | 2013-02-24 | 9999 |
| Women's Super-Combined VI | | Race 1 | 2013-02-25 | 2 |
| Women's Giant Slalom VI | | Race 1 | 2013-02-26 | 3 |
Kranjska Gora/Sella Nevea 2019 World Para Alpine Skiing Championships (Kranjska Gora/Sella Nevea, Slovenia)

| Event | Medal | Unit | Date | Rank |
| --- | --- | --- | --- | --- |
| Women's Giant Slalom VI | | Race 1 | 2019-01-22 | 4 |
| Women's Slalom VI | | Race 1 | 2019-01-24 | 4 |
| Women's Downhill VI | | Race 1 | 2019-01-30 | 2 |
| Women's Super-Combined VI | | Race 1 | 2019-01-31 | 3 |
| Women's Super-G VI | | Race 1 (from SC) | 2019-01-31 | 3 |