Imagen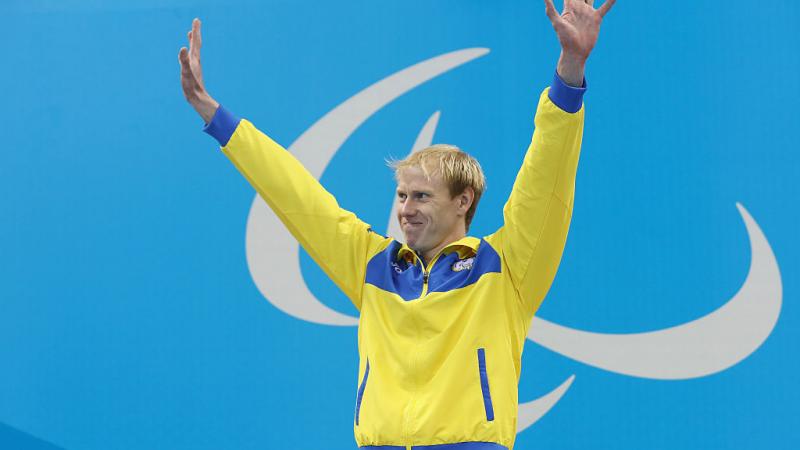 Maksym Veraksa is widely regarded as the world's fastest Paralympic swimmer as the world record holder of 22.99 seconds in the men's 50m freestyle S12. That record has stood since 2009 and is one of the oldest in Para swimming.
At the 2006 IPC Swimming World Championships in Durban, South Africa, Veraksa won his first world titles made up of four golds. Just two years later, he managed to repeat these results in the Aquatics Center at Beijing 2008, adding another bronze on top of his medal haul.
The 2010 IPC Swimming World Championships were similarly successful for Veraksa, as he came home with three golds and a silver. When coming to the 2011 IPC Swimming European Championships in Berlin, it was clear Veraksa would be the one to beat in the S12 class.
And once again, Veraksa proved his greatness in the pool, swimming to four gold medals, as he was only been beaten once by Russia's Alexandr Nevolin-Svetov in the 100m backstroke.
In recent years Veraksa has narrowed his focus, particularly to the 50m freestyle which he is unbeaten in across three Paralympic and four World Championships. However he as also achieved medal success in the 100m freestyle.
As he gets older it will be very interesting to see who, if anyone, can break the dominance of Veraksa in the men's S12.
Photo Gallery
Imagen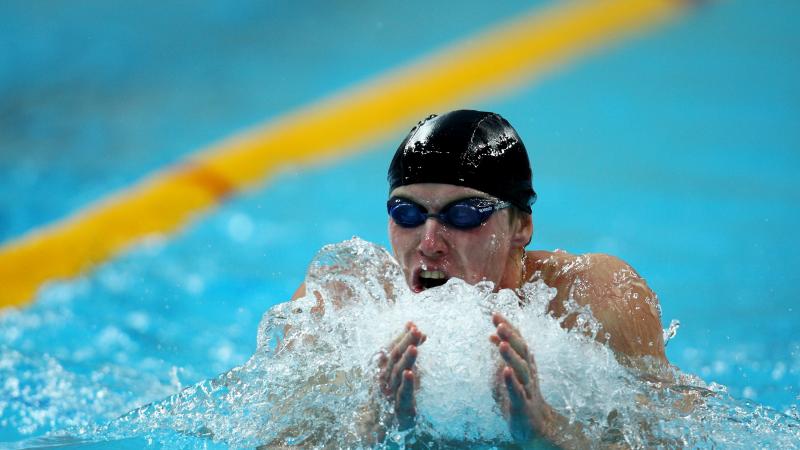 Biography
Impairment information
Type of Impairment
Vision impairment
Classification
S12, SB12, SM12
Further personal information
Family
Wife Yekaterina, daughter Zlata, son Lev
Languages
Russian, Ukrainian
Higher education
Coaching - Kharkiv State Academy of Physical Education: Ukraine
Sport specific information
When and where did you begin this sport?
He began swimming in 1992 in Kharkiv, Ukraine. He took up Para swimming in 2006.
Why this sport?
His father, who was a swimming coach, took him to the pool. "My father simply threw me in the water."
Club / Team
Invasport: Kharkiv, UKR
Name of coach
Vasyl Keke [personal], UKR, from 1992
International debut
Tournament
World Championships
General interest
Hobbies
Spending time with family. (Athlete, 18 Mar 2021)
Most influential person in career
His parents, and coach Vasyl Keke. (Athlete, 13 Aug 2018)
Hero / Idol
Ukrainian swimmer Yana Klochkova. (Athlete, 19 Jul 2015)
Sporting philosophy / motto
"Per aspera ad astra." [Through adversity to the stars] (Athlete, 13 Aug 2018)
Awards and honours
In recognition of his performance at the 2020 Paralympic Games in Tokyo, he received the Order for Courage [third class] in Ukraine. (zakon.rada.gov.ua, 16 Sep 2021)

In 2017 he was named an Honoured Citizen of the city of Kharkiv in Ukraine. (izvestia.kharkov.ua, 24 Aug 2017)

He received Orders of Merit from the president of Ukraine in recognition of his performances at the Paralympic Games in 2008, 2012 and 2016. (president.gov.ua, 04 Oct 2016, 17 Sep 2012, 07 Oct 2008)

He was flag bearer for Ukraine at the opening ceremony of the 2016 European Championships in Funchal, Portugal. (paralympic.org, 26 Apr 2016)

He holds the title of Honoured Master of Sport in Ukraine. (mms.gov.ua, 30 Dec 2021)
Milestones
He became the first athlete representing Ukraine in any sport to win six gold medals at the Paralympic Games when he claimed victory in the S12 100m freestyle at the 2012 Games in London. He was also the first Ukrainian athlete to win seven and eight gold medals at the Paralympic Games with his S12 50m freestyle victories in 2012 and 2016. (SportsDeskOnline, 04 Aug 2021)
Impairment
He started having vision problems at age 15, and at age 20 he was diagnosed with atrophy of the optic nerve. (sport07.ru, 15 Aug 2019)
Results
IPC Swimming World Championships Eindhoven 2010 (Eindhoven, Netherlands)

| Event | Medal | Unit | Date | Rank |
| --- | --- | --- | --- | --- |
| Men's 50 m Freestyle S12 | | Final Round | | 1 |
| Men's 100 m Backstroke S12 | | Heat 2 | | 1 |
| Men's 100 m Backstroke S12 | | Final Round | | 2 |
| Men's 100 m Breaststroke SB12 | | Heat 1 | | 1 |
| Men's 100 m Breaststroke SB12 | | Final Round | | 1 |
| Men's 100 m Freestyle S12 | | Heat 2 | | 1 |
| Men's 200 m Individual Medley SM12 | | Heat 2 | | 1 |
| Men's 200 m Individual Medley SM12 | | Final Round | | 1 |
| Men's 4x100 m Freestyle 49pts | | Final Round | | 9999 |
| Men's 4x100 m Medley 49pts | | Final Round | | 2 |
| Men's 50 m Freestyle S12 | | Heat 3 | | 1 |
IPC Swimming World Championships Durban 2006 (Durban, South Africa)

| Event | Medal | Unit | Date | Rank |
| --- | --- | --- | --- | --- |
| Men's 50 m Freestyle S12 | | Final Round | | 1 |
| Men's 50 m Freestyle S12 | | Heats | | 1 |
| Men's 4x100 m Medley 49 pts | | Final Round | | 1 |
| Men's 100 m Freestyle S12 | | Final Round | | 1 |
| Men's 100 m Freestyle S12 | | Heats | | 1 |
| Men's 100 m Backstroke S12 | | Final Round | | 1 |
| Men's 100 m Backstroke S12 | | Heats | | 2 |
2013 IPC Swimming World Championships (Montreal, Canada)

| Event | Medal | Unit | Date | Rank |
| --- | --- | --- | --- | --- |
| Men's 100 m Freestyle S12 | | Heat 2 | 2013-08-12 | 1 |
| Men's 100 m Freestyle S12 | | Final 1 | 2013-08-12 | 1 |
| Men's 50 m Freestyle S12 | | Final 1 | 2013-08-15 | 1 |
| Men's 50 m Freestyle S12 | | Heat 2 | 2013-08-15 | 1 |
| Men's 100 m Breaststroke SB12 | | Final 1 | 2013-08-18 | 2 |
2015 IPC Swimming World Championships (Glasgow, Great Britain)

| Event | Medal | Unit | Date | Rank |
| --- | --- | --- | --- | --- |
| Men's 100 m Breaststroke SB12 | | Heat 1 | 2015-07-16 | 6 |
| Men's 100 m Breaststroke SB12 | | Final 1 | 2015-07-16 | 7 |
| Men's 50 m Freestyle S12 | | Final 1 | 2015-07-18 | 1 |
| Men's 100 m Freestyle S13 | | Heat 2 | 2015-07-18 | 9999 |
| Men's 50 m Freestyle S12 | | Heat 1 | 2015-07-18 | 3 |