Imagen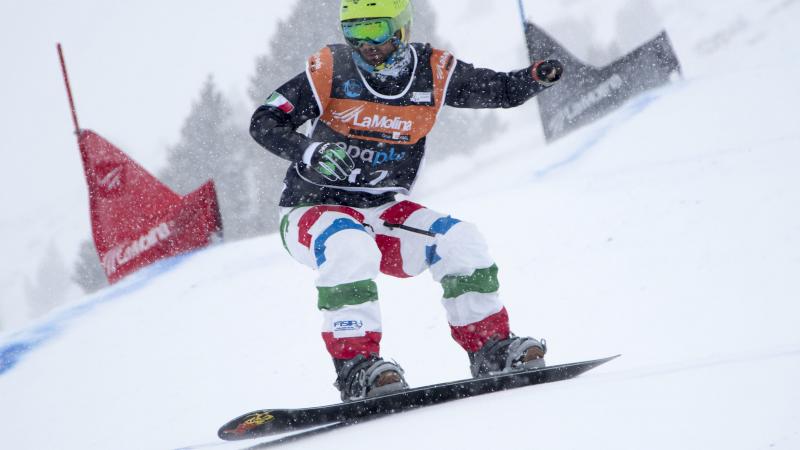 Manuel Pozzerle
Snowboard
Men's snowboard-cross SB-UL world champion Manuel Pozzerle started snowboarding in 1996 thanks to a school friend.
However, he was not successful until a motorbike accident in September 2008 left him without his left hand.
Just one year after entering the Italian championships for the first time, he became the 2014 national champion.
In 2014-15, Pozzerle really settled into his stride. An overall third-place finish in the IPC Snowboard World Cup standings crowned a season in which he won his first world title in La Molina, Spain.
The 36-year-old repeated the third place in the overall rankings in 2015-16, following a second and a third-place finish in the snowboard-cross and the banked slalom World Cup, respectively.
Pozzerle will be looking to shine once again at the 2017 World Para Snowboard World Championships in Big White, Canada.
Results
2015 IPCAS Para Snowboard World Championships La Molina (La Molina, Spain)

| Event | Medal | Unit | Date | Rank |
| --- | --- | --- | --- | --- |
| Men's Snowboard Cross SB-UL | | Race 1 | 2015-02-24 | 1 |
| Men's Banked Slalom SB-UL | | Race 1 | 2015-02-28 | 3 |
2017 IPC Snowboard World Championships Big White, CAN (Big White, Canada)

| Event | Medal | Unit | Date | Rank |
| --- | --- | --- | --- | --- |
| Men's Snowboard Cross SB-UL | | Race 1 | 2017-02-04 | 6 |
| Men's Banked Slalom SB-UL | | Race 1 | 2017-02-07 | 4 |
Pyha 2019 World Para Snowboard Championships (Pyha, Finland)

| Event | Medal | Unit | Date | Rank |
| --- | --- | --- | --- | --- |
| Men's Banked Slalom SB-UL | | Race 1 | 2019-03-27 | 6 |
| Men's Snowboard Cross SB-UL | | Race 1 | 2019-03-30 | 8 |