Pozzerle sets high goals for new snowboard season
In February 2015 the Italian snowboarder won World Championships snowboard-cross gold, and now wants to finish on top of the World Cup standings.
25 Sep 2015
Imagen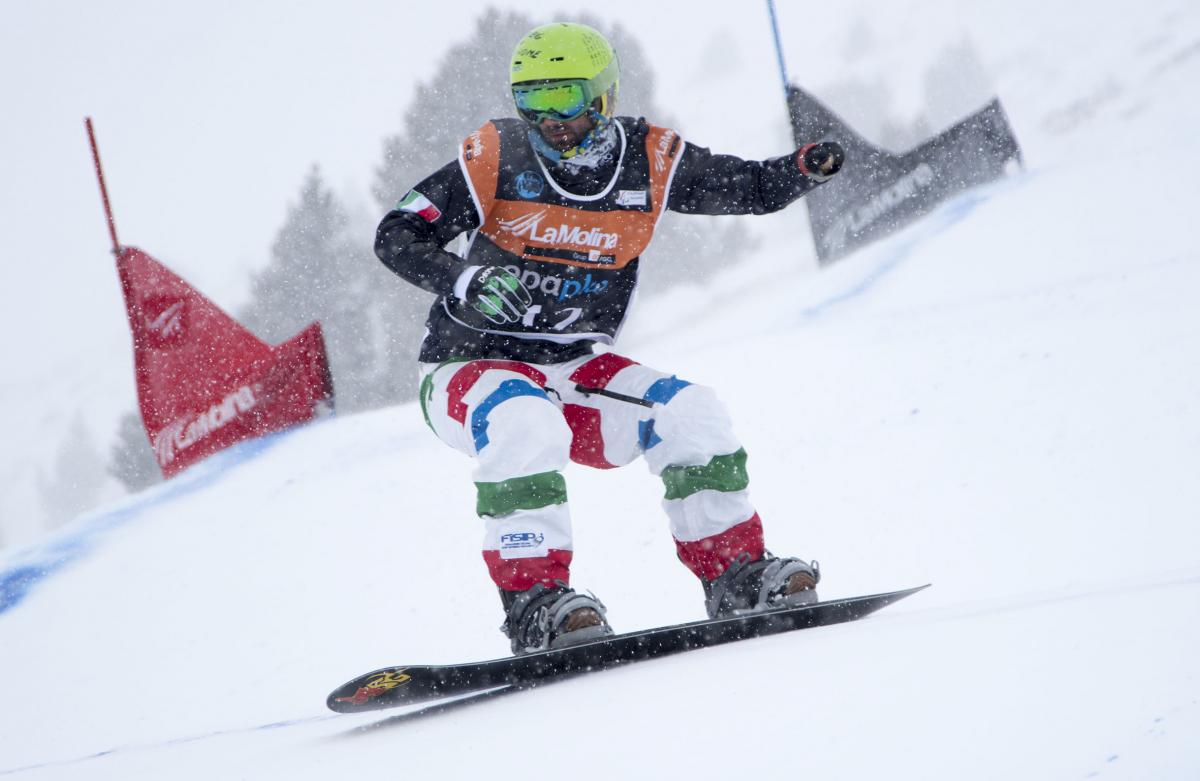 ⒸOriol Molas
By Giuseppe Di Florio | For the IPC
"Possibilities are out there for everyone, and if they are not it's up to you to create them. For 99 per cent of people if it does not work is because you don't really want it."
Italian snowboard-cross world champion Manuel Pozzerle is targeting the ideal end to the 2015-16 para-snowboard season even before it gets underway – to seal the overall World Cup crown at the finals on his home snow in Trentino, Italy.
Pozzerle, who won gold in the men's upper-limb impaired cross at the 2015 IPC Snowboard World Championships in La Molina, Spain, is busy preparing for the new season and aiming to improve on his overall third-place World Cup finish from 2014-15.
The kick-off event will be a Europa Cup in Landgraaf, the Netherlands, on 18 November, followed by the opening World Cup on 19 November, both in banked slalom. The finals in banked slalom and snowboard-cross in Trentino will take place on 17-18 March, after a series of World Cups take place around the world.
"Winning at home is always nice as it gives you the chance to celebrate with friends straight away," Pozzerle said, remembering his success at the national Championships last season. "It happened in Folgoria this year at the Italian Championships final and it's been a great feeling."
To be on top, Pozzerle will have to beat strong rivals such as Austrian 2014-15 World No.1 Patrick Mayrhofer, Great Britain's Ben Moore and his teammate Roberto Cavicchi. He is training physically and psychologically, and is doing a lot of gym work to be ready for November.
Behind his success, other than his motivation and desire to win, Pozzerle can also count on the great contribution of his trainers. In particular, he has a great rapport with his coach Igor Confortin, whom he admires for his way of teaching.
"Igor is great, he knows his job and he knows how to deal with people," Pozzerle said. "There's plenty of snowboard trainers out there but being a good coach is something different. He is always kind and available. I have only good words for him and all the staff. It's a great team and I am proud they follow me in this adventure."
Pozzerle started snowboarding in 1996 thanks to a school friend. However, he was not successful until a motorbike accident in September 2008 left him without his left hand.
"Ironically, I started to grow on the technical side only after the accident" he said. "I have to say thanks to my friend and coach Katia Saorin who pushed me hard to compete."
Pozzerle's first official race at the 2013 Italian Championships ended in disappointment, with a last-place finish. However just one year later he became the Italian champion. He said this is when he realised how important snowboarding could be in his "new life" and how sports could help him in overcoming his difficulties.
"In a world made for able-bodied, snowboarding made me feel still happy and free," Pozzerle said. "It was something I could do on my own while in daily life everything else had become impossible, from tying my shoes to cutting a steak.
"It helped me to regain fitness after three months at the hospital and gave me a sense of normality and confidence in my abilities."
Now Pozzerle has the chance to compete at the PyeongChang 2018 Paralympic Winter Games, something which he has already begun to consider a reality.
"I think about it very often and I will do whatever it takes to be there" he said. "There are still three years and many races in between, and now that the upper limb classification has been formalised, it is likely that there will be new riders on the horizon ready to battle for the top step of the podium.
"However, more than winning a medal, my main goal is to participate because I like challenges and the thrill I experience every time they open the starting gate. Having said that, everyone likes to win and I will not back down from aiming for the medal that matters the most".
Pozzerle also had some advice for those with similar backgrounds:
"After the accident I see life in a different way. I have to catch every opportunity before they slip out and this means I have to make choices and set priorities.
"Possibilities are out there for everyone, and if they are not it's up to you to create them. For 99 per cent of people if it does not work is because you don't really want it."
The full 2015-16 IPC Para-Snowboard full calendar takes in venues in Canada, USA, Spain and France and can be viewed at IPC Alpine Skiing's website.