#1YearToGo: Owen Pick no longer 'timid'
Something triggered for the British snowboarder this season that made him more competitive ahead of PyeongChang 2018.
09 Mar 2017
Imagen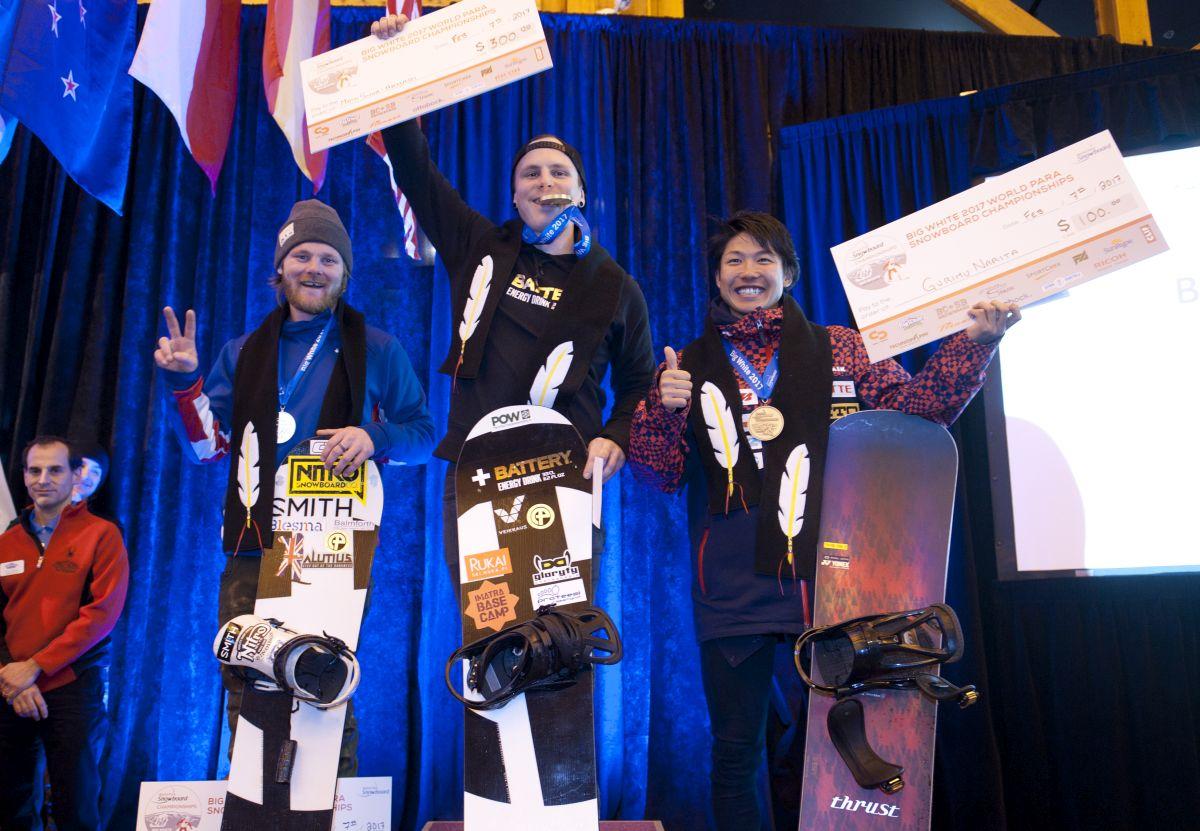 ⒸGavin Crawford
By IPC
"I feel confident in my skill. And with my skill I know I can get past people."
Training, confidence and medals – they are all coming together for Great Britain's Owen Pick, and at the right time with exactly one year to go until the PyeongChang 2018 Paralympic Winter Games.
After nearly three years on the World Para Snowboard circuit, Pick snatched his first major medal in February – which happened to be at the 2017 World Championships in Big White, Canada. Proving that accomplishment was no fluke, the British SB-LL2 rider followed up with two podium finishes at the World Cup in La Molina, Spain.
"Training, training, training" in the gym, on his wake board on the mountains in Austria and Switzerland were key ingredients. But Pick said something else clicked for him.
"One of my big moments was I realised that I would see all the athletes as my friends at the time. But now once I'm on the course, I need to beat them," Pick said.
"In the past when I would race guys I was like 'Oh I don't want to hurt him.' I was timid," he continued. "And this season I feel good on my snowboard. I feel confident in my skill. And with my skill I know I can get past people. And when I do and when I have a little bump with them or if they fall, I know that's not my fault. And I don't need to be worried about that because at the end of the day, I'm trying to beat them."
That aggression is particularly necessary in the snowboard-cross event, when athletes race head-to-head after timed runs for podium places.
Pick finished sixth in the event at the 2017 World Championships. A few weeks later at the World Cup, he took bronze, a big step considering that was his first medal in snowboard-cross.
"It was the first time I had ever over taken someone in boarder-cross competition," said Pick, when he faced the USA's Keith Gabel in the small final. "It's all still so fresh and new to me because I've never had to battle with anyone. I've never had to overtake anyone because I had never been good enough. But now I am, and now I'm catching up to these guy's' level. And it's really fun."
His riding in banked slalom appears to be coming along at a quicker pace.
Pick was in position for the World Championships gold medal until Finland's Matti Suur-Hamari bumped him to silver by nearly half-a-second.
"[Matti] is such a good technical rider," Pick said. "Especially in the boarder-cross, he has that extra weight on his hip that just carries him. But with that weight he has the talent and ability to be able to use that weight to his advantage. A lot of the [bigger] guys are good at carrying speed. … But when it comes to technical [aspect], they're not as good. So Matti has the best of both worlds."
Pick said the top-seven in the men's SB-LL2 is tight, with double-world champion Suur-Hamari leading the way.
Many are currently in PyeongChang, South Korea, for the World Cup Finals, also acting as the Paralympic Winter Games Test Event, from 10-13 March.
It is a chance for Pick to show consistency, that in one year's time, his opponents will remember he is competitive, not timid.
"I want to be keeping the guys aware that I am not sitting in the back anymore, that I'm in there with them," Pick said.
The World Cup Finals will get underway on Friday (10 March) with snowboard-cross, before banked slalom on 13 March.
Live results will be available throughout at World Para Snowboard's website