#50DaystoGo: Umstead hoping to progress ahead of Worlds
The three-time Paralympic alpine skiing medallist wants to make it to the podium in Tarvisio, Italy, but she will be satisfied if she peaks at the right time.
03 Dec 2016
Imagen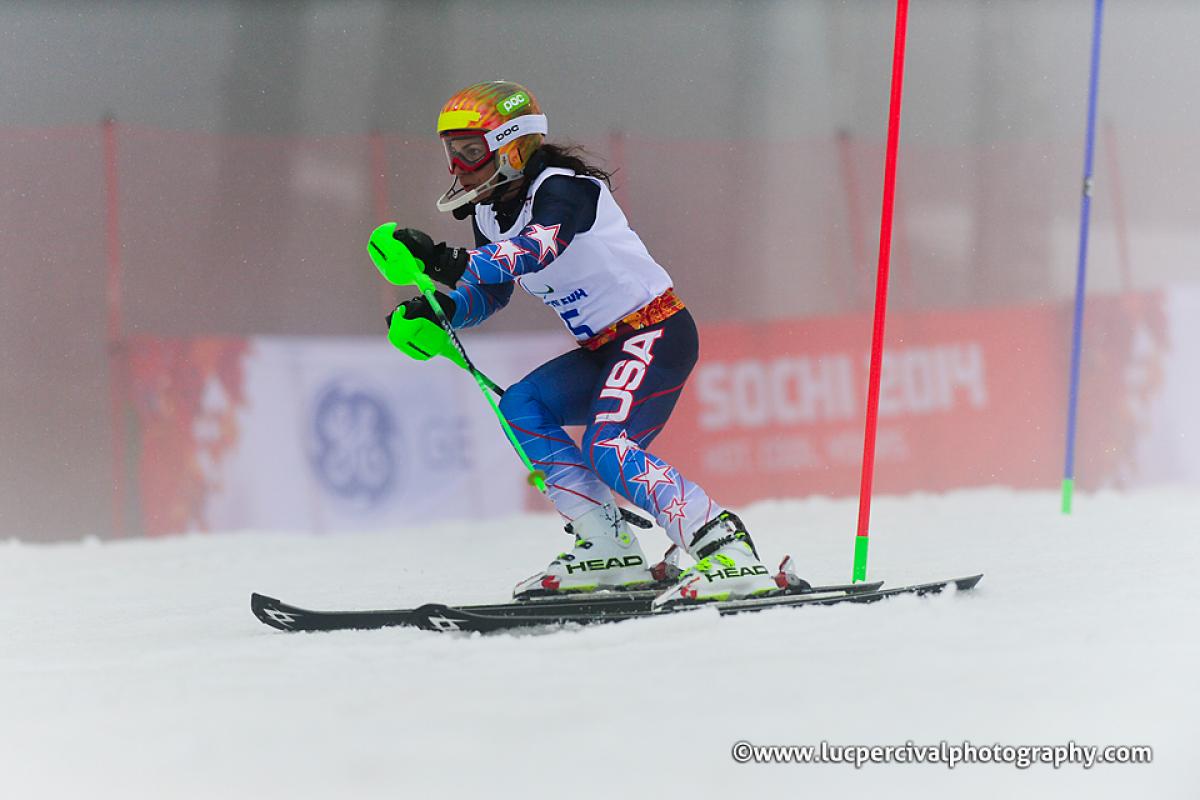 Ⓒ© Luc Percival Photography
By Ryan Wilson | For the IPC
US alpine skier Danelle Umstead opened her season with a seventh place at the IPC Alpine Skiing Europa Cup in Landgraaf, the Netherlands, but is hoping to peak in January, when she will compete at the 2017 World Para alpine skiing Championships in Tarvisio, Italy.
Speaking just before 50 days to go until Tarvisio 2017 (3 December), Umstead said: "I have learned over the years in ski racing that I cannot put too much into the outcome.
"I have to look at my own progression, and I was super happy with my own progression."
Landgraaf was the 44-year-old's first time racing indoors, which she said has brought new challenges for her as the noise from the fans and the lightning affected both her focus on her guide and husband Rob and her balance.
"I think where I was and the way the indoors skiing was for me with the noise and the lighting issues, it was really hard for me to work through," she said. "But I felt like I rose to the challenge and did my best in that situation."
Umstead's does not want this seven-place finish to influence on her next performances, but follow her mantra, which is to 'let it go', and focus on continue improving.
"I feel like I am holding back and trying to control things too much," she said.
"I guess I could say I am a little bit of a control freak. I should let it go again, trusting my skiing and my progression and being prepared."
Umstead will continue participating in the next Europa and World Cups, without losing sight on her biggest goal: the 2017 World Para Alpine Skiing Championships.
"Of course we all have a vision or a dream to end up on the podium at the big events, such as the World Championships, the World Cups and obviously the Paralympic Games," she said.
"I do not like putting that pressure on myself, but I do love the progression and peaking at the right time and being my best."
Looking further ahead, Umstead seeks to medal at a third successive Paralympic Winter Games in PyeongChang, South Korea, but she admits just competing at such an important event is already a privilege.
"Yeah, it is great to medal, but what is even better is when you get to the finish and you know that you did your very best, you are proud of the result, and you did not leave anything out there," she said.
The 2017 World Para Alpine Skiing Championships will take place between 22-31 January and is the last major gathering of the world's best skiers before PyeongChang 2018.
Media accreditation is available at the Tarvisio 2017 website.