Anderson hungry for another Paralympics
South Africa's lone archer talks about his amazing Paralympic debut experience that has him aiming for Tokyo 2020.
02 Oct 2016
Imagen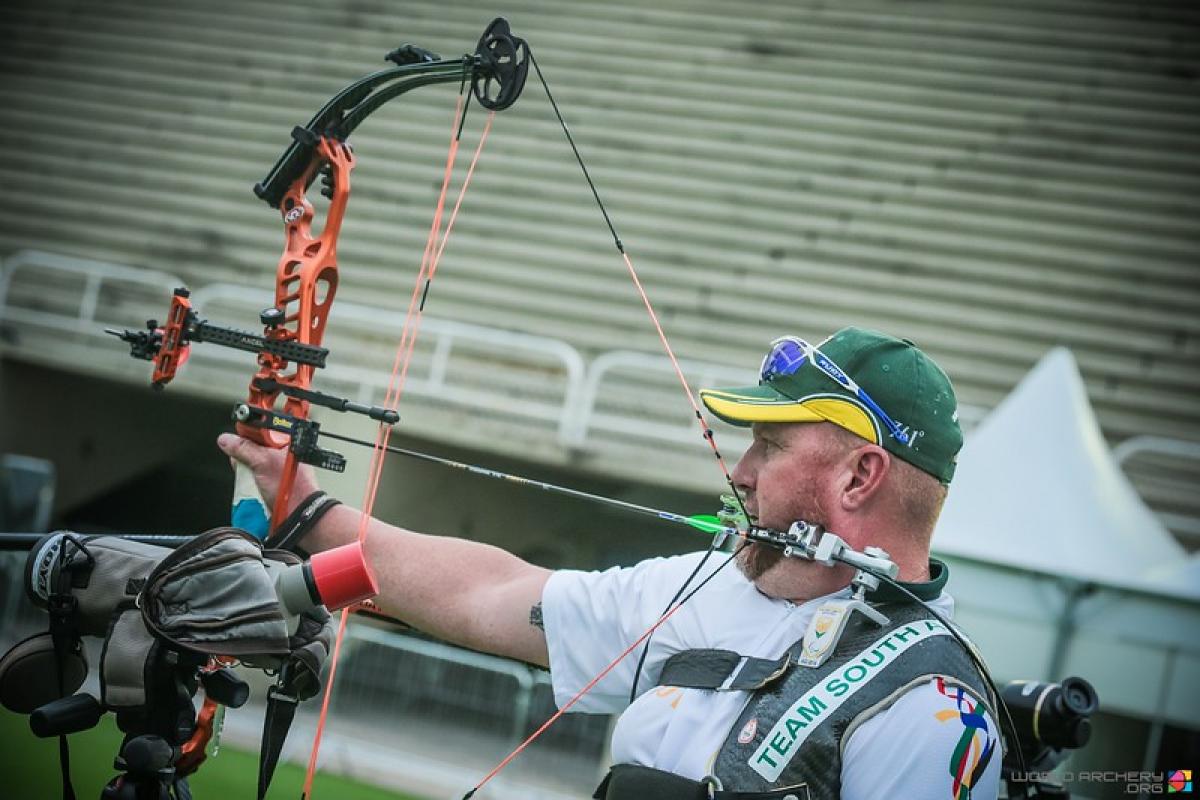 ⒸWorld Archery
By Mark Etheridge | For NPC South Africa
The only archer in Team South Africa's Paralympic Games campaign, Shaun Anderson, learnt some tough lessons from his Rio de Janeiro experience. He has already targeted Tokyo 2020 for a second bite of the apple.
The 43-year-old Gauteng athlete went out in the ranking round of 32 stages of competition as he lost 144-129 to Great Britain's Nathan MacQueen in the men's compound open. While his quest for a medal may have been dogged by problems with his equipment he has not given up on any of his dreams. One of the true 'characters' of the Paralympic team in Rio, he took time out to share his Paralympic experience.
"To be surrounded by the electric humming and buzz of energy that surrounds a group of 45 athletes on their way to the Paralympics, you feel energy waiting to start competing, dreams coming true, personal bests, medals, action and possibilities," Anderson said.
"As a first-time Paralympian it's just something that you really can't capture properly in words! What an unbelievable group of athletes, coaches, managers and medical support, it was an absolute honour to have been part of this team!"
The left-hander began archery in 2011 and made his international debut in 2012.
"Brazil was a perfect host country, the staff and volunteers were friendly and exceptionally helpful," Anderson said. "On arrival at the airport in Rio we received our ID cards for the duration of the Paralympics. Believe it or not that coined it for me, my dream to qualify for the Paralympics had come full circle.
"On arrival in the village we were taken on a guided tour of the facilities, believe you me, it is pretty overwhelming when you're eating hall is bigger that an average shopping centre! All facilities and services were of good quality and made our stay a delightful one.
"Team South Africa were welcomed in the Athletes' Village with a flag-raising ceremony – what a proud moment to see our flag with all the other countries! From here for me it was important to get into a routine as soon as possible, back into a training and shooting regime and get used to the weather and environment.
"The archery venue was situated a distance from the village, a 90-minute bus drive, but the arena was absolutely spectacular and worth the drive every day. I just loved how the space under the arena was converted into classrooms for a pre- and primary school, such clever thinking and I hope that all facilities after the Paralympics can be utilised and used to contribute something useful to Brazil."
Anderson still has fond memories of his competition despite failing to progress at the Sambodromo.
He went on to finish 28th overall in the men's compound open with 627, 60 points behind the top finisher.
"I will always carry a special place in my heart for this arena! It was the place in time where I might not have found a medal… but I found myself! In the first rounds of the ranking round I ran into equipment failure and lost 40-plus points due to a technical problem with my release. For about three seconds I believed I was done… but my warrior spirit took over and full-blown battle mode set in – I wasn't prepared to give up!
"In the time allocated for equipment failure, I was able to fix the problem and get back into the game. In the remaining rounds I shot some of my best arrows and scores ever! Statistically it was over-the-top good.
"So looking back I'm proud that I had the guts and the go to persevere. I surely wasn't the first and won't be the last athlete who runs into difficulties at the Paralympics. But in retrospect it makes sense…we don't ever lose. We either win or learn!"
Anderson's personal mantra includes parts from the TV series Grey's Anatomy, the theme song of which includes the words "Hold up your head and enter the arena and face the enemy. Fight until you can't fight any more….."
He said: "I have lived my mantra and I'm very proud of myself and my fellow teammates."
Summing up his experience, Anderson showed he already has Tokyo firmly in his sights: "We made friends, we supported each other, some won, some lost, some didn't even get to compete, some got to find themselves. But we'll all be back in 2020 for the agonising fight to the top – because that is how we become legendary: even if its only in our own eyes."