Andrea Macri inspired by teammates
Italian Para ice hockey player ready to learn from veterans heading into PyeongChang 2018
04 Sep 2017
Imagen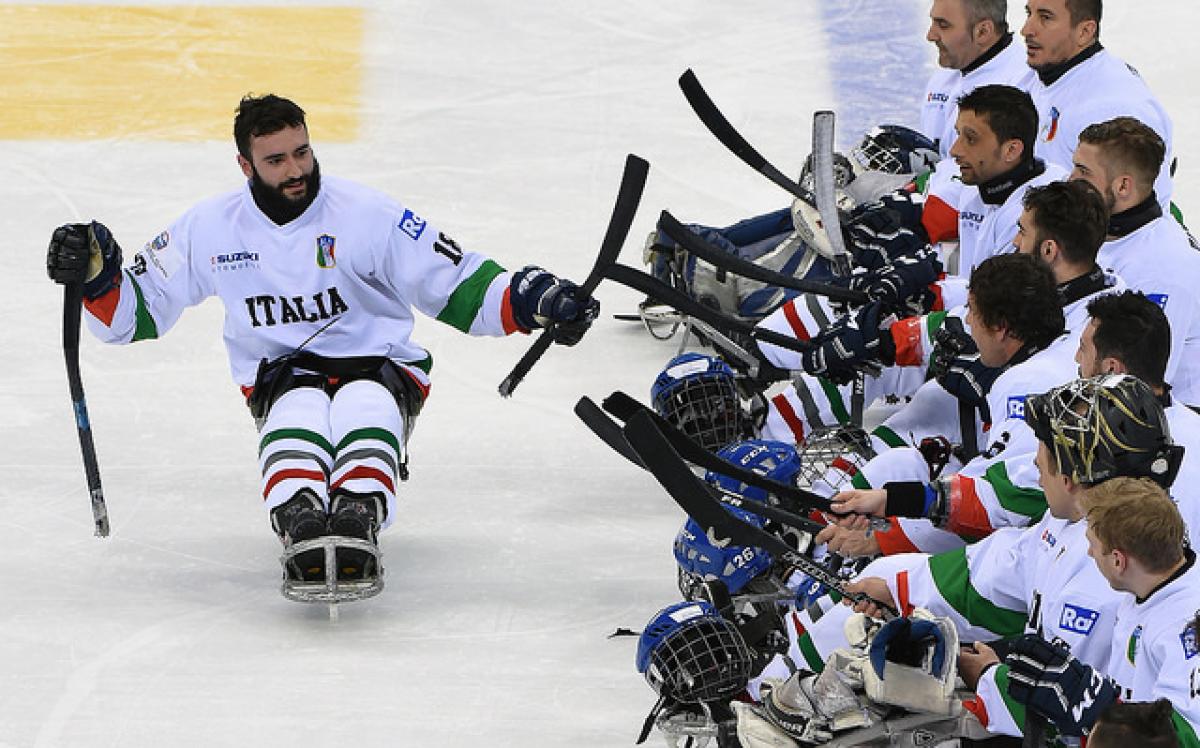 ⒸPOCOG
By IPC
"I think that the veteran players still have a lot to give to the team and to this sport in particular. They are an incredible example for us and for the future of the Para ice hockey movement in Italy."
When Italy's Andrea Macri learned he would be Para ice hockey's athlete representative, he took comfort in knowing he has a mentor in teammate and predecessor Gregory Leperdi
"My new role as athlete representative is a big news for me," Macri said. "Gregory suggested me to candidate myself for this role and he's still helping me for a lot of things. The season will start soon and I will do my best to give a voice to all the athletes."
Macri also looks up to Leperdi, and other Italian veterans, on the ice.
Italy earned a qualification spot at the PyeongChang 2018 Paralympic Winter Games by finishing in the top five at the 2017 World Championships in April. The fifth place matched their best finish at a World Championships, and saved them the stress of having to play at the Qualification Tournament in October in Ostersund, Sweden.
But Macri insists the team is not going to sit on their sledges.
"This season will be very important. We will have new players and of course the veterans," he said. "I think that they still have a lot to give to the team and to this sport in particular. They are an incredible example for us and for the future of the Para ice hockey movement in Italy."
The 26-year-old does have a Paralympic Games under his belt, competing at Sochi 2014. But still, his teammates have a wealth of experience he can tap in.
"My role is defender. I have a bit of experience but I'm still a young player who wants to improve, to contribute more and to become an important part of the Italian team," Macri said.
He named forward Florian Planker as "one of the best players in the World, at least for me."
"He is incredibly talented and has immense experience for this sport," Macri said of Planker, who was part of the team that took European gold in 2011 and silver in 2016.
"He gives big support especially for young players like me. With him and [defender Gianluigi] Rosa the team had an incredible evolution, but they are not alone."
Friends on and off the ice
Macri also sees plenty of young potential, and that showed at the Worlds, which also served as the PyeongChang 2018 Test Event, especially in scoring machine Sandro Kalegaris.
"Kalegaris and [Nils] Larch are young engines and I'm sure that they also will bring their contribution to this important season," he said.
"The ability of Kalegaris is not a secret: he has incredible talent for scoring important goals. He's a good player and a good guy who entered so fast in our 'family.'"
What makes the Italian team special for Macri is how they spend their time off the ice to play a sport they love.
"My job is not only hockey, as for all members of the Italian team," Macri said. "I work in a bank as online retail manager both for private and business clients. It's so difficult to have job and play hockey but unfortunately for us it's impossible to work as professional hockey players. All the guys in the team do a lot of sacrifices in their life for playing good and for giving their help to achieve the team's goal."