Andrea Rothfuss grabs first career Paralympic gold
With a victory in the women's standing slalom, the German alpine skier had the best day of her career in Sochi.
12 Mar 2014
Imagen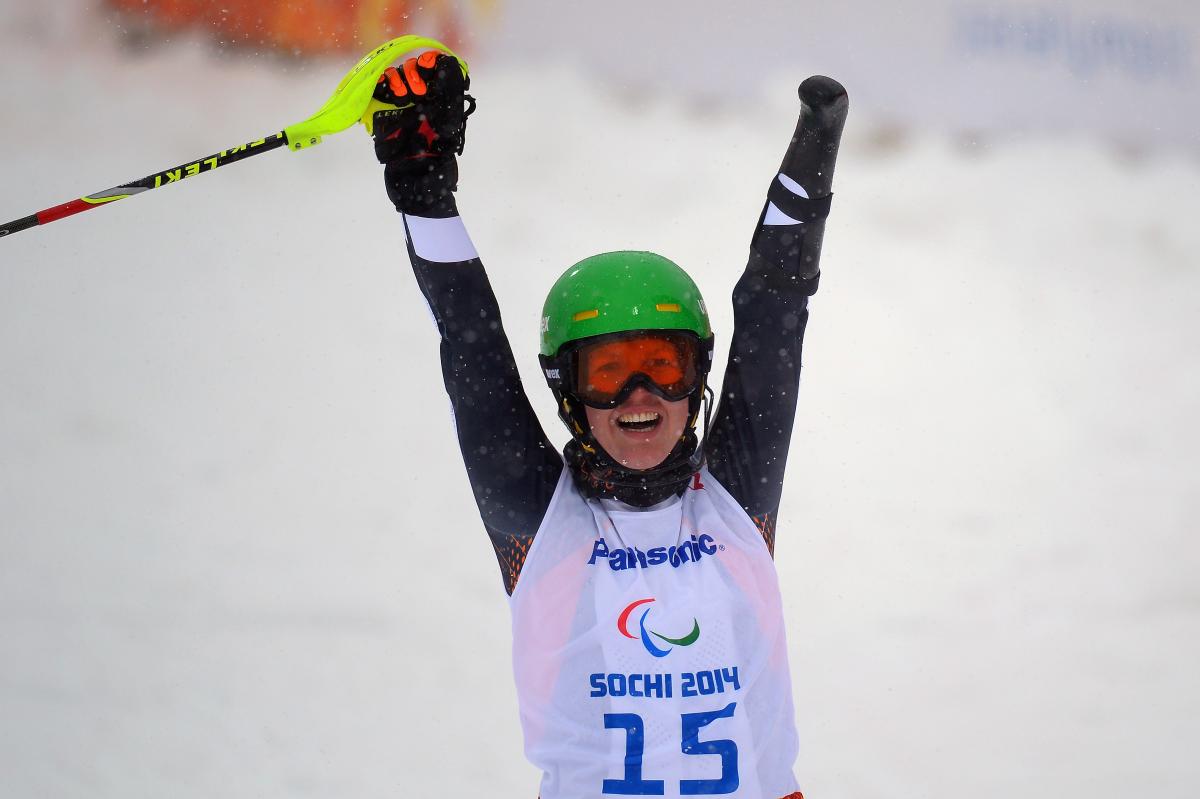 ⒸGetty Images
By Justin A. Rice | For the IPC
"When I crossed the finish line, I knew I'd made it. I didn't know the time at that moment, but I knew (that I'd won). It's a huge relief after the last couple of days. They were very hard on me."
Germany's Andrea Rothfuss was able to win her first career Paralympic gold on Wednesday (12 March) at the Sochi 2014 Paralympic Winter Games, topping the women's slalom standing leaderboard with a total time of 1:59.85 across her two runs.
French sensation Marie Bochet tripped up in the first run of the women's slalom standing class, dashing the 20-year-olds hope's to sweep all five of her events like she did at the 2013 IPC Alpine Skiing World Championships in La Molina, Spain.
"For me to only ski down four gates in slalom, which is the event I feel the best, is really hard," Bochet said. "I still haven't realised what I've done. "When I tripped up on the fourth gate I tried to walk up the slope but I just slipped more ... you don't come to the games to slip out on the slope.
"It is hard to explain what happened. I feel really upset but the race is like that."
That slipup opened the door for the rest of the field, as Bochet, shockingly, failed to advance to the second run.
Bochet's rival, Rothfuss, took full advantage of Bochet's absence to win gold. But she said she would have rather had Bochet in the field.
Rothfuss finished on top after her first run of 59.37, while Anna Jochemsen of the Netherlands was second with a run of 1:01.82 and Russia's Mariia Papulova was third with a 1:02.83.
"She is the scale I want to measure myself (against) in slalom," Rothfuss said of Bochet. "I would have been interested to know what my run is worth compared to her, but unfortunately it's not possible to say that."
After the second run, Rothfuss finished with a combined time of 1:59.85 while Russia's Inga Medvedeva (2:06.70) took bronze and Petra Smarzova (2:06.91) was third.
"When I crossed the finish line, I knew I'd made it," Rothfuss said. "I didn't know the time at that moment, but I knew (that I'd won). It's a huge relief after the last couple of days. They were very hard on me."
Guided by Pavol Zabotin in the visually impaired class, Aleksandra Frantceva of Russia took her third medal of the games by winning gold.
She had a combined time of 2:01.24, ahead of Great Britain's Jade Etherington (2:01.89) and Slovakia's Henrieta Farkasova (2:02.94).
"Before the second run we didn't really get stressed out. We weren't leaders in the first run, but the end result is important," said Frantceva, whose brother Ivan will compete in the men's slalom on Thursday (13 March).
"We came out of the start gate, got a hold of ourselves and won gold."
Frantceva, who won silver in super-G and bronze in downhill, is also leading the super-combined standings after dropping a 58.68 in the slalom on Tuesday (11 March), putting her ahead of Farkasova (59.55).
After the first run, Etherington's time of 1:00.87 put her atop the leaderboard, while Frantceva (1:01.42) was second and Farkasova (1:02.20) was third. Etherington continues to ski great in Sochi after finishing second in downhill and third in super-G.
The slalom sitting class was one of the most drama-filled alpine events to date in these Paralympics, as all nine racers briefly held the top spot before being knocked off by the very next racer.
Germany's Ann-Lena Forster (2:14.35) finally grabbed gold in the final race of the day after she eclipsed Canadian Kimberly Joines (2:15.16), who took silver.
Joines eclipsed USA's Laurie Stephens (2:18.45), who won bronze.
Before those three skiers bested each other in three straight races, Austria's Claudia Loesch posted the best time (2:24.55) before she was ultimately knocked to fourth place.
But the drama in the sitting class began when the favourite to win the race, Germany's Anna Schffelhuber, was disqualified after posting the fastest time in the first run. The 21-year-old had already won the women's downhill super-G races in Sochi, and is in first position after the first run in the super combined.
The disqualification pushed Forster into the lead after the first run with a time of 1:06.41, while Joines (1:07.33) was second and Stephens (1:08.86) of the USA was third.