Australian Toby Kane secures World Cup win in memory of late teammate
One week after the sad passing of Matthew Robinson, Kane won the super-combined World Cup Finals title in Travisio.
26 Feb 2014
Imagen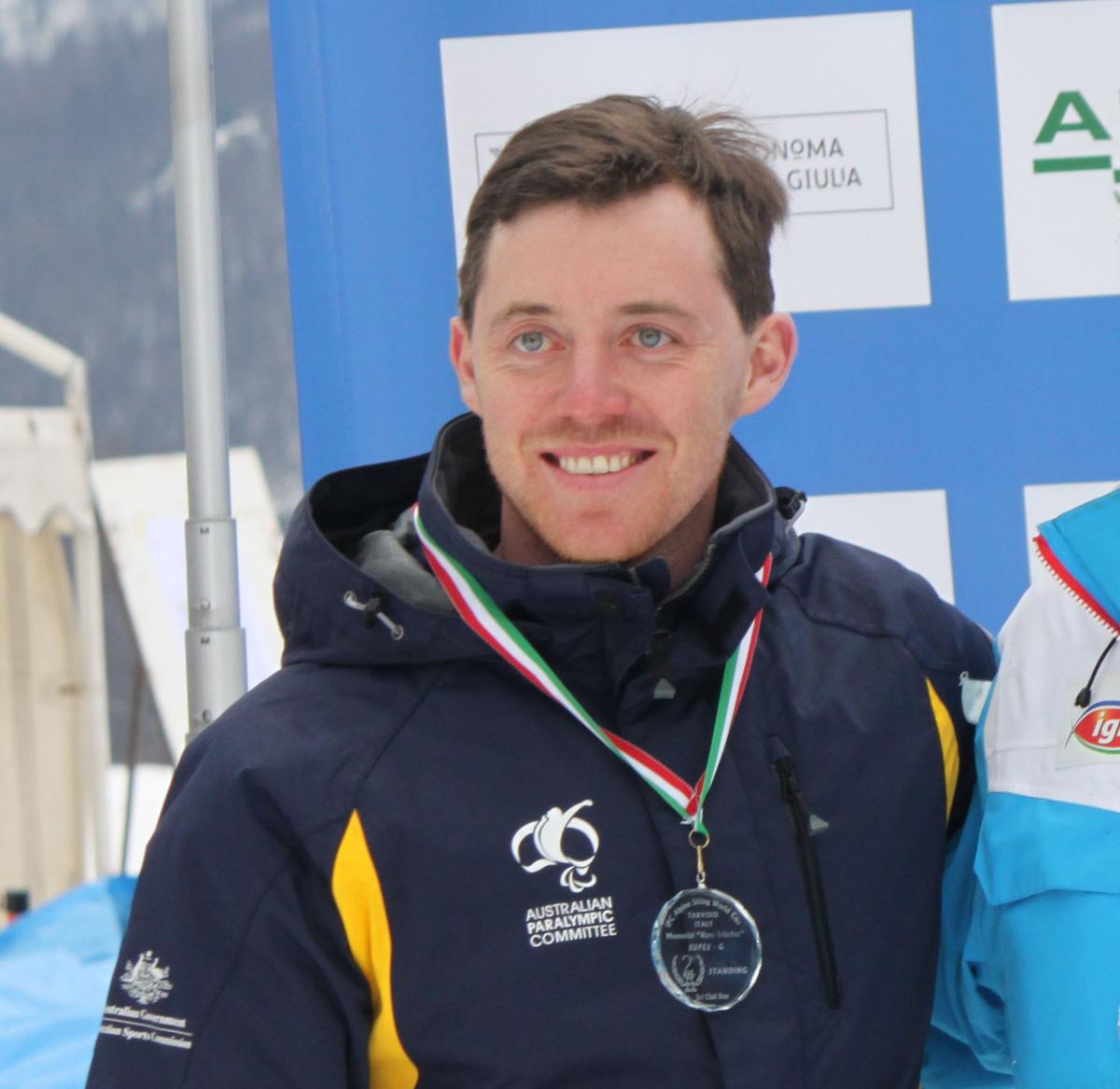 ⒸIPC
By IPC
"It's a good preview of what we're going to see in Sochi, so it's good to see that I can still ski fast in those conditions."
Australia's Toby Kane paid the perfect tribute to his late para-snowboarding teammate Matthew Robinson, with a stunning super-combined victory on the final day of the IPC Alpine Skiing World Cup Finals in Tarvisio, Italy, on Wednesday (26 February).
Wearing a sky blue armband in memory of Robinson who sadly passed away last week, Kane (1:46.12) edged out Russia's Alexey Bugaev (1:46.13) by just one-hundredth of a second to secure the top spot in a thrilling race. Austria's Markus Salcher (1:47.38) was third.
"It was a tough super-G competition and even tougher slalom, but a really good day for me, and I ended up winning by one-hundredth of a second. I'm ecstatic," Kane said.
"It means a lot to be able to honour Matt and to keep skiing and riding like he did. He's in our thoughts all the way to Sochi and we're going to try our best for him."
Austria's triple world champion sit-skier Claudia Loesch appears to be hitting form just at the right time with Sochi 2014 fast approaching. She followed up her two downhill victories from Tuesday with another win on Wednesday.
Loesch holds the Paralympic titles in both the super-G and slalom, so it was no surprise to see her finish ahead of the US pair of Laurie Stephens (2:11.48) and Stephanie Victor (2:12.48).
In the women's standing, the USA's Allison Jones (1:58.18) took victory after posting the fastest times in both runs.
She was happy with her efforts: "Super-G was fun and was fast in turning. In the slalom the conditions softened up a little bit. It's a good preview of what we're going to see in Sochi, so it's good to see that I can still ski fast in those conditions."
Despite finishing second behind Jones, Russia's Inga Medvedeva (2:01.99) collected enough points to secure the overall World Cup super-combined title ahead of French world champion Marie Bochet. Medvedeva's teammate Maria Papulova (2:05.97) finished third to also overtake Bochet in the rankings.
Two consistent runs from Canada's Mac Marcoux, with guide Robin Femy, (1:45.46) in the men's visually impaired saw him claim top spot ahead of Slovakia's Paralympic champion in this event Jakub Krako who was guided by Martin Motyka (1:46.17). The USA's Mark Bathum, with guide Cade Yamamoto, (1:46.52) was fastest in the super-G, but could only manage sixth in the slalom to finish third overall.
Russia's Aleksandra Frantceva and guide Pavel Zabotin (2:04.07) claimed the overall World Cup super-combined title with victory in the women's visually impaired. The 26-year-old, who also won both downhill races on Tuesday, pushed the USA's Danelle Umstead and guide husband Rob (2:11.90) in to second place.
Canada's Josh Dueck won the men's sitting (1:47.94) ahead of the Japanese duo of Akira Kano (1:49.01) and Takeshi Suzuki (1:49.85).
Pictures from Tarvisio 2014 are available at www.Flickr.com/Paralympic and highlights videos will be posted at www.ParalympicSport.TV
Alpine skiing competitions at Sochi 2014 begin on 8 March at the Rosa Khutor Alpine Centre and will be live streamed at www.ParalympicSport.TV alongside over 300 hours of coverage.